Wrestling Wraps Up Historic Women's Development Camp
Tuesday, April 3, 2018 - 17:45 By Tim Foley
TOKYO (April 2) – United World Wrestling conducted it's largest-ever women's wrestling development camp last week in Tokyo, with more than 160 wrestlers and coaches from 21 nations participating in the landmark camp.
"This was a major step for the sport of women's wrestling," remarked United World Wrestling president Nenad Lalovic. "We have been trying very hard to increase participation in events and to bring attention to our strong women. This camp was a perfect success."
The camp followed the 2018 Women's Wrestling World Cup in Takasaki and was sponsored by United World Wrestling. The Japanese Wrestling Federation was a key partner, helping to provide lodging, food, transportation, and instruction
"Anywhere in the world where we can come together, I think we are going to grow and we are going to grow this sport," said Erica WIEBE (CAN). The 2016 Olympic Champion was on hand for all five days of the camp. "Wrestling, it changes lives!"
Athletes were taught new warm-up techniques, drills and spent several hours sparring. The enthusiasm and comradery expressed by the women was also conspicuous, with bouts of laughter intermingling with even the toughest conditioning workouts.
The camp featured coaching instruction with coaches from Japan, China, United States, Belarus and more. While aimed at the athletes, the coaches said they found the camp to be beneficial to their development, often learning new ways to pique the interest of their girls.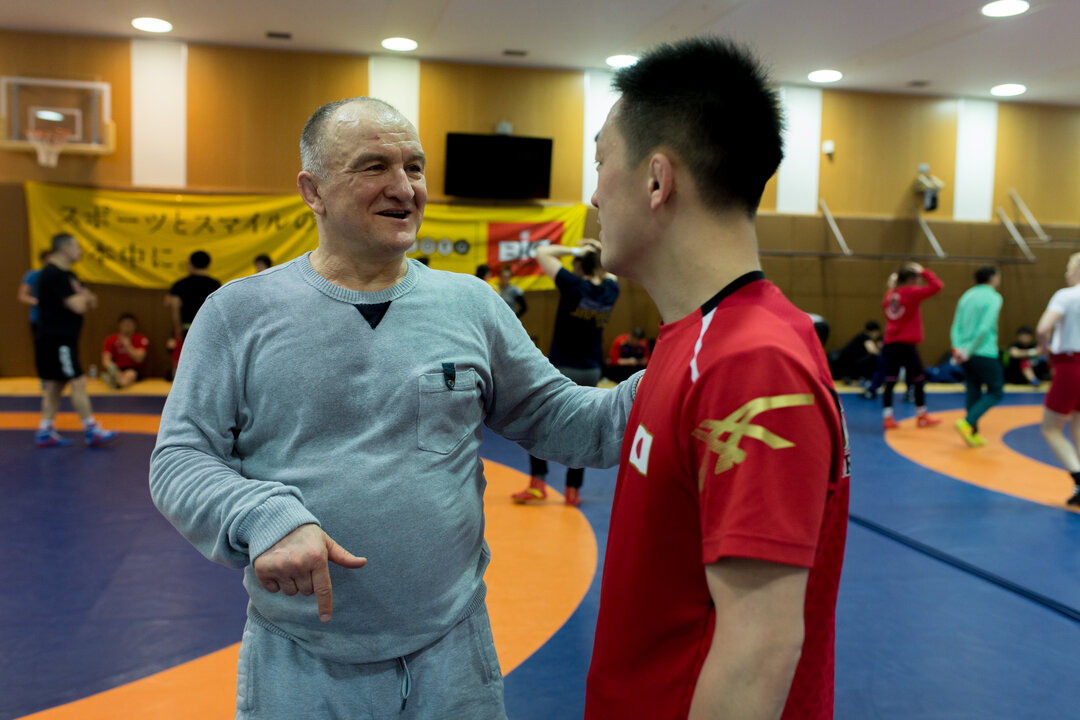 China's coaching staff has a new face in Simon ATANASSOV. The Bulgarian national recently came off a coaching stint in Azerbaijan (Photo: Max Rose Fyne)
Simon ATANASSOV, a familiar face to wrestling fans around the world, attended his first-ever camp as a member of the Team China coaching staff. Atanassov recently took up residence to Beijing after five years in Azerbaijan, where he was the head men's and women's wrestling coach.
"I believe all the coaches gained something from me and I gained from them. I learnt from Japan and America. We shared each other's experience and became better coaches. This is just great! I am for the development of wrestling!"
The camp attendees also visited Tokyo as part of a group tour put together by the JWF. Wrestlers saw the site for wrestling at the 2020 Tokyo Games before being taken on a tour of popular tourist destinations.
"The Japanese wrestlers have been so open with us," said three-time world champion Adeline GRAY (USA). "They are pulling us into activities on and off the mat, showing us what foods to eat and not to eat. How to get on and off the train. Where to shop. It's been that social aspect along with the competition in wrestling."
"We are all out and having fun, but we are all sore!" said Gray.