#WrestleOslo Day Five Preview: WW 57kg, 59kg, 68kg and 72kg
Wednesday, September 22, 2021 - 16:26 By Ken Marantz
CORSIER-SUR-VEVEY, Switzerland (September 22) -- Newly crowned Olympic champion Tamyra MENSAH STOCK (USA) used part of her bonuses from winning the gold medal in Tokyo to outfit her mother, an expert cook, with a flashy, fully furnished food truck.
Mensah Stock will now be leaping from the frying pan of the Olympics into the fire of the World Championships as she aims to defend her title in the women's 68kg class, which gets underway Oct. 6 along with three other women's divisions.
The Olympic weight class of 57kg will also get started, featuring Tokyo bronze medalists Helen MAROULIS (USA) and Evelina NIKOLOVA (BUL), as well as the non-Olympic weights of 59kg and 72kg.
Mensah Stock is confident she can maintain the intensity that propelled her to the top of the podium in her Olympic debut as she makes the three-month turnaround to get ready for Oslo.
"It's definitely hard physically and mentally, just to get back on the mat...to get back on that train and really prepare yourself for the fact that the World Championships are just around the corner from the Olympics," Mensah Stock commented in an interview by email.
"But at the same time, it's a competition, just like the Ranking Series competitions, and you know, any other competition. We have them once a month anyway, so we're already equipped for what was about to happen."
Handling pressure, she says, it's part of the job.
"Yes, the Olympics were extremely high mentally on pressure, but at the same time, we're wrestlers and we're equipped and prepared for the hardest battles."
Mensah Stock, who will turn 29 four days after the medal matches on Oct. 7, said she had always planned to defend the world title that she won for the first time in 2019 in Nur-Sultan.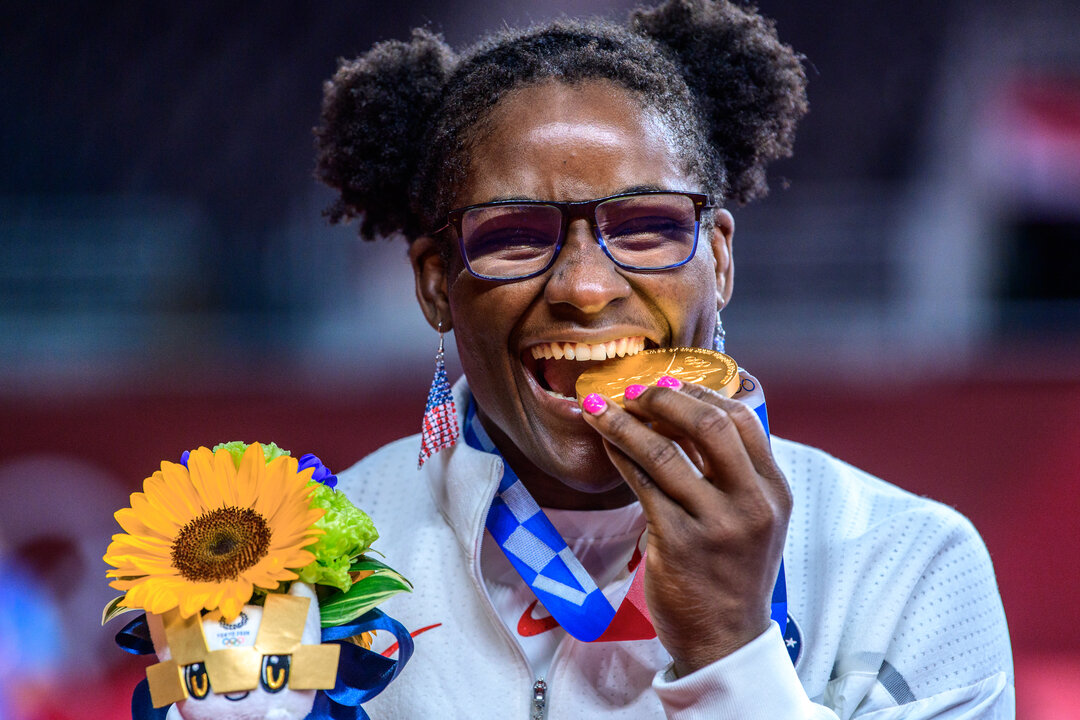 Tamyra MENSAH STOCK (USA) celebrates winning the 68kg Olympic gold. (Photo: Tony Rotundo)
Adding Olympic champion to her resume brings with it added pressure, but the vivacious Chicago-born, Texas-raised Mensah Stock is maintaining the same bring-it-on attitude.
"I like to consider myself someone that is always improving so I don't want to feel the pressure," she wrote. "I'm here, enjoying the fact that I'm wrestling by the grace of God...I am just here to wrestle and wrestle the best that I can."
She's been doing that quite well since starting the sport in high school after reportedly being bullied on the athletics team. She continued the sport at Wayland Baptist University, winning two national championships.
On the global stage, Mensah Stock found her way onto numerous podiums, but missed out on the 2016 Rio Olympics and lost in the third round in her debut at the World Championships in 2017.
Her breakthrough came in 2018, when she won a bronze medal at the Budapest worlds, which she followed up with a dominant performance the following year at Nur-Sultan to secure spot at the Olympics for the U.S. That included a one-sided victory over Rio gold medalist Sara DOSHO (JPN) -- which she would repeat at the Tokyo Olympics.
The top candidates to knock Mensah Stock off her lofty perch in Oslo are 2018 world champion Koumba LARROQUE (FRA) and Tokyo silver medalist Blessing OBORUDUDU (NGR) and bronze medalist Meerim ZHUMANAZAROVA (KGZ).
Larroque, who beat Mensah Stock in the 2018 world semifinals, saw her Olympic dream shattered in a stunning first-round loss to Battsetseg SORONZONBOLD (MGL). Larroque was leading 3-0 when the Mongolian clamped her in a headlock and recorded a fall with 19 seconds left.
Heading into Tokyo, Larroque was coming off victories at the European Championships and Poland Open. She will be looking to add the senior title to the two world junior crowns she won in 2016 and 2018, as well as the 2017 world U23 gold.
Oborududu, a 10-time African champion, gave Mensah Stock a run for her money in the Olympic final but came out on the short end of a 4-1 decision. That was a near repeat of the American's 6-1 win in their first-round clash at the 2019 worlds.
Zhumanazarova joined 62kg silver medalist Aisuluu TYNYBEKOVA (KGZ) as the first female Olympic medalists in any sport in Kyrgyzstan history, and the 2019 world junior silver medalist would love nothing more than to join her esteemed compatriot as a world champion.
With none of Japan's Olympians making the trip to Oslo, 2020 Ivan Yarygin Grand Prix silver medalist Rin MIYAJI (JPN) will be making her world debut after beating 2019 world junior champion Naruha MATSUYUKI (JPN) in a playoff to make the Japanese team.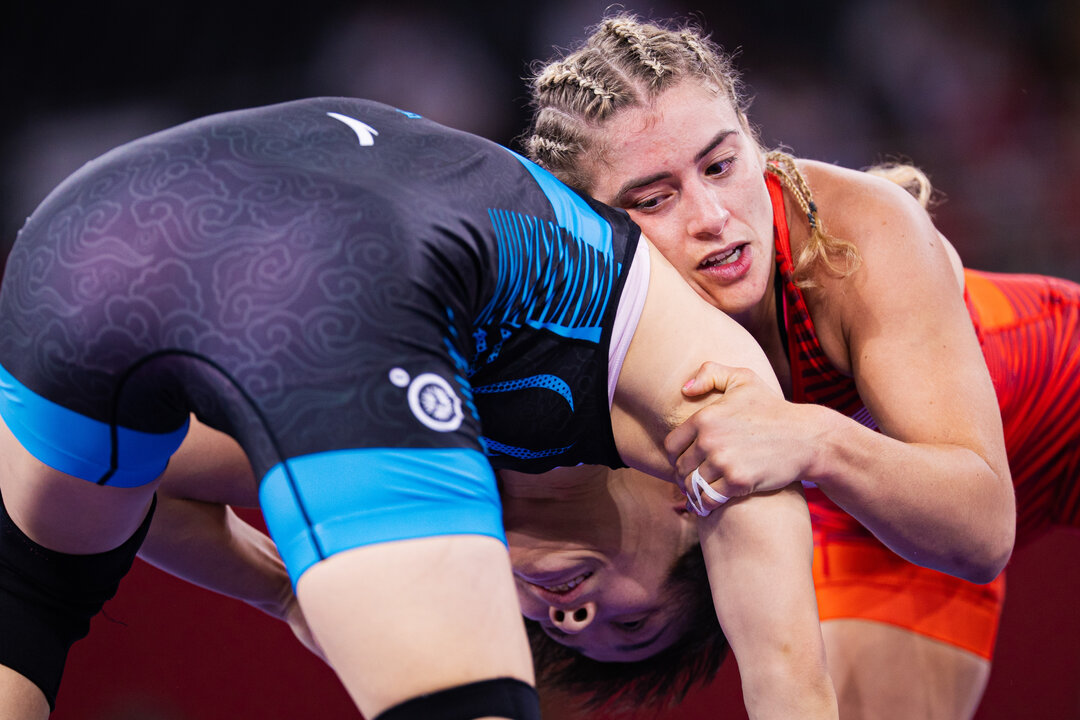 Helen MAROULIS (USA) is on a quest to win a third world title and first since the '17 Paris World Championships. (Photo: Kadir Caliskan)
At 57kg, the absence of two-time Olympic and three-time world champion Risako KAWAI (JPN) opens the door for 2016 Rio Olympic gold medalist Maroulis to make a bid for a third world title and first since 2017.
After famously denying Saori YOSHIDA (JPN) what would have been a historic fourth Olympic gold medal by beating her in the 53kg final in Rio, Maroulis was hampered by injury problems, including serious concussions, over the ensuing years.
But she came back strong in 2020 and qualified for Tokyo, where she lost a close 2-1 decision in the semifinals to Kawai, the Rio champ at 63kg. Coming away with a bronze was far from disappointing, given the inner strength she showed along the difficult path to get there.
"As humans, we are so powerful, but we are so fragile and so vulnerable," she said in an interview with Hollywood Life. "It really helped me tap into 'human-ness.' It's been a really beautiful journey."
Nikolova, a 2015 world bronze medalist at 55kg, walked away with the other bronze with a victory by fall over 2016 Olympic silver medalist Valeria KOBLOVA (RWF). Along with Maroulis, Koblova was one of only three non-Japanese who had ever beaten Yoshida (Marcie van Dusen (USA) was the other).
In place of Koblova, the Russian Wrestling Federation has sent Veronika CHUMIKOVA (RWF), who will certainly have something to prove in Oslo. She was the one who actually earned the spot in Tokyo at the final world qualifying tournament in Sofia that eventually went to Koblova. A month earlier, she won a silver medal at 59kg at the European Championships.
Never to be counted out is African star Odunayo ADEKUOROYE (NGR), the 2019 world bronze medalist and 2018 silver medalist who will be looking to make amends for a disastrous showing in Tokyo.
Adekuoroye, who had whipped Maroulis 13-0 at the Poland Open in June, stormed to an 8-0 lead in her first-round match against Anastasia NICHITA (MDA), only to get caught in a lapse and lose by fall. Her medal hopes ended when Nichita lost her next match.
The absense of Kawai doesn't mean there won't be a formidable Japanese presence at 57kg. Sae NANJO (JPN), who completed a world junior and U23 double in 2019, has stepped into the void and is ready to make the most of her first shot at a senior world title.
It was the 22-year-old Nanjo who kept the high-profile clash between Rio Olympic champions Kawai and Kaori ICHO (JPN) for the Tokyo Olympic spot at 57kg from becoming a two-woman affair. In the final domestic qualifier, she nearly stole the spotlight when she lost a 3-3 thriller to Icho in the semifinals.
Nanjo, a product of the JOC Elite Academy and current student at powerhouse Shigakkan University, has yet to lose internationally on the senior level, winning at the Ivan Yarygin Grand Prix and Asian Championships in 2017 before taking the two age-group crowns in 2019.
Also worth watching are a pair of newly crowned world junior champions, Nilufar RAIMOVA (KAZ) and Alesia HETMANAVA (BLR). The latter triumphed at 55kg in Ufa, Russia.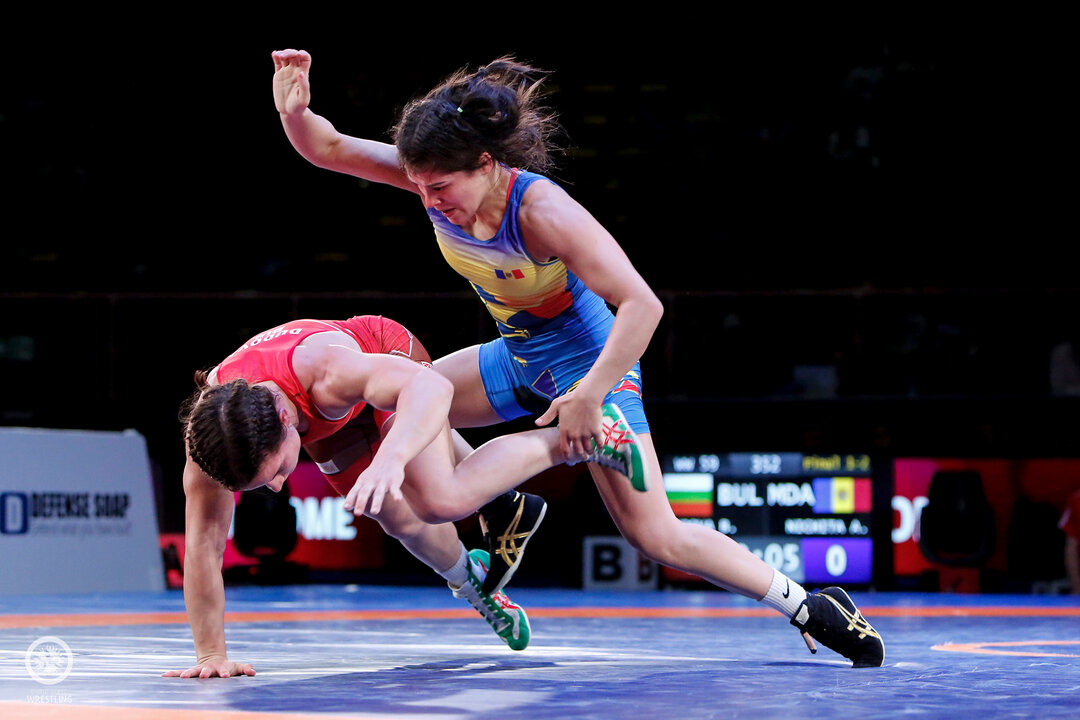 European champion Anastasia NICHITA (MDA) heads into the World Championships as one the 59kg favorites. (Photo: Gabor Martin)
At 59kg, the field is wide open with neither reigning champion Linda MORAIS (CAN) nor any of the other 2019 world medalists making the trip to Oslo. On paper, the ones to watch appear to be Nichita and Akie HANAI (JPN), both of whom have won world titles on the age group level.
The 22-year-old Nichita finished seventh after suffering a heartbreaking loss of her own in the quarterfinals, and will be looking to make amends in her second trip to the senior worlds and become Moldova's first-ever female medalist.
The 2020 European gold medalist was the 2019 world U23 silver medalist and a world junior finalist for three straight years, sandwiching a gold in 2018 with silvers in 2017 and 2019.
Nichita's Olympic dream ended in stunning fashion. After her win over Odekuoroye, she had the tables turned on her by Nikolova, who hit a last-second 4-point lateral drop for a 6-3 victory in the quarterfinals.
Hanai will be making her senior world debut, having previously won the 2019 world junior title at 57kg and finished second at the 2018 world U23 at 59kg.
The 21-year-old Hanai earned her ticket to Oslo by winning the two national championships that serve as domestic qualifiers. In her corner at each tournament was Kawai, whom Hanai helped prepare for her gold-medal run at the Tokyo Olympics as her training partner.
Hanai is currently a student at Shigakkan, where alumnus Kawai still trains. She said that working out with the now two-time Olympic champion has taught her not only about techniques, but about handling the pressure of matches and daily life.
"She has let me be her partner for a long time and by always practing with her, it has brought me to where I am today," Hanai said after her victory at the All-Japan Invitiational Championships in May. "I felt pressure for this tournament, but it's nothing like the Olympic Games."
Hanai will be familiar with another contender in Grace BULLEN (NOR), the world U23 champion in 2018. That year, Bullen defeated Hanai in the final at the 2018 Klippan Lady.
Since then, Bullen won the Klippan again and captured the European title at 57kg in 2020, adding to her continental gold from 2017.   
Others to watch are Khongorzul BOLDSAIKHAN (MGL), who placed fifth at the Tokyo Olympics at 57kg; European champion and 2018 world silver medalist Bilyana  DUDOVA (BUL); double Asian champion Sarita SARITA (IND) and 2019 European silver medalist Svetlana LIPATOVA (RWF).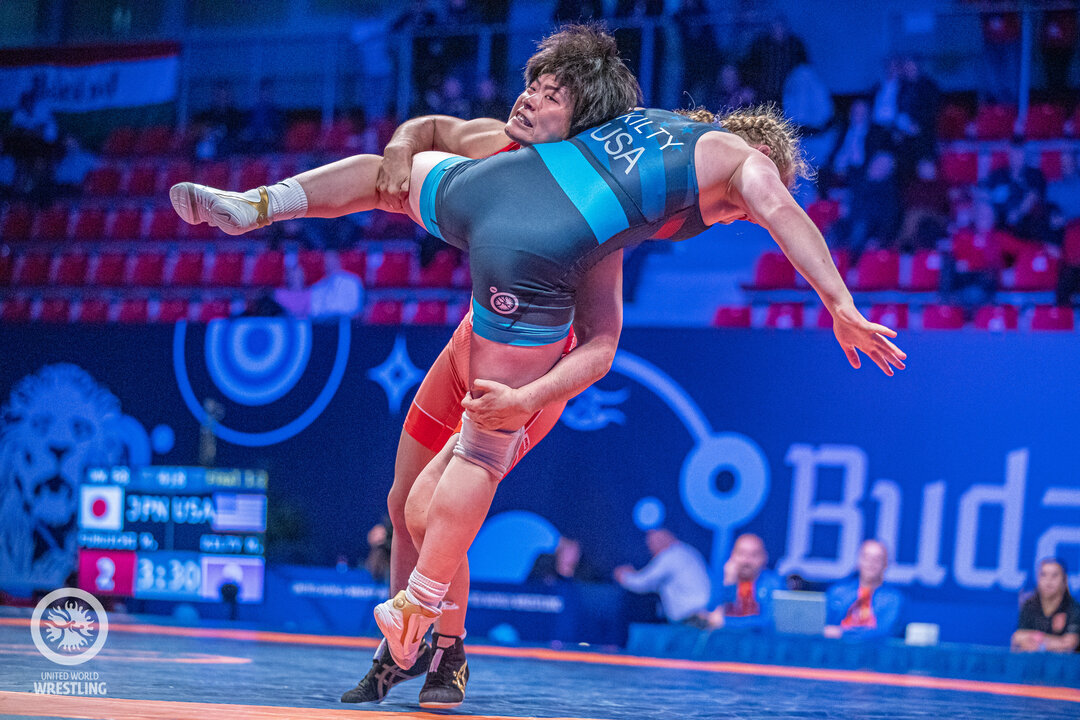 Masako FURUCHI (JPN) will look to add a senior world title to a stcked resume that includes cadet, junior and U23 world titles. (Photo: Kadir Caliskan)
At 72kg, 2019 world bronze medalist Masako FURUCHI (JPN) is in position to become the second Japanese to complete the world "grand slam" by adding a senior gold to her cadet, junior and U23 titles.
"I went to the World Championshps in 2019 in the same weight class and I finished in third place," Furuichi said after securing her ticket to Oslo with a victory at the All-Japan Invitational. "This time I will fight hard to become champion."
Furuichi, also a product of the JOC Elite Academy, twice came up short in a bid to make the Tokyo Olympics, first at 76kg and then at 68kg, before returning to her niche weight of 72kg.
"Up to two years ago, I faced the top wrestlers as I tried to make it to the Tokyo Olympics, and I want to make use of what I gained from that experience," she said. "I want to win the world title and have that lead to the next step."
The 24-year-old Furuichi, a two-time Asian medalist, was slated to be on the Japan squad to this year's continental championships in Almaty, but the women's team was withdrawn due to exposure to a person infected with the coronavirus.
About two months after taking a bronze medal at the 2019 senior worlds, Furuichi dropped down to 68kg and won the world U23 gold in Budapest, putting her a step closer to joining Haruna OKUNO (JPN) as the only wrestlers with world golds in the four age groups. Furuichi has already made history by winning three straight world titles both as a cadet in 2011-2013 and a junior in 2014-2016."
With none of the other 2019 medalists in the field, leading the opposition aiming to deny Furuichi a place in history will be Anna SCHELL (GER), a 2019 world bronze medalist at 68kg who placed eighth in that division at the Tokyo Olympics.
Schell, the 2019 European silver medalist, showed she can take it up a notch when she defeated former champion Dosho in the bronze-medal match at the 2019 worlds in Nur-Sultan.
Others expected to be in contention are European silver medalist Yuliana YANEVA (BUL), the 2020 Individual World Cup champion who finished fifth at 65kg in Nur-Sultan; three-time Asian medalist Zhamila BAKBERGEANOVA (KAZ); and a pair of world junior medalists this year, 76kg champion Kylie WELKER (USA) and 68kg bronze medalist Zsuzsanna MOLNAR (SVK).