World Champions Gempei and Sukhee advance to U23 Semifinals
Thursday, November 15, 2018 - 13:03 By Taylor Miller
Photo of Tserenchimed SUKHEE (MGL) by Sachicko Hotaka.
BUCHAREST, Romania – The semifinals for Thursday at the 2018 U23 World Championships have been set and features two World champions.
Highlighting the semifinalists at 65 kg is returning U23 World champion Ayana GEMPEI (JPN), who is also a 2016 Junior World champion and a 2018 Senior World bronze medalist.
To earn her second spot in the U23 World finals, Gempei will have to go through 2018 Junior World bronze medalist Iryna KOLIADENKO (UKR).
The other 65 kg semifinal will feature 2017 U23 World bronze medalist Moa NYGREN (SWE) and two-time Junior World bronze medalist Elis MANOLOVA (AZE).
There are three past age-group World medalists in the semifinals at 57 kg.
On the top side of the bracket, 2014 Senior World champion and 2015 Senior World silver medalist Tserenchimed SUKHEE (MGL) will battle this year's University World runner-up Alexandria TOWN (CAN).
Meanwhile on the bottom half, 2017 U23 World silver medalist and 2018 Junior World silver medalist Qi ZHANG (CHN) will go head-to-head with 2018 Junior Asian champion Akie HANAI (JPN), who knocked off 2017 Senior World bronze medalist Becka LEATHERS (USA) in the qualification round.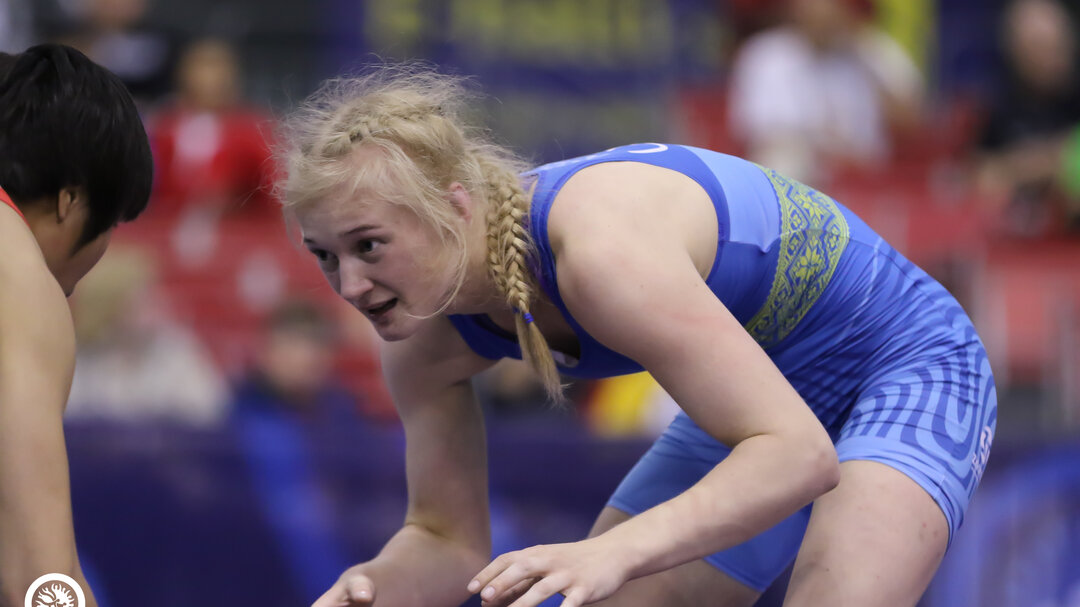 Photo of Khrystyna BEREZA (UKR).
At 53 kg, two-time Cadet World silver medalist Andreea ANA (ROU) will face 2018 University World silver medalist Momoka KADOYA (JPN), while two-time Junior World bronze winner and 2018 Military World champion Milana DADASHEVA (RUS) will battle two-time Junior World medalist Khrystyna BEREZA (UKR).
At 62 kg, we'll see 2018 Senior World runner-up Yukako KAWAI (JPN) take on home country's Kriszta Tunde INCZE (ROU), who is a 2016 University World silver medalist and 2013 Cadet World bronze winner.
Also moving on to the semis at 62 kg was 2017 U23 World silver medalist Ilona PROKOPEVNIUK (UKR) and two-time age-group World silver medalist Luisa NIEMESCH (GER).
At 72 kg, two-time age-group World bronze medalist Zhamila BAKBERGENOVA (KAZ) will challenge Buse TOSUN (TUR), who won bronze at the 2018 Senior World Championships in Budapest, Hungary. Tosun is also a 2013 Junior World silver medalist.
In the other 72 kg semi, 2017 Junior World bronze medalist and hometown favorite Alexandra ANGHEL (ROU) against Xiaoqian WANG (CHN).
Semifinal matchups
53 kg
Andreea ANA (ROU) vs. Momoka KADOYA (JPN)
Milana DADASHEVA (RUS) vs. Khrystyna BEREZA (UKR)
57 kg
Tserenchimed SUKHEE (MGL) vs. Alexandria TOWN (CAN)
Qi ZHANG (CHN) vs. Akie HANAI (JPN)
62 kg
Ilona PROKOPEVNIUK (UKR) vs. Luisa NIEMESCH (GER)
Yukako KAWAI (JPN) vs. Kriszta Tunde INCZE (ROU)
65 kg
Moa NYGREN (SWE) vs. Elis MANOLOVA (AZE)
Ayana GEMPEI (JPN) vs. Iryna KOLIADENKO (UKR)
72 kg
Zhamila BAKBERGENOVA (KAZ) vs. Buse TOSUN (TUR)
Alexandra ANGHEL (ROU) vs. Xiaoqian WANG (CHN)