World and Olympic Champs Yazdani, Kawai Aim to Add Asiad Golds
Friday, August 17, 2018 - 19:23 By Ken Marantz
JAKARTA, Indonesia (August 17) - Six months after the Asian Championships in Bishkek, the continent's elite wrestlers are back together again, but with fewer prizes at stake. That aspect only enhances the competition. 
The wrestling program at the 18th Asian Games in Jakarta runs from Aug. 19 to 22, but the fields in this edition of the quadrennial event are limited to the 18 Olympic weight classes---six each in the three styles. A number of Bishkek medalists, including three champions, from the four missing divisions have either gone up or down in a bid to get in on the action.
Heading the list of entries are two wrestlers currently holding both the world and Olympic titles, Hassan YAZDANI (IRI) and Risako KAWAI (JPN). Both will be aiming to add a first Asiad gold to their extensive medal collections.
Yazdani, who won the Rio 2016 Olympic gold in the freestyle 74kg class, has successfully made the jump up two divisions to the next Olympic weight class of 86kg, capturing the world title at Paris 2017. He followed that up by cruising to his first career Asian gold in Bishkek. 
The 23-year-old Yazdani is the prohibitive favorite at 86kg, where the runner-up in Bishkek, Uitumen ORGODOL (MGL), will try to get another shot at beating the Iranian star. Also entered is Azamat DAULETBEKOV (KAZ), who was third in Bishkek and, for what it's worth, the only opponent to score a point on Yazdani among his three technical fall victories. Rashid KURBANOV (UZB), the 2014 Asiad champion at 74kg, will have to deal with moving up a weight class, after winning the 79kg gold in Bishkek.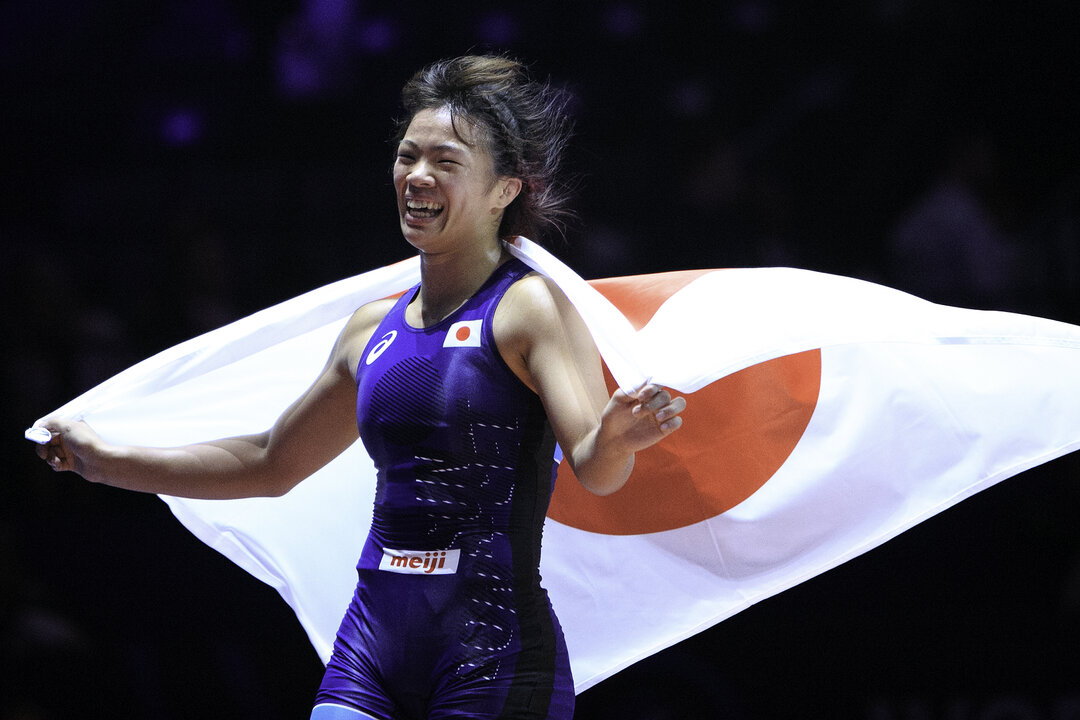 World and Olympic champion, Risako KAWAI (JPN). Photo by Martin Gabor 
Kawai, one of the four Japanese women's champions in Rio, is entered at 62kg, although she will drop down to 59kg in a bid for a second straight world title in Budapest in October. Because of the early deadline for entries, Japan's team to Jakarta was based on the results from the national championships back in December, in which Kawai won at 62kg. 
Kawai, who has not lost since being defeated in the final of the 2015 world championships by Battsetseg SORONZONBOLD (MGL), could clash with another Mongolian world champion in Jakarta. 
Orkhon PUREVDORJ (MGL), the gold medalist at 63kg at Paris 2017, has won nine consecutive international tournaments, including a victory in Bishkek. Another wrestler who can't be overlooked is Sakshi MALIK (IND), whose bronze medal at Rio 2016 made her India's first female Olympic medalist. She was second in Asia in 2017 and third this year. 
In addition to Yazdani, Kawai and Purevdorj, there are three other reigning world champions making the trip to Jakarta. Yuki TAKAHASHI (JPN) will be the favorite in freestyle 57kg, while Haruna OKUNO (JPN), the women's 55kg champion in Paris, has dropped down to 53kg. RYU Han-Soo (KOR), one of eight defending Asian Games champions in the tournament, heads the field at Greco-Roman 67kg.
In total, there will be 15 medalists from Paris 2017 and eight from Rio 2016 (including Yazdani and Kawai in both groups) taking the mat in Jakarta. There are 17 champions from Bishkek 2018, and 10 weight classes could see rematches between the finalists.
In terms of depth, two weight classes in particular stand out. The brackets in Greco-Roman 77kg will not only include the gold and silver medalists from Bishkek 2018, but the champions from the weight classes immediately above and below it. 
YANG Bin (CHN) by Martin Gabor. 
Champion YANG Bin (CHN) will contend in a division that also features teenager Akzhol MAKHMUDOV (KGZ), who thrilled the home crowd in Bishkek when he won the 72kg gold, as well as Ashkat DILMUKHAMEDOV (KAZ), who captured the 82kg title. 
Added to that trio is KIM Hyeong-Woo (KOR), who won the 75kg title at the last Asian Games in Incheon in 2014 and the world title the previous year, and Mohammadali GERAEI (IRI), the runner-up to Yang in Bishkek and a world bronze medalist.
Fireworks can also be expected at freestyle 74kg, in which Bekzod ABDURAKHMANOV (UZB) will aim to win a second straight Asian Games gold and make up for a disappointing showing at Bishkek, where, as defending Asian champion, he finished out of the medals. Standing in his way will be Mostafa HOSSEINKHANI (IRI), veteran Susil KUMAR (IND) and Yuhi FUJINAMI (JPN). 
Hosseinkhani, a two-time Asian champion and former world bronze medalist, had to settle for the bronze in Bishkek. Kumar, the 35-year-old two-time Olympic medalist, had to skip Bishkek due to injury, but prepped for Jakarta by taking the gold at the Commonwealth Games. Fujinami, who has fully recovered from a cheek fracture suffered in May, won a bronze medal at Paris 2017, where he defeated Hosseinkhani in the third round.
Here's a look at other weight classes of interest: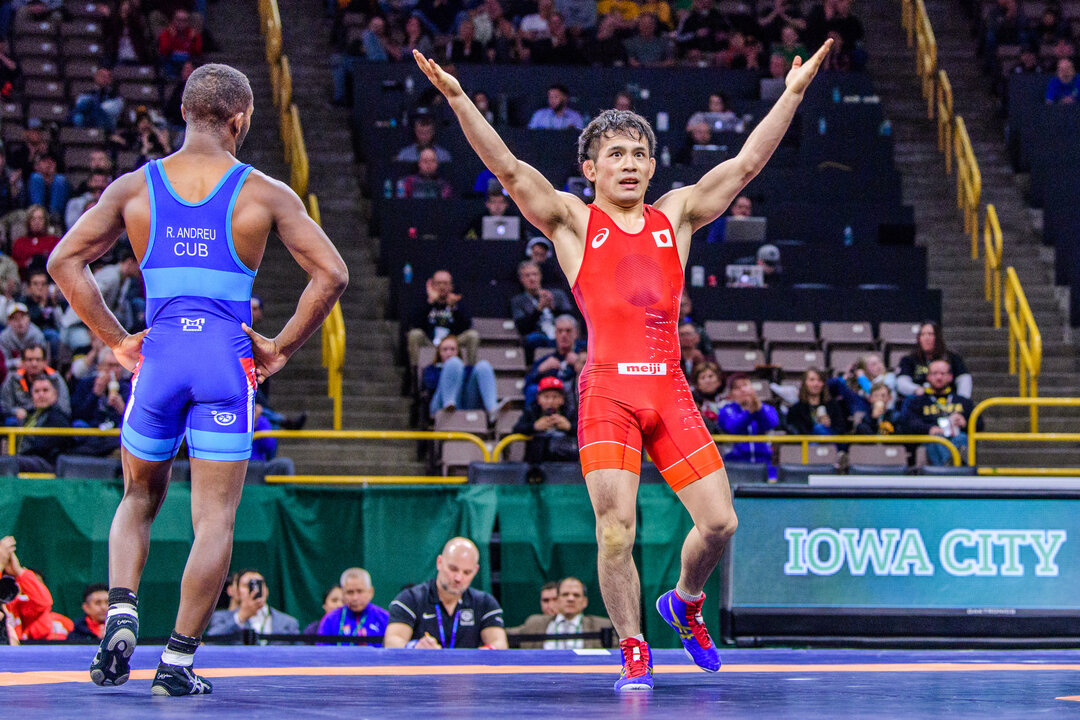 Yui TAKAHASHI (JPN) by Tony Rotundo. 
Freestyle, Aug. 19-20
World champion Takahashi skipped the Asian Championships, and in his absence, unheralded KANG Kum-song (PRK) impressively scraped his way to the 57kg gold. At Paris 2017, Takahashi had his hands full in a third-round clash with Bekhbayar ERDENET (MGL), scoring a 4-4 win by big point. Those three, along with 2017 Asian bronze medalist Reza ATRINAGHARCHI and Sandeep TOMAR (IND), should battle for the medals.
At 96kg, Russian-born Magomed IBRAGIMOV (UZB) will look to add the Asiad gold to the Asian titles he won in 2017 and 2018 and his Olympic bronze in Rio. While a heavy favorite, he could be challenged by Magomed MUSAEV (KAZ), another Russian native who won a silver medal at the 2014 Asian Games, and Alizreza KARAMIMACHIANI, the 2017 Asian champion at 86kg who is returning from a six-month ban for purposely losing a match at the U-23 World Championships in November to avoid facing an Israeli opponent in the next round. 
Georgian-born David MODZMANASHVILI (UZB), a London 2012 silver medalist, will look for more Asian success at 125kg to go with his gold in Bishkek, while Parvis HADI BASMANJ (IRI) aims to defend his Asiad title.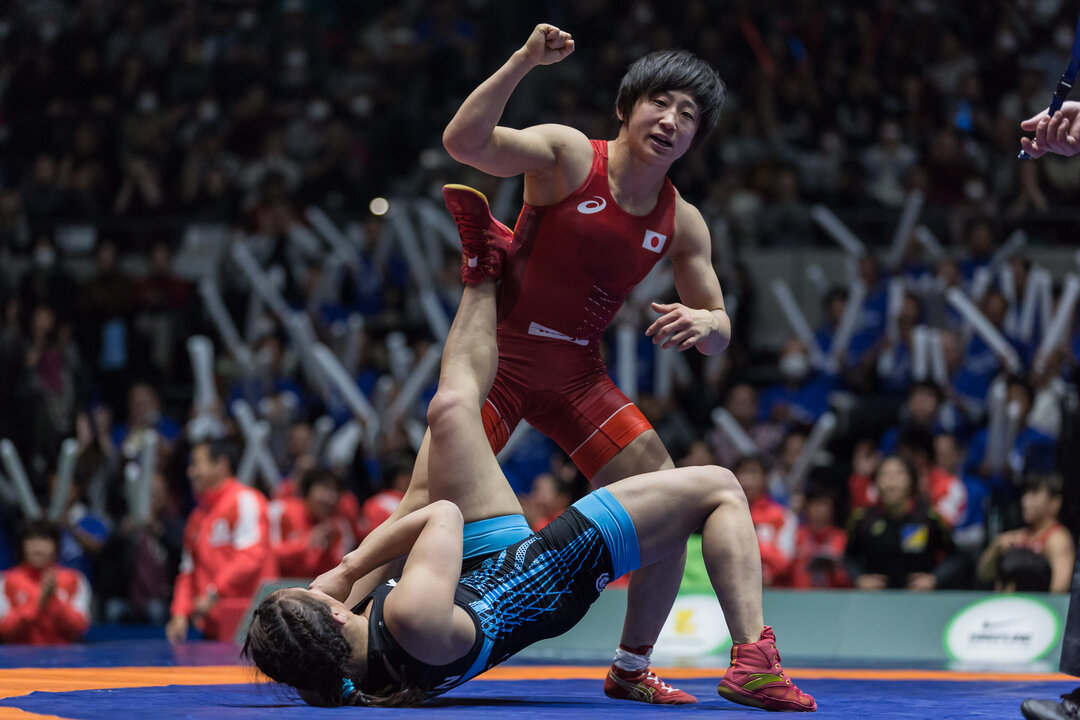 Yuki IRIE (JPN) by Max Rose-Fyne
Women's Wrestling, Aug. 20-21
Yuki IRIE (JPN) earned her ticket to Jakarta at 50kg by beating world champion Yui SUSAKI (JPN) at the national championships. That also put her on the team to Bishkek, but she suffered a close loss to Vinesh VINESH (IND) and had to settle for a bronze. Irie has since lost twice to Susaki to miss out on the world championships, giving her even more incentive to take the Asian Games gold. 
Vinesh will try to improve on her runner-up finish from Bishkek, while also in the mix will be Rio 2016 bronze medalist SUN Yanan (CHN) and KIM Son-Hyang (PRK), a bronze medalist at Paris 2017. Of note is that Irie defeated Sun by fall at the Women's World Cup in March, but just edged Kim 8-7 at the Yarygin Grand Prix in January. 
At 53kg, world champion Okuno, like most top Japanese, skipped the Asian Championships to focus on the World Cup hosted by Japan. In her absence, PAK Yong-Mi (PRK) and Sumiya ERDENECHIMEG (MGL) took the gold and silver medals, respectively, and should be her main competition in Jakarta.
China can be expected to dominate the two heaviest weight classes, with Bishkek 2018 champions FENG Zhou (68kg) and ZHOU Qian (76kg) well established as the favorites. Feng is a defending Asiad champion, while Zhou was the 2015 world silver medalist.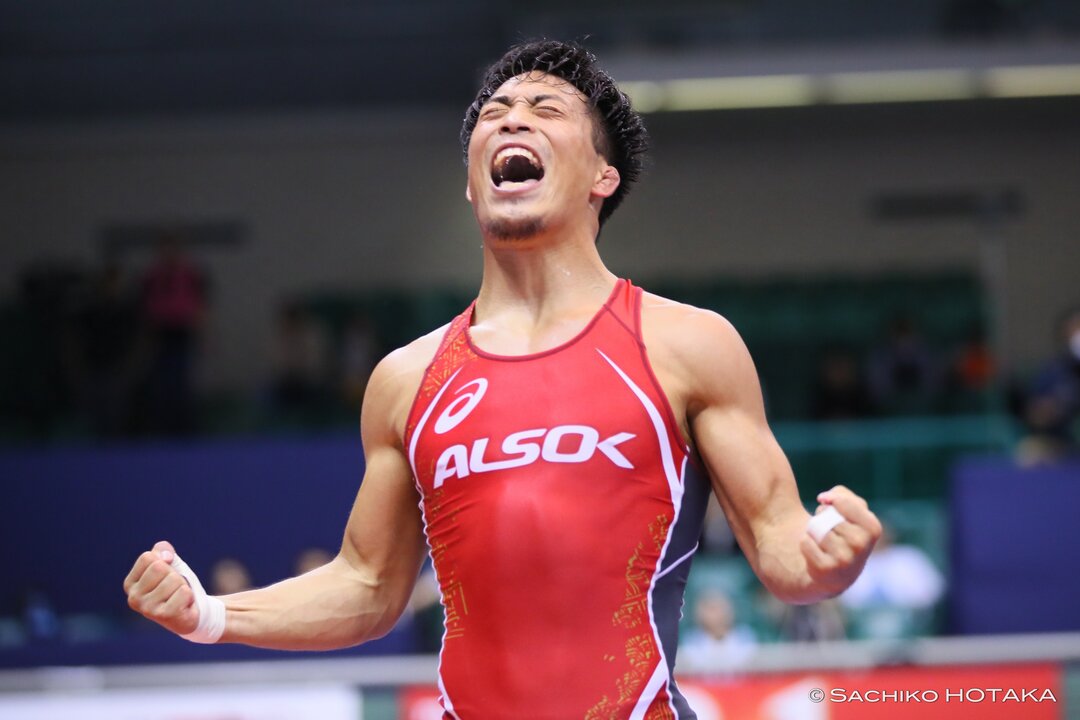 Shinobu OTA (JPN) by Sachiko Hotaka
Greco-Roman, Aug. 21-22
Now that Rio 2016 silver medalist Shinobu OTA (JPN) has finally gotten the best of Paris 2017 champion and top domestic rival Kenichiro FUJITA (JPN), he can start concentrating on bringing home more international hardware at 60kg. Coming off his victory in Bishkek, Ota could face a rematch with teenager RI Se-Ung. 
The division also includes Mirambek AINAGULOV (KAZ), who was second at both the Asian and World Championships in 2017, losing both finals to Fumita. He was third in Bishkek at 63kg.
At 67kg, world champion Ryu will face a challenge from a pair of Asian champions. Elmurat TASMURADOV (UZB) won the 63kg gold in Bishkek, but has moved up to join 67kg champion Almat KEBISPAYEV (KAZ). And for good measure, Bishkek silver medalist Tsuchika SHIMOYAMADA (JPN) joins the fray. 
The heavier weights are currently the domain of Iran. Hossein NOURI (87kg) and Behnam MEHDIZADEH (130kg) both successfully defended their Asian titles in Bishkek and are the hot favorites, while Aliakbar HEIDARI (97kg), third at the World Military Championships, heads what is arguably the most open weight class. 
Schedule 
Saturday,  Aug. 18
11:00 - 12:00 - Draw for all weight classes
Sunday,  Aug. 19
11:00-12:00 - Medical Examination and Weigh-In: FS 57, 65, 74, 86 & 97kg 
13:00-17:00 - Qualification Rounds & Repechage: FS 57, 65, 74, 86 & 97kg 
19:00-21:00 - Finals and Award Ceremonies: FS 57, 65, 74, 86 & 97kg 
Monday,  Aug. 20
11:00-12:00 - Medical Examination and Weigh-In: FS 125kg; WW 50, 53, 57, 62kg 
13:00-17:00 - Qualification Rounds & Repechage: FS 125kg; WW 50, 53, 57, 62kg 
19:00-21:00 - Finals and Award Ceremonies: FS 125kg; WW 50, 53, 57, 62kg 
Tuesday,  Aug. 21
11:00-12:00 - Medical Examination and Weigh-In: WW 68, 76kg; GR 60, 67 kg
13:00-17:00 - Qualification Rounds & Repechage: WW 68, 76kg; GR 60, 67 kg
19:00-21:00 - Finals and Award Ceremonies: WW 68, 76kg; GR 60, 67 kg
Wednesday,  Aug. 22
11:00-12:00 - Medical Examination and Weigh-In: GR 77, 87, 97, 130kg
13:00-17:00 - Qualification Rounds & Repechage: GR 77, 87, 97, 130kg
19:00-21:00 - Finals and Award Ceremonies: GR 77, 87, 97, 130kg