Wednesday's First Session Brings Fireworks at 57kg, Susaki Cruises
Wednesday, October 24, 2018 - 12:19 By Andrew Hipps
BUDAPEST, Hungary (October 24) -- It didn't take long for the fireworks to start in Wednesday's first session at the World Championships in Budapest, Hungary.
In one of the first women's wrestling qualification matches of the session, Alyona KOLESNIK (AZE) stunned reigning world and Olympic champion Helen MAROULIS (USA) at 57kg, earning a second-period fall.
Kolesnik held a narrow 2-2 lead on criteria early in the second period when Maroulis shot a single leg, which was stopped. Maroulis immediately followed up another attack, which Kolesnik stuffed and ran the American over for the fall. 
Maroulis, who did not surrender a point at last year's World Championships in Paris, was eliminated from the tournament when Kolesnik lost by technical fall (10-0) to Ningning RONG (CHN) in her next match. Maroulis has seen limited action this year due to a head injury.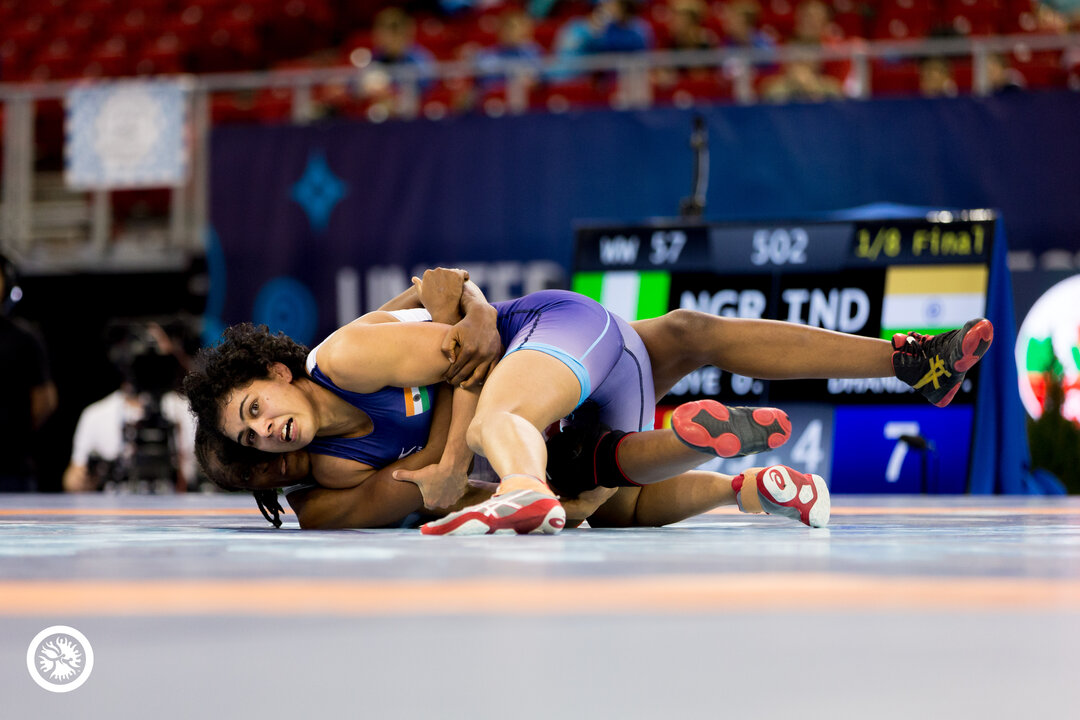 Maroulis' loss was not the only surprising result at 57kg. Odunayo ADEKUOROYE (NGR), a returning world silver medalist at 55kg, fell to Pooja DHANDA (IND) 7-6 prior to the quarterfinal round. Adekuoroye led 6-5 with 10 seconds remaining before getting taken down in the closing seconds to lose the match. 
In the 57kg quarterfinals, Grace BULLEN (NOR) held on to edge In Sun JONG (PRK) 3-3 on criteria. She now faces Ningning RONG (CHN), who won by fall over Dhanda in the quarterfinals. The other semifinal match at 57kg pits two-time world bronze medalist Emese BARKA (HUN) against Bilyana Zhivkova DUDOVA (BUL).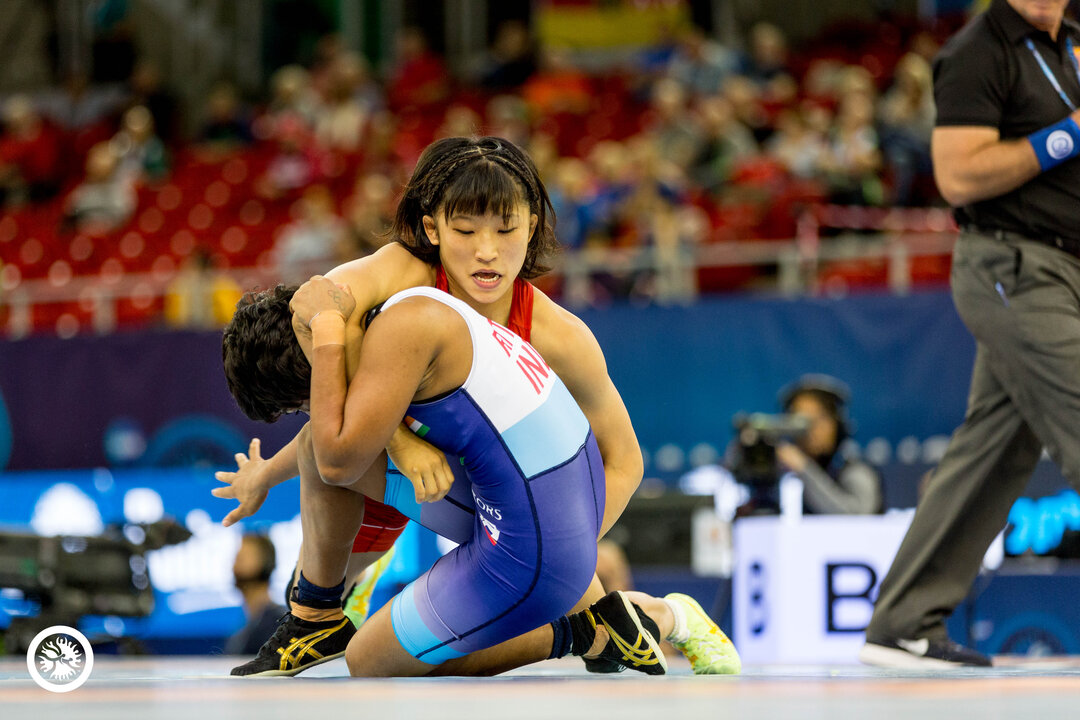 Reigning world champion Yui SUSAKI (JPN) was dominant in her first two matches at 50kg. She opened with the same wrestler she faced in the finals of last year's World Championships, Emilia VUC (ROU). Susaki scored a four-point takedown a minute into the match and a short time later drove Vuc over for the fall. Susaki continued her dominance in the quarterfinals as she won by technical fall (11-0) over Ritu RITU (IND). She scored three takedowns in the first period to lead 6-0 at the break and then closed the match with a four-point takedown in the final period. It sets up a semifinal meeting with three-time junior world bronze medalist Oksana LIVACH (UKR).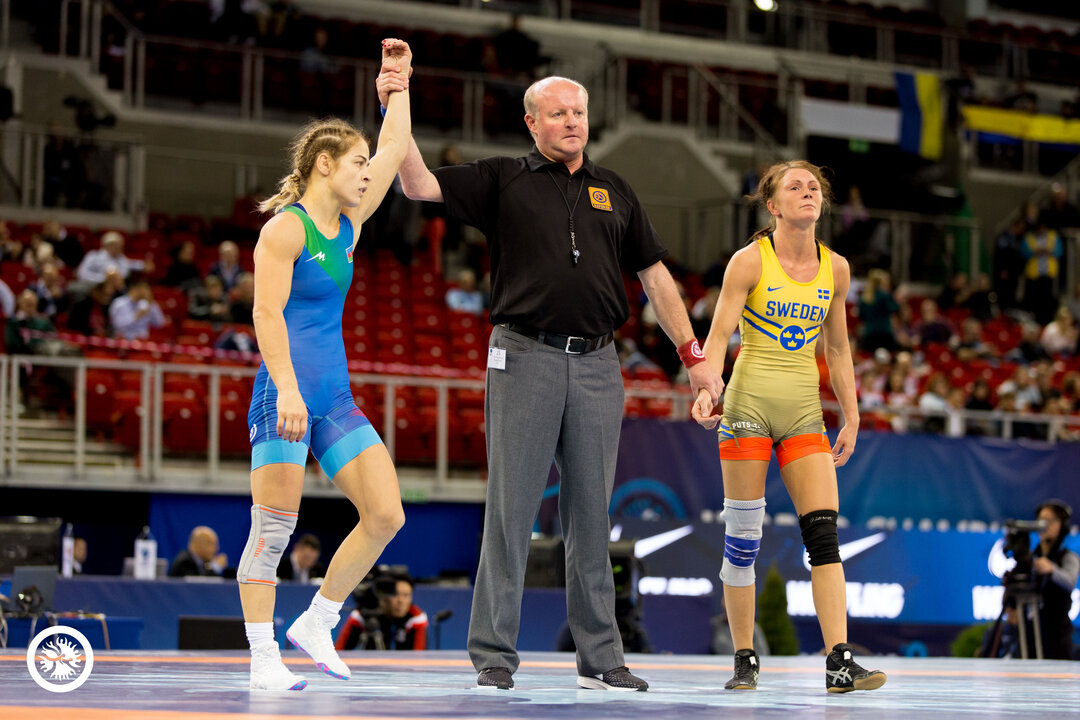 Mariya STADNIK (AZE), a past world champion and multiple-time Olympic medalist, secured a spot in the semifinals at 50kg with a 10-0 technical fall over Yanan SUN (CHN). Stadnik now faces world bronze medalist Sonhyang KIM (PRK).
In the 62kg quarterfinals, Yuliia TKACH OSTAPCHUK (UKR) gave up the first takedown to Johanna MATTSSON (SWE) before coming back to pick up a fall and earn a spot in the semifinals. It was a battle of returning world medalists as Tkach won silver in Paris and Mattsson claimed a bronze. Her quarterfinals opponent will be Yukako KAWAI (JPN). Kawai trailed Sakshi MALIK (IND) after the opening period in the quarterfinals, but came out strong in the second period and rolled to a 16-2 technical fall. 
Four-time world medalist Taybe YUSEIN (BUL) handled Lais NUNES DE OLIVEIRA (BRA) 7-1 in the quarterfinals at 62kg. Yusein now meets Mallory VELTE (USA) in the semifinals. 
Returning world champion Haruna OKUNO (JPN) punched her ticket to the 53kg semifinals with a 9-1 victory over Maria PREVOLARAKI (GRE). Her semifinals opponent will be Katarzyna KRAWCZYK (POL).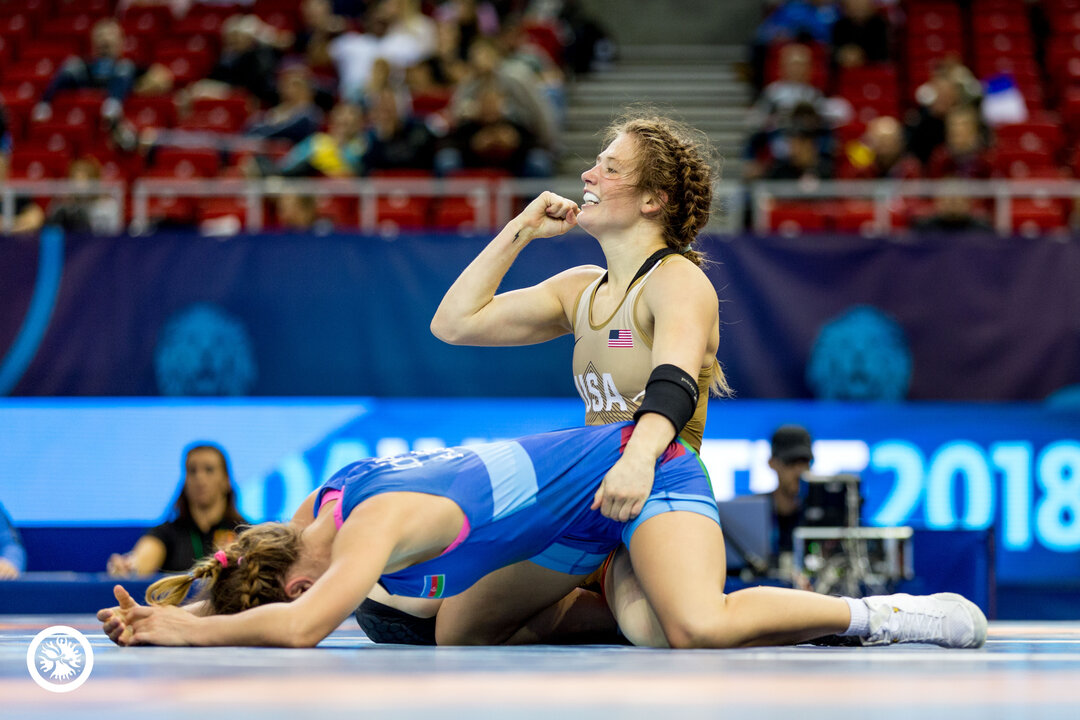 Sarah HILDEBRANDT (USA) joined teammate Velte as a semifinalist. She claimed a 15-9 victory over Anzhela DOROGAN (AZE). Hildebrandt will now meet Diana WEICKER (CAN), who came back to defeat Nina HEMMER (GER) 10-7. 
The semifinal matches are scheduled to begin at 4:45 p.m. local time. 
Semifinal Matchups
Women's Wrestling
50kg
Yui SUSAKI (JPN) vs. Oksana LIVACH (UKR) 
Sonhyang KIM (PRK) vs. Mariya STADNIK (AZE)
53kg
Sarah HILDEBRANDT (USA) vs. Diana Mary Helen WEICKER (CAN)
Haruna OKUNO (JPN) vs. Katarzyna KRAWCZYK (POL) 
57kg
Bilyana Zhivkova DUDOVA (BUL) vs. Emese BARKA (HUN) 
Grace Jacob BULLEN (NOR) vs. Ningning RONG (CHN)
62kg
Yuliia TKACH OSTAPCHUK (UKR) vs. Yukako KAWAI (JPN) 
Mallory VELTE (USA) vs. Taybe YUSEIN (BUL)