Uzbekistan Opens Asian Freestyle with Wrestlers in Four of Five Finals
Saturday, March 3, 2018 - 10:33 By Ken Marantz
Uzbekistan shone brightest on the opening day of  men's freestyle at the Asian Championships, with Rio 2016 Olympic bronze medalists Ikhtiyor NAVRUZOV and Magomed IBRAGIMOV among a foursome that advanced to the finals in the five weight classes.
Navruzov, who won a second career Asian silver medal last year in New Delhi,  will aim for his first continental gold when he faces LEE Seungbong (KOR) in the 70kg final on the fifth day at the Kozhomkul Sports Palace.
Ibragimov struck gold in New Delhi, and he'll try to make it back-to-back championships with a victory in the 97kg final, where he will clash with Mojtaba GOLEIJ (IRI), a world U23 champion in 2017.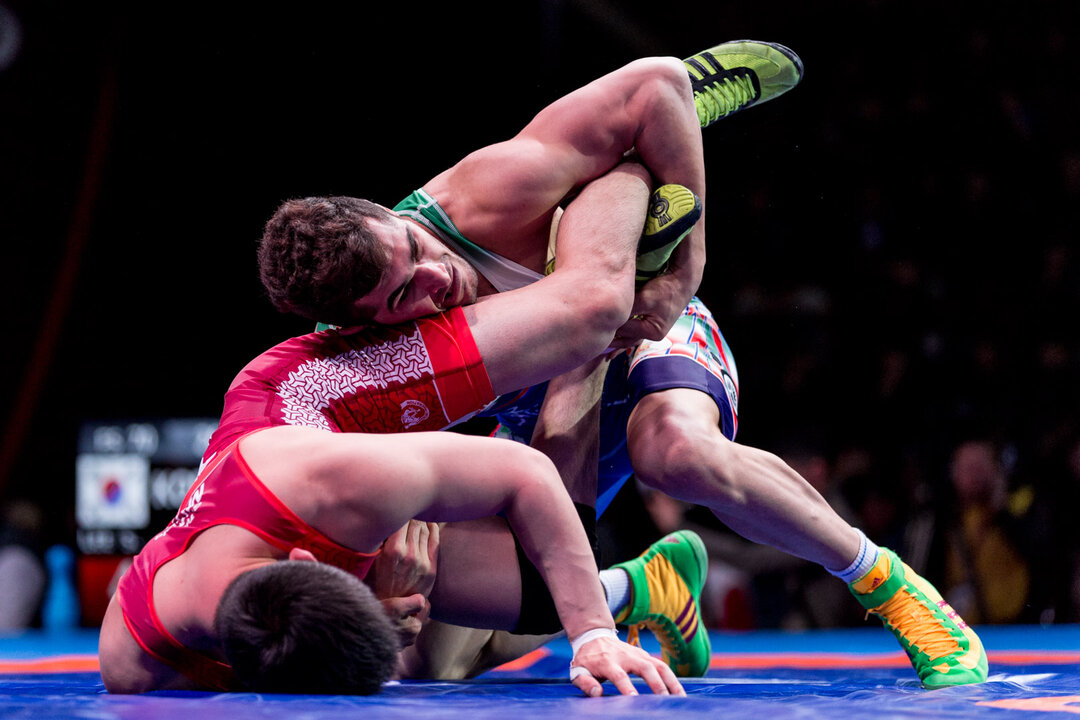 Ezzatollah AKBARIZARINKOLAEI (IRI) picks as a takedown on his way to the 79kg gold-medal bout. Photo: Max Rose-Fyne.
There will be another Uzbekistan-Iran duel on tap, as 2013 world silver medalist Ezzatollah AKBARIZARINKOLAEI (IRI) and Rashid KURBANOV (UZB) advanced to the 79kg gold-medal match.
Kurbanov had been a fixture on the Asian medal podium for a half-decade, winning golds in 2011 and 2013 before finishing third in 2014 and 2015. He also won a world bronze medal in 2013.
The other Uzbeki in a final will be Makhmudjon SHAVKATOV, who failed to medal at the past two Asian Championships but is now assured of nothing less than a silver. But his objective will be gold when he faces KANG Kumsong (PRK) in the 57kg final.
Uzbekistan will have a chance for five medals on the day, as Temurjon USMONOHUNOV advanced to a bronze-medal match at 65kg and a clash with KIM Kukgwang (PRK).
"It is normal," said Uzbekistan coach Olimdjan Khikmatov when asked if his squad's showing exceeded expectations. "Today is good, tomorrow will be better," he added with a smile.
The Uzbeki-less final will pit 2015 and 2016 Asian champion Daulet NIYAZBEKOV (KAZ) against up-and-coming Daichi TAKATANI (JPN) for the 65kg title.
En route to the final, Takatani, the younger brother of former world silver medalist Sosuke TAKATANI, knocked off the other gold medalist from New Delhi 2017 in action on Saturday, Bajrang BAJRANG (IND), in the quarterfinals.
Bajrang has made a name for himself for giving up early points, then storming back with his extraordinary stamina and countermoves---in his first-round match, he turned a 5-0 deficit into a 16-5 technical fall.
But it was Takatani, a world junior bronze medalist in 2014, who had to come from behind, as he trailed 2-0 and 5-4 before scoring a late takedown and a step-out for a 7-5 victory.
Takatani then followed that up by scoring a pair of takedowns in each period to top Yones EMAMICHOGHAEI (IRI) 8-4 in the semifinals.
Japan freestyle coach Shogo MAEDA said the new rule specifying that wrestlers weigh-in on the morning of the competition, instead of the day before, works in Takatani's favor as he is adept at weight control and assuring he is in top condition.
"Bajrang has stamina and is strong late in the match, but this time, he stopped moving and seemed winded," Maeda said. "Takatani is especially strong in tackling late in the match. He's good when the opponent stops moving, catching a leg and fighting to score.
"It was the same against Iran. He's strong in fighting to the end."
Among the more interesting matches of the morning session was the first-round clash between New Delhi 2017 silver medalist LEE Seungchul and Russian-born Haji Mohamad ALI (BRN).
Lee dominated and built up a 10-2 lead, but mistakenly stopped wrestling momentarily, thinking he had earned a technical fall. Whether or not that inspired Ali is unknown, but he suddenly came to life and ended up going ahead 16-14 before winning by fall with 1:06 left.
Unfortunately, Ali had to then default his quarterfinal match against Uzbekistan's Usmonohunov.
Freestyle
57kg (14 entries)
Gold - KANG Kumsong (PRK) v Makhmudjon SHAVKATOV (UZB)
Bronze - Zhandos ISLMAILOV (KAZ) v Nader HAJIAG HANIASAMAKOUSHI (IRI)
Bronze - SONG Hyeonsik (KOR) v Tomohiro HASEGAWA (JPN)
Semifinal - KANG Kumsong (PRK) df. Tomohiro HASEGAWA (JPN), 8-0
Semifinal - Makhmudjon SHAVKATOV (UZB) df. Nader HAJIAG HANIASAMAKOUSHI (IRI), 10-9
65kg (14 entries)
Gold - Daichi TAKATANI (JPN) v Daulet NIYAZBEKOV (KAZ)
Bronze - KIM Kukgwang (PRK) v Temurjon USMONOHUNOV (UZB)
Bronze - Bajrang BAJRANG (IND) v Yones EMAMICHOGHAEI (IRI)
Semifinal - Daichi TAKATANI (JPN) df. Yones EMAMICHOGHAEI (IRI), 8-4
Semifinal - Daulet NIYAZBEKOV (KAZ) df. Temurjon USMONOHUNOV (UZB) by TF, 10-0, 2:24
70kg (12 entries)
Gold - Ikhtiyor NAVRUZOV (UZB) v LEE Seungbong (KOR)
Bronze - Byambadorj BAD ERDENE (MGL) v Meirzhan ASHIROV (KAZ)
Bronze - Kumar VINOD (IND) v Elaman DOGDURBEK UULU (MGL)
Semifinal - Ikhtiyor NAVRUZOV (UZB) df. Elaman DOGDURBEK UULU (MGL), 5-2
Semifinal - LEE Seungbong (KOR) df. Meirzhan ASHIROV (KAZ), 4-3
79kg (12 entries)
Gold - Ezzatollah AKBARIZARINKOLAEI (IRI) v Rashid KURBANOV (UZB)
Bronze - LEE Yunseok (KOR) v Tsubasa ASAI (JPN)
Bronze - Turbold GANBOLD (MGL) by Default
Semifinal - Ezzatollah AKBARIZARINKOLAEI (IRI) df Turbold GANBOLD (MGL) by TF, 10-0, 3:15
Semifinal - Rashid KURBANOV (UZB) df. Tsubasa ASAI (JPN), 3-1
97kg (11 entries)
Gold - Mojtaba GOLEIJ (IRI) v Magomed IBRAGIMOV (UZB)
Bronze - Aibek USUPOV (KGZ) v Takeshi YAMAGUCHI (JPN)
Bronze - Mamed IBRAGIMOV (KAZ) v KIM Jaegang (KOR)
Semifinal - Mojtaba GOLEIJ (IRI) df. KIM Jaegang (KOR) by TF, 11-0, 1:51
Semifinal - Magomed IBRAGIMOV (UZB) df. Takeshi YAMAGUCHI (JPN) by TF, 10-0, 5:15