Tokyo 2020 Test Event Starts with Minor Kinks, Vengeance for Japan's Sakano
Thursday, October 3, 2019 - 13:17 By Ken Marantz
CHIBA, Japan (Oct. 3)---The wrestling venue for the Tokyo 2020 Olympics got its first taste of action with the start of a three-day women's tournament, with the competition on the mat overshadowing the kind of technological glitches that often pop up in a test event.
Yui SAKANO (JPN) provided the surprise of the day in Hall 5 of Makuhari Messe, a sprawling convention center in western Chiba city down the coast from Tokyo, when she avenged a loss from three years ago to newly minted world bronze medalist PEI Xingru (CHN) in the 62kg semifinals. 
Venue manager Yasukazu FUJIMORI, assessing the first day of the three-day test event in the six Olympic weight classes for women, said, "The training for the staff and volunteers went well. The problem was with the technology." 
He pointed out bugs with the printer and scoreboards, the type that come out during operational trials and are fixable as the UWW and Olympic systems are integrated. 
Of bigger concern for Fujimori was the low number of wrestlers drawn to the tournament. Coming so close to the recently completed World Championships in Kazakhstan, only half the countries who had expressed interest in participating actually made the trip. 
"It's a bit of a lonely tournament," Fujimori said. "We wanted 16 entries [per weight class] but only have eight [or nine]," adding that reductions in the budget by the Tokyo 2020 Organizing Committee for its "Ready Steady Tokyo" series of test events also was a factor.
Fujimori expressed his gratitude to China, which, among the six nations here, sent several top wrestlers, including five medalists from Nur-Sultan.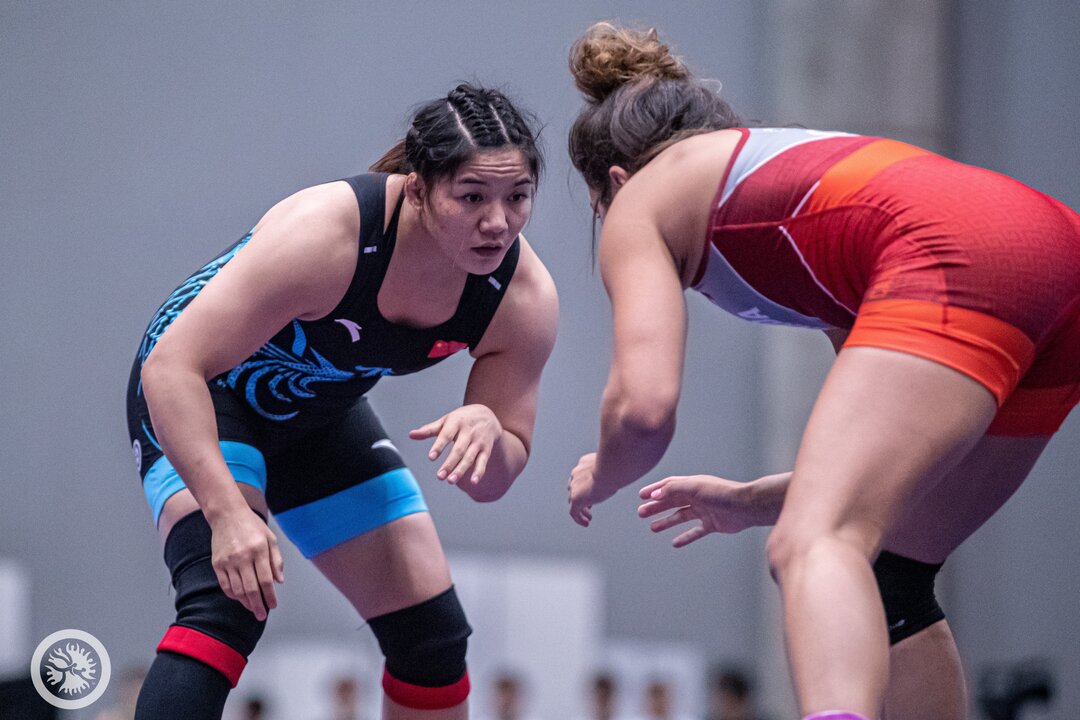 ZHOU Qian (CHN) defeated 2018 world champion Justina DI STASIO (CAN), 2-2, and will wrestle for gold at 76kg. (Photo: Sachiko Hotaka)
"I wanted to get a feel for the atmosphere of this venue and the weather in Japan," ZHOU Qian (CHN), a two-time former world medalist, said after making the 76kg final. "Maybe there will be some difference [next year], but it will help a lot to prepare next time." 
When the wrestlers got on the mat, of course, they put aside the external factors and focus on the task at hand, just as they would for any tournament. 
Sakano, the 2017 world U23 champion at 60kg, was only offered a place at the tournament 10 days ago. And when she saw who was among her competition at 62kg, she became extra motivated.
Three years ago at the World Championships for non-Olympic weights, Sakano lost 8-6 in the semifinals to China's Pei, who went on to win that title. Pei would add bronze medals at 59kg last year in Budapest and last month at Nur-Sultan.
On Thursday, Pei scored a go-behind takedown to take a 2-0 lead into the second period. But Sakano used a nifty barrel roll to go ahead 4-2 and came very close to ending the match with a fall. 
"I wanted to use a different move, but the chance came up," Sakano said. "I was losing anyway so I just went for it."
Pei escaped the predicament, but could only gain a point for fleeing in the closing seconds and came out on the short end of a 4-3 score. 
"I remember it," Sakano said of the 2016 loss to Pei. "When I saw the draw, I thought this was a good chance for revenge as I hadn't faced her in the three years [since the world championships]."
In the final on Saturday, Sakano will be looking for another measure of revenge. She will be facing 2018 world junior champion Atena KODAMA (JPN), who defeated her at last year's All-Japan Championships. 
Kodama advanced with a 5-3 victory over Ilona PROKOPEVNIUK (UKR) after scoring all of her points in the second period, mainly with a deadly low single.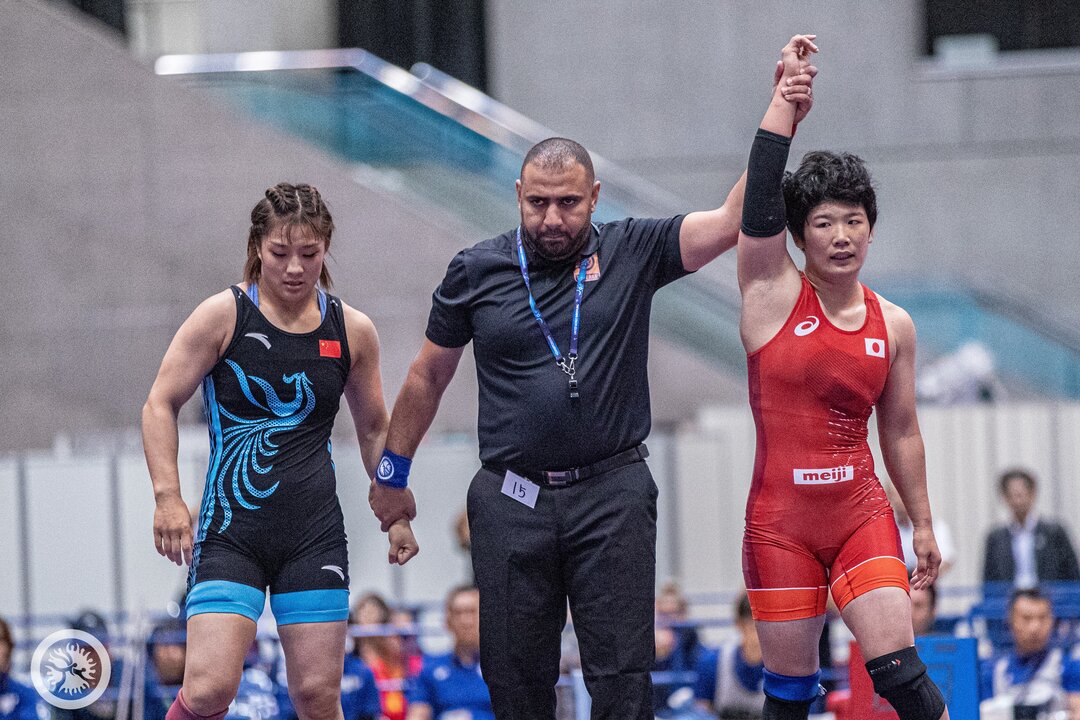 Yui SAKANO (JPN) scored a stunning 4-3 win over world bronze medalist PEI Xingru (CHN) in the 62kg semifinals. (Photo: Sachiko Hotaka)
In the morning session, Sakano scored a victory by fall over LUO Xiaojuan, this year's Asian champion at 65kg. Pei, meanwhile, had her hands full with Mallory VELTE (USA) in a clash of current and former world bronze medalists before coming away with a 4-1 victory. 
Kodama, a 2018 world junior champion, defeated Yarygin Grand Prix runner-up Anna SHCHERBAKOVA (RUS) 8-1, twice fighting off whizzer attempts that ended up with the Russian on her back. 
The 76kg final will be an all-China affair between Paliha PALIHA (CHN) and Zhou, who each advanced with very different wins.
Paliha, a world bronze medalist at 72kg, overwhelmed high schooler Mizuki NAGASHIMA (JPN) by 12-2 technical fall, while Zhou needed a spin-behind takedown with five seconds left to stun 2018 world 72kg champion Justina DI STASIO (CAN) 2-2 on criteria. 
Asked what she was thinking as the clock ticked down, Zhou smiled and said in English, "I want to win."
At 68kg, WANG Xiaoqian (CHN) stormed into the final with the most dominant performance of the day, and will face Naruha MATSUYUKI (JPN) for the gold. 
Wang, a world bronze medalist at 65kg, needed just 30 seconds to dispose of Alina RUDNYTSKA LEVYTSKA (UKR), a 2018 world junior bronze medalist, by 10-0 technical fall, then defeated Alexandra GLAUDE (USA) by fall. 
Matsuyuki, one of twin sisters in the tournament, pancaked Alena STARODUBTSEVA (RUS) for two points early in their semifinal before holding on for a 3-0 win. 
Day 1 Results
Women's Wrestling
62kg (8 entries)
Semifinal – Yui SAKANO (JPN) df. PEI Xingru (CHN), 4-3
Semifinal – Atena KODAMA (JPN) df. Ilona PROKOPEVNIUK (UKR), 5-3
68kg (8 entries)
Semifinal – WANG Xiaoqian (CHN) df. Alexandra GLAUDE (USA) by Fall, 2:50 (6-0) 
Semifinal – Naruha MATSUYUKI (JPN) df. Alena STARODUBTSEVA (RUS), 3-0
76kg (9 entries)
Semifinal – Paliha PALIHA (CHN) df. Mizuki NAGASHIMA (JPN) by TF, 12-2, 4:35 
Semifinal – ZHOU Qian (CHN) df. Justina DI STASIO (CAN), 2-2