Stadnik Wins Eighth European C'Ship, Adar Gets Third
Thursday, May 3, 2018 - 19:01 By Eric Olanowski
KASPIISK, Russia (May 3) - Mariya STADNIK (AZE) captured her eighth European title and reigning world championship, Yasmin ADAR (TUR) claimed her third crown.
Stadnik sealed up the gold medal by demolishing 2017 world finalist, Emilia VUC (ROU), 10-0. 

When asked what's the difference between this win and the first seven, Stadnik said "When I won the first few European Championships, I used to get really stressed out prior to the tournament. Now, I remain pretty calm. That's the difference." 
Stadnik also beat Vuc earlier this year in the Klippan Lady Open finals. She said, "I met Vuc in the finals of the Klippan Lady Open so I knew about her skills and tendencies." 
With Mother's Day just over a week away, Stadnik, a mother of two stated "I dedicate this win to my children. I have to leave them so often to go train, and the compensation for me being gone so much is this gold medal."
Yasmin ADAR (TUR), now a three-time champion gave Turkey their second gold medal of the day by combining her four-point arm spin with two takedowns to best Ekaterina BUKINA (RUS), 4-2. 
 
At 55kg, the difference in the bout came with two minutes remaining as Iryna KURACHKINA (BLR) took down Roksana Marta ZASINA (POL) and immediately went into a gut wrench to controlled the 4-1 lead.  Zasina scored a passivity point with under 15 seconds left to cut Kurachkina's lead to 4-2. 

Kurachkina suffered from a lapse of judgment while celebrating with one second remaining as she fell to her back with excitement. Zasina jumped on top of the Belarusian and scored a takedown, evening the score at four apiece. 

"I thought the match was over, but in reality, I almost lost the victory. I was in total shock when I saw the final two points on the board. I learned that I need to wrestle until the whistle is blown." 
Though the score was tied, Kurachkina defeated Zasina, 4-4 on criteria. 
"This was always my dream to win a European title, and today my dream came true. But, the European gold is just one step of preparation for other important tournaments."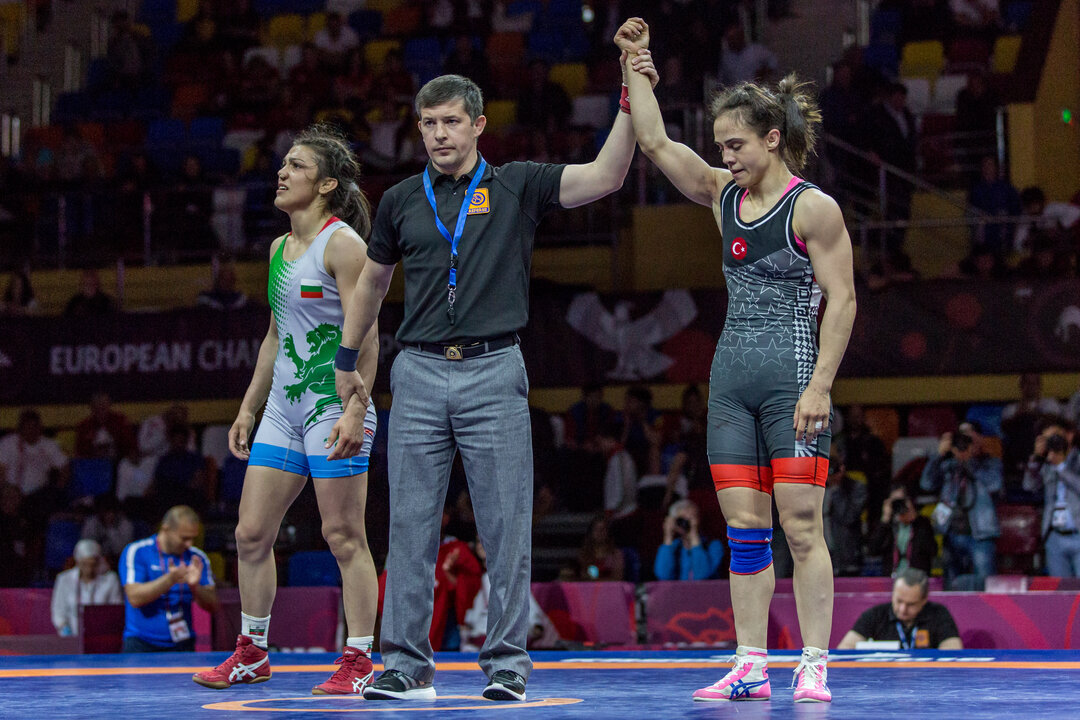 Elif YESILIRMAK (TUR) cruised to the 6-4 victory over Mimi Nikolova HRISTOVA (BUL) in the 59kg gold-medal bout. The Turkish wrestler's two takedowns and gut wrench in the opening period were enough to brush off Hristova's pair of second-period takedowns.
"After being off for two years due to a break and an injury, this is a dream come true…I learned not to give up. It doesn't matter if you're injured, you can still find positives."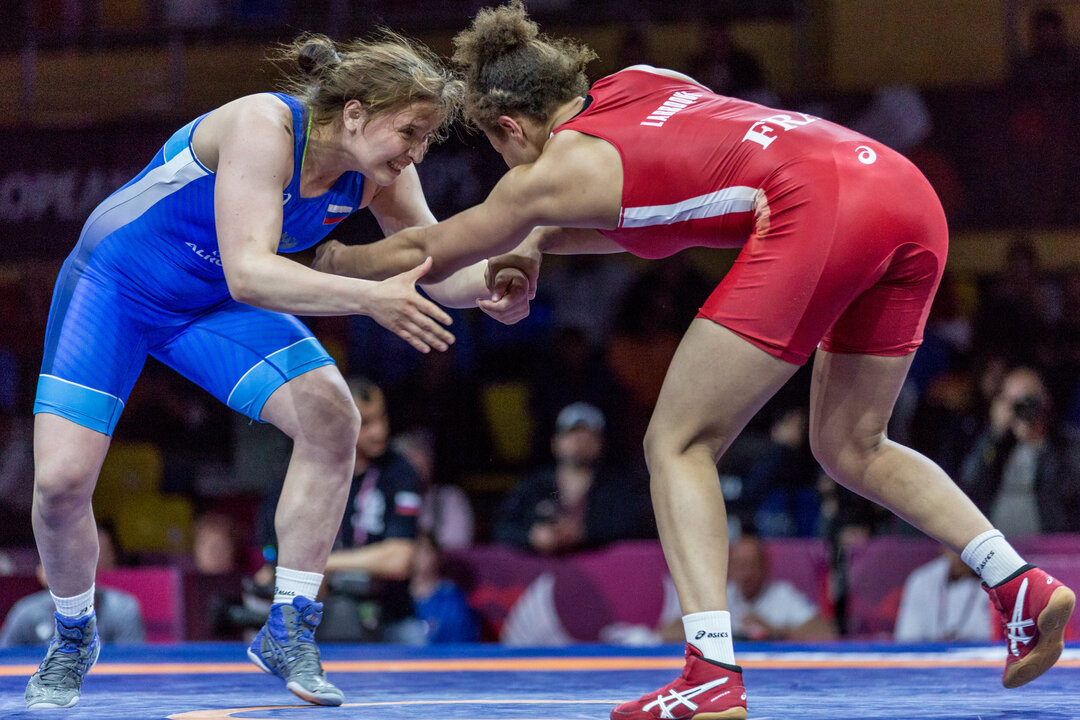 Anastasia BRATCHIKOVA (RUS) successfully defended her European title by avenging a loss from the 2017 World Championships in Paris, France to Koumba LARROQUE (FRA). 
Bratchikova picked up a takedown with 20 seconds left to break the 1-1 tie, ultimately winning 3-1. 
"I've met Koumba Larroque four times, and the only time I lost was in Paris at the 2017 World Championships. I've still haven't forgotten about that loss." 
RESULTS
50kg
GOLD - Mariya STADNIK (AZE) df. Emilia Alina VUC (ROU), 10-0 

BRONZE – Milana DADASHEVA (RUS) df. Kseniya STANKEVICH (BLR), 4-2
BRONZE - Evin DEMIRHAN (TUR) df. Ainztane GORRIA GONI (ESP), 6-0 
55kg
GOLD - Iryna KURACHKINA (BLR) df. Roksana Marta ZASINA (POL), 4-4
BRONZE – Bediha GUN (TUR) df. Anna VOITOVA (UKR), 10-0 
BRONZE -Mariia GUROVA (RUS) df. Evelina Georgieva NIKOLOVA (BUL), 10-6

59kg 
GOLD - Elif YESILIRMAK (TUR) df. Mimi Nikolova HRISTOVA (BUL), 6-4. 
BRONZE – Tetiana OMELCHENKO (AZE) df. Katsiaryna YANUSHKEVICH (BLR), 12-2
BRONZE - Svetlana LIPATOVA (RUS) df. Emma JOHANSSON (SWE), via inj def. 
68kg
GOLD - Anastasia BRATCHIKOVA (RUS)df. Koumba LARROQUE (FRA), 3-1 

BRONZE – Martina KUENZ (AUT) df. Danute DOMIKAITYTE (LTU), 2-1
BRONZE - Buse TOSUN (TUR) df. Monika MICHALIK (POL) 6-4
76kg
GOLD - Yasemin ADAR (TUR) df. Ekaterina BUKINA (RUS), 8-2.
BRONZE – Sabira ALIYEVA (AZE) df.Iryna PASICHNYK (UKR), 6-3.
BRONZE - Vasilisa MARZALIUK (BLR) df. Epp MAE (EST), 8-2.