Sadulaev Still Reigns Supreme at 97kg with Win over Sharifov; Yazdani Regains 86kg Crown
Sunday, September 22, 2019 - 17:05 By Ken Marantz
NUR-SULTAN, Kazakhstan (Sept. 22) --- Abdulrashid SADULAEV (RUS) wasn't surprised that his opponent in the final wasn't the one everyone expected. He just went out and showed again he could dominate whoever stood between him and another gold medal.
Sadulaev captured his second straight world title and fourth overall with a rock-solid 4-o victory over Sharif SHARIFOV (AZE) in the freestyle 97kg final to bring the curtain down on the Nur-Sultan World Championships.
The victory establishes Sadulaev as the one to beat at the Tokyo 2020 Olympics, where he will look to add to the 86kg gold he won at Rio 2016.
This year's World Championships served as the first qualifier for Tokyo 2020, with the top six finishers in each of the Olympic weight classes securing berths for their country.
The pretournament hype at 97kg revolved around a potential rematch between Sadulaev and Kyle SNYDER (USA) of the 2018 final in Budapest, which the Russian won to avenge a loss to the American the previous year in Paris.
Asked if he regretted not facing Snyder this time, Sadulaev replied, "No, because the most important final is still waiting for us, the Olympic Games."
Sharifov, a former Olympic champion in his own right, spoiled the party in Nur-Sultan by beating Snyder in the semifinals.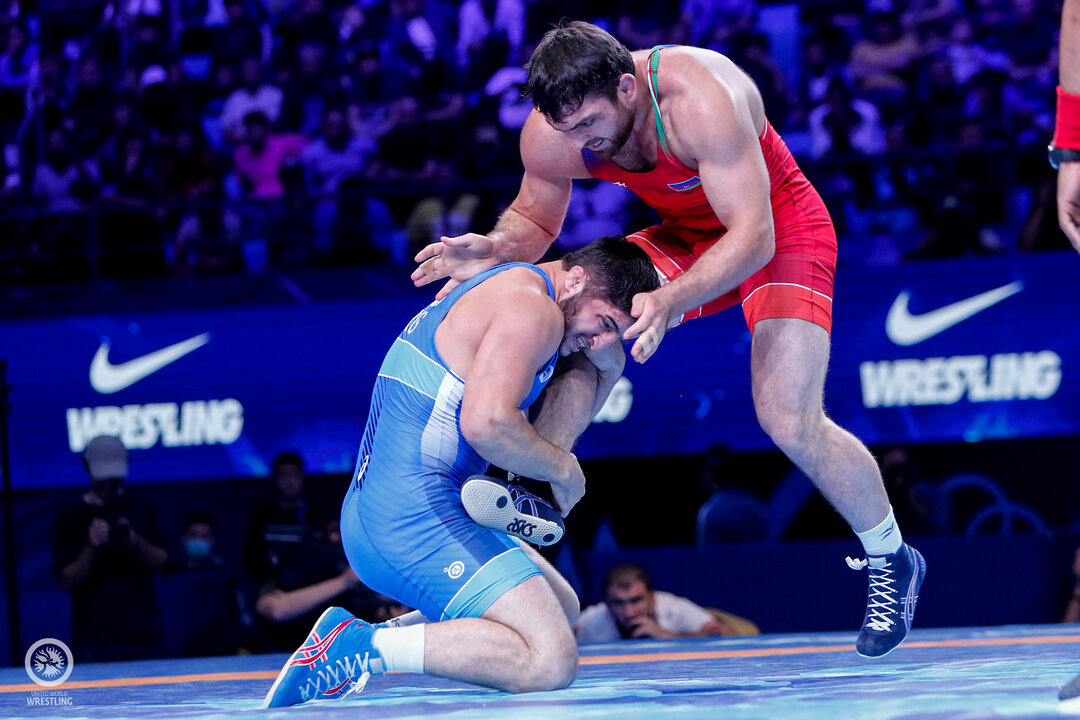 Abdulrashid SADULAEV (RUS) shutout fellow Olympic champion Sharif SHARIFOV (AZE), 4-0, in the 97kg finals. (Photo: Gabor Martin)
"In our weight category, there are so many wrestlers with many titles," Sadulaev said. "Even in the final, I met with an Olympic champion. His technique is very good. I wasn't surprised that Sharifov reached the final because all wrestlers have equal chances."
In the final---a battle between natives of the wrestling hotbed of Dagestan, a Russian republic situated on the Caspian Sea---Sadulaev gained a point with Sharifov on the activity clock, then added a single-leg takedown just before the first period ended.
In the second period, a stepout for Sadulaev was the lone point as the powerful Russian kept his Azeri opponent at bay.
Sadulaev said he never imagined himself winning the title before stepping on the mat. 
"I never think like that," he said. "I know situations when sportsman becomes a champion in their mind, then they don't have good result."
Sadulaev said this gold will be special because of the warm reception he received in the former Soviet republic from the crowd at Barys Arena.
"I will keep this championship in my memory for a long time because the organization was of the highest degree and I was surprised that I have so many fans in Kazakhstan," he said. 
"Even when I met with the Kazakh wrestler, I saw that many Kazakh people supported me."
Sadulaev's victory topped off a dominant tournament by Russia, which ran away with the team title with 190 points after medaling in all but one weight class  (125kg) and coming away with five of the 10 golds. 
Host Kazakhstan had no champions, but enough wrestlers in the medal matches to finish second with 103 points, while the United States edged Iran by 1 point for third place with 94 after each added a gold and a bronze on the final day.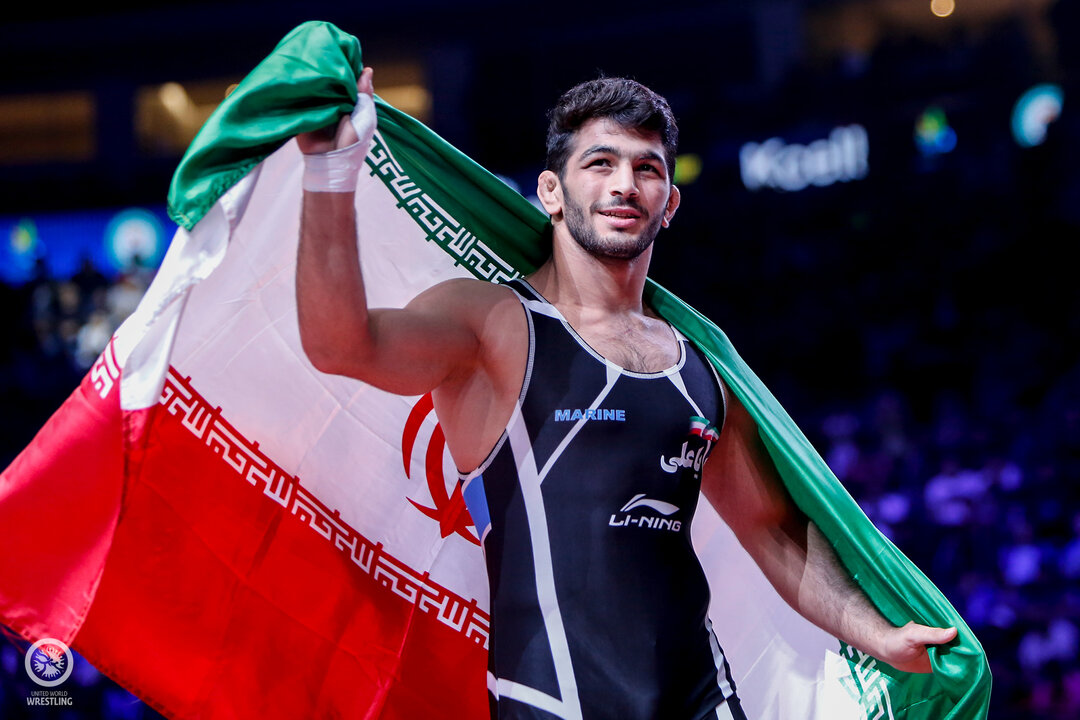 Hassan YAZDANI (IRI) won his second world title after Deepak PUNIA (IND) was forced to withdraw from the gold-medal match due to injury (Photo: Gabor Martin)
Iran's title on Sunday came without a match, although Deepak PUNIA (IND) would have been hard-pressed to prevent Hassan YAZDANI (IRI) in the 86kg final from regaining the world title he won in 2017 after finishing third last year.
Yazdani was declared the winner when Punia defaulted due to a left ankle injury suffered in his opening match. While Yazdani would have preferred having to work for the victory, it capped a dominant run through the field in which he won three matches by fall or technical fall. 
"The level of this competition is high," Yazdani said. "But I trained very hard and I was given the opportunity and the chance to win."Yazdani, the Rio 2016 gold medalist at 74kg, minced no words in stating his determination to earn a second Olympic title at Tokyo 2020.
"After a few days rest, I will start to become more prepared and get the best medal in the Olympics," he said. "This medal was to raise the flag of my country and I want to raise the flag at the next Olympics and make the Iranian people happy."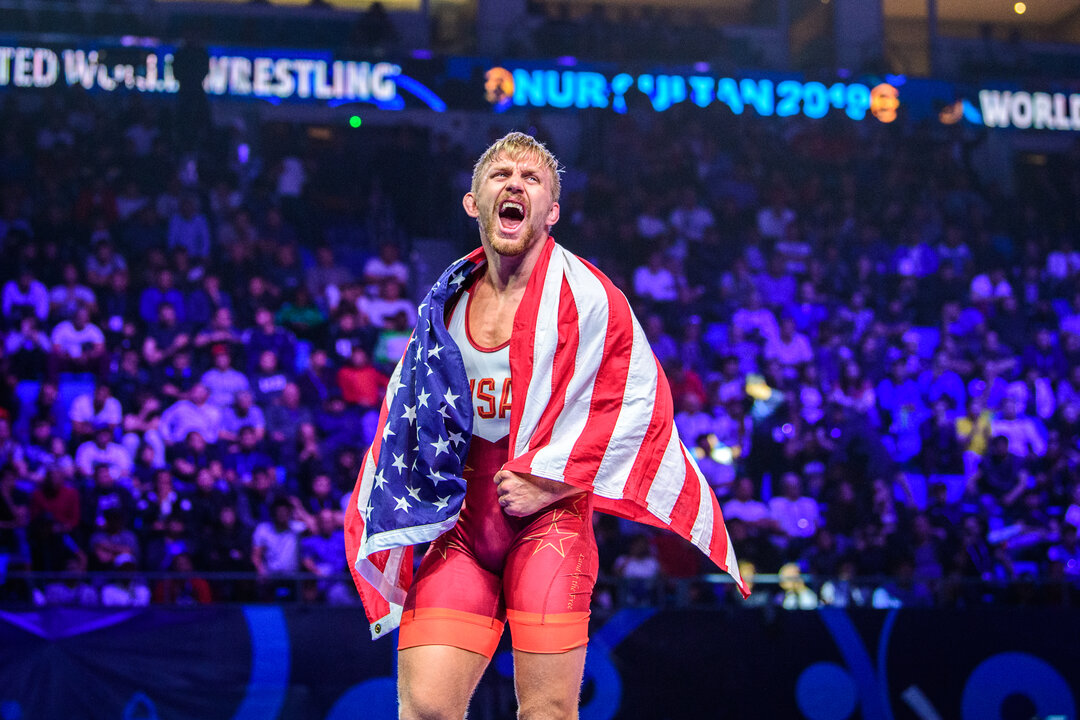 Kyle DAKE (USA) defeated Jabrayil HASANOV (AZE) for the second year in a row in the 79kg finals. (Photo: Tony Rotundo)
In the non-Olympic weight of 79kg, Kyle DAKE (USA) repeated his victory from the Budapest 2018 final over Jabrayil HASANOV (AZE), this time coming away with a 4-1 victory for his second world title.
"I did a lot better job this time," said Dake, who won 2-0 a year ago. "I moved my feet, which has been a really big focus of mine this past eight months. I'm glad to see it's coming together."
Dake went on the offensive from the outset and picked up a pair of stepout points in the first period. He padded the lead in the second period with a single-leg takedown before Hasanov, with his back to wall, finally began launching attacks.
"There were some positions where he got in on my leg at the end, and he would never shoot if it was 0-0," Dake said. 
"I knew I could not leave it in the hands of the refs. I couldn't leave it up to cautions, I needed to go out and execute. I got the first pushout, second pushout, takedown and that was the difference."
In the final minute, Hasanov's efforts only resulted in a pair of stepouts as Dake forced stalemates from the Azeri's takedown attempts to come up golden. 
"I was hoping they would have let those scrambles go a little bit longer," Dake said. "I feel I was ready to score a couple of times, but it is what it is." 
It was the latest major accomplishment for the 28-year-old father of two, who became the first wrestler in U.S. collegiate history to win four titles in four different weight classes, when he did it while at the Ivy League's Cornell University.
"It's a testament to the way I live, the way my wife and family support me, my friends, coaches, teammates, sponsors---I couldn't do it without them," he said. "It's been a crazy road this past year to say the least, and I'm just really excited I was able to get it done again.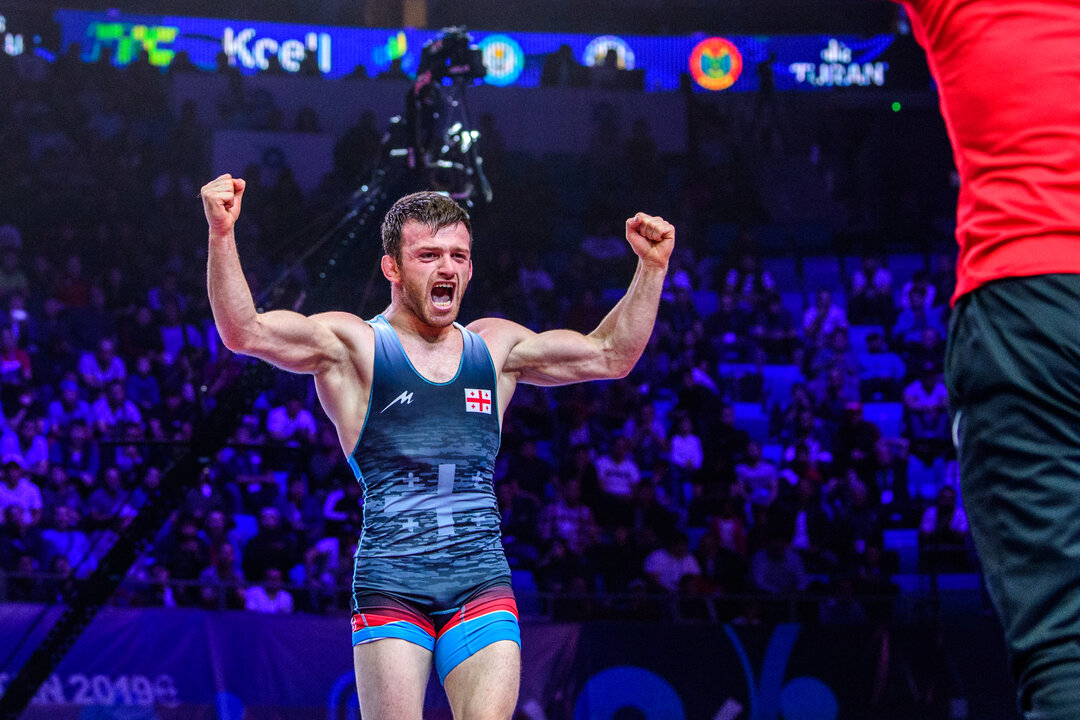 Beka LOMTADZE (GEO) scored a trio of takedowns and defeated Magomedrasul IDRISOV (RUS), 6-1, in the 61kg finals. (Photo: Tony Rotundo)
In the final at 61kg, also a non-Olympic weight, European silver medalist Beka LOMTADZE (GEO) relegated 2018 world U23 champion Magomedrasul IDRISOV (RUS) to second place by scoring three takedowns in the second period for a 6-1 win.
In the bronze-medal matches, Stefan REICHMUTH (SUI) became the first-ever world freestyle medalist from Switzerland when he chalked up three stepouts to defeat Carlos IZQUIERDO (COL) 3-1 at 86kg. 
History was going to be made regardless of the outcome as Colombia also has never had a freestyle medalist. Switzerland had previously won one world bronze each in the other styles---Kurt RUSTERHOLZ (SUI) in Greco-Roman 87kg in 1953, and Inge KRASSER (SUI) at women's 57kg in 1989. 
Artur NAIFANOV (RUS) won the other bronze at 86kg with a 6-0 victory over Myles AMINE (SMR), the U.S.-born wrestler who clinched the first-ever Olympic berth for tiny San Marino, the birthplace of his grandfather.
At 97kg, Snyder gained some consolation from his semifinal loss to Sharifov when he grinded out a 5-0 win over Elizbar ODIKADZE (GEO) at 97kg to add a world bronze to his collection of two golds and a silver.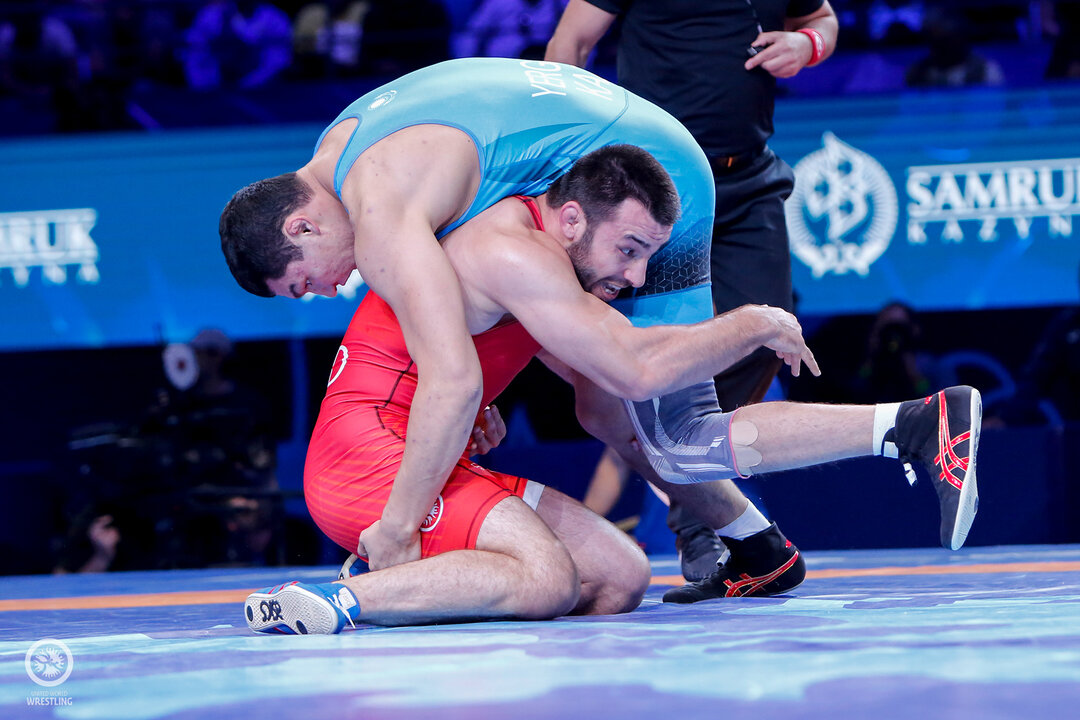 Magomedgadji NUROV (MKD) captured a bronze medal with an 8-5 win over Alisher YERGALI (KAZ). (Photo: Gabor Martin)
Magomedgadji NUROV (MKD) became the first wrestler to win a world medal while competing for the newly named nation of North Macedonia when he rallied to defeat Alisher YERGALI (KAZ) 8-5.
Host Kazakhstan came up short in its other shot for a medal before the home crowd when Taimuraz SALKAZANOV (SVK) edged Galymzhan USSERBAYEV (KAZ) 3-2 at 79kg.
Gadzhi NABIEV (RUS) built up an 8-point lead against Rashid KURBANOV (UZB) and held on for a 8-3 victory for the other 79kg bronze.
Asian bronze medalist Rahul AWARE (IND) became the 10th wrestler in Indian history to win a world freestyle medal when he defeated Tyler GRAFF (USA) 11-4 at 61kg.
Aware, nursing a 4-2 lead, scored a takedown with a slick duck under, then padded his lead with a pair of 2-point exposures. 
Two days earlier, Kumar RAVI (IND) became the eighth Indian medalist when he won a bronze at 57kg, and Punia become No. 9 when he was assured of at least a silver by making the 86kg final.
The other 61kg bronze went to Behnam EHSANPOOR (IRI), an 8-0 winner over Abbos RAKHMONOV (UZB).
Day 9 Results
Freestyle
61kg (25 entries)
Gold – Beka LOMTADZE (GEO) df. Magomedrasul IDRISOV (RUS), 6-1
Bronze – Behnam EHSANPOOR (IRI) df. Abbos RAKHMONOV (UZB), 8-0 
Bronze – Rahul AWARE (IND) df. Tyler GRAFF (USA), 11-4
79kg (23 entries)
Gold – Kyle DAKE (USA) df. Jabrayil HASANOV (AZE), 4-1
Bronze – Gadzhi NABIEV (RUS) df. Rashid KURBANOV (UZB), 8-3
Bronze – Taimuraz SALKAZANOV (SVK) df. Galymzhan USSERBAYEV (KAZ), 3-2
86kg (43 entries)
Gold – Hassan YAZDANI (IRI) df. Deepak PUNIA (IND) by Inj. Def. 
Bronze – Stefan REICHMUTH (SUI) df. Carlos IZQUIERDO (COL), 3-0 
Bronze – Artur NAIFANOV (RUS) df. Myles AMINE (SMR), 6-0
97kg (26 entries)
Gold – Abdulrashid SADULAEV (RUS) df. Sharif SHARIFOV (AZE), 4-0 
Bronze – Kyle SNYDER (USA) df. Elizbar ODIKADZE (GEO), 5-0 
Bronze – Magomedgadji NUROV (MKD) df. Alisher YERGALI (KAZ), 8-5