Russian Women Outscore Finals Opponents 25-2, Wins Trio of Day 4 Titles
Thursday, June 20, 2019 - 18:52 By Eric Olanowski
FAENZA, Italy (June 20) – The Russian Federation capped off the fourth day of wrestling at the Cadet European Championships with women's wrestling medals in all five weight classes, three of which were golds, and racked up an 18-2 record. Maybe more impressive, their two losses came against the eventual European champions. Russia (110 points) holds a 36-point lead over Ukraine (74 points) heading into the final day of women's wrestling. 
Four Russian women competed in Day 4 gold-medal matches, but Amina TANDELOVA, Ekaterina GLUKHAREVA, and Olga KOZYREVA walked away as European champions. 
Angelina PERVUKHINA finished with a silver medal, while Olga REKHMETULLOVA (RUS) was able to fight back after her opening round loss to win a bronze medal. 
Amina Tandelova gave the most dominant wrestling nation in the world their first Day 4 gold medal. She picked an opening period takedown, a pair of second-period takedowns, and defeated Krystyna SOKOLOVSKA (UKR), 6-0 in the 57kg gold-medal match. 
Tandelova's first takedown came from a high crotch in the first period, but that wasn't her most impressive move of the period. She did a beautiful job sitting out and boot-scooting to stop a Ukrainian go behind before the first period ended and carried the 2-0 lead into the final two minutes of the match.  
In the second period, a counter-offensive go-behind and a takedown as time expired helped Tandelova improve on her runner-up finish from last year with a 6-0 shutout victory.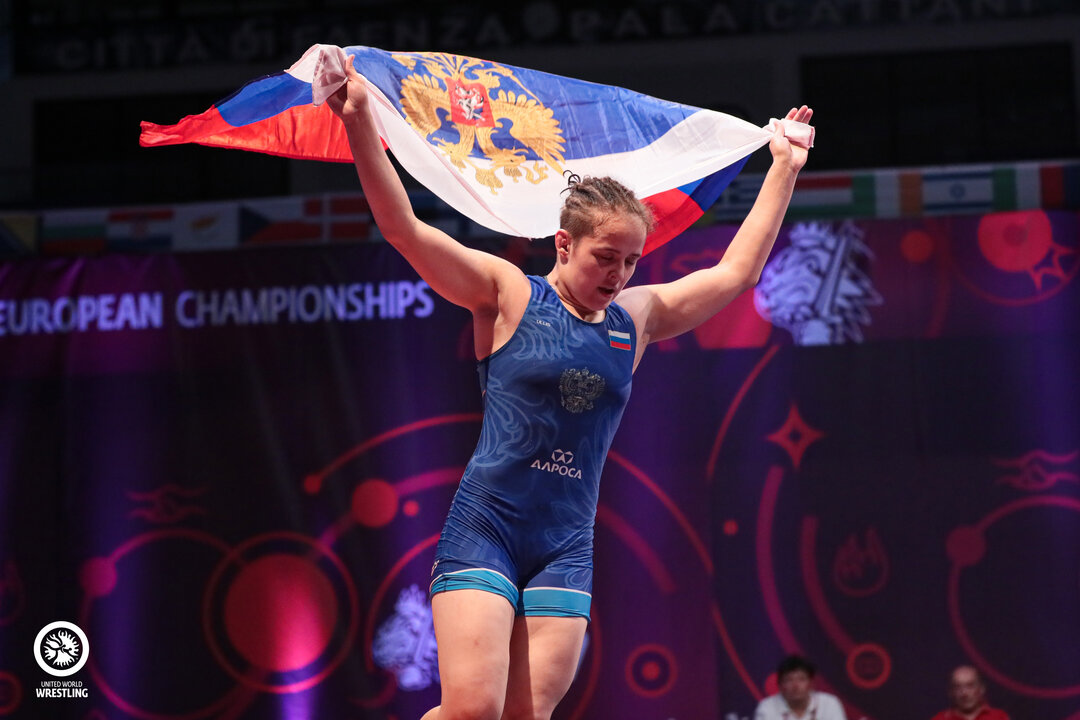 Ekaterina GLUKAREVA (RUS) bullied her way past a frustrated Veronica BRASCHI (ITA), 6-0 in the 65kg finals. (Photo: Kadir Caliskan)
Russia's second 25-point gold-medal winner was Ekaterina Glukhareva who bullied her way past a clearly frustrated Veronica BRASCHI (ITA) in the 65kg finals.
Glukhareva controlled the entire four-minute match with her left underhook, using it to pick up four stepouts and an inactivity point. Gluhareva tacked on two additional points with a defensive stop and handed Russia their second shutout win of the night.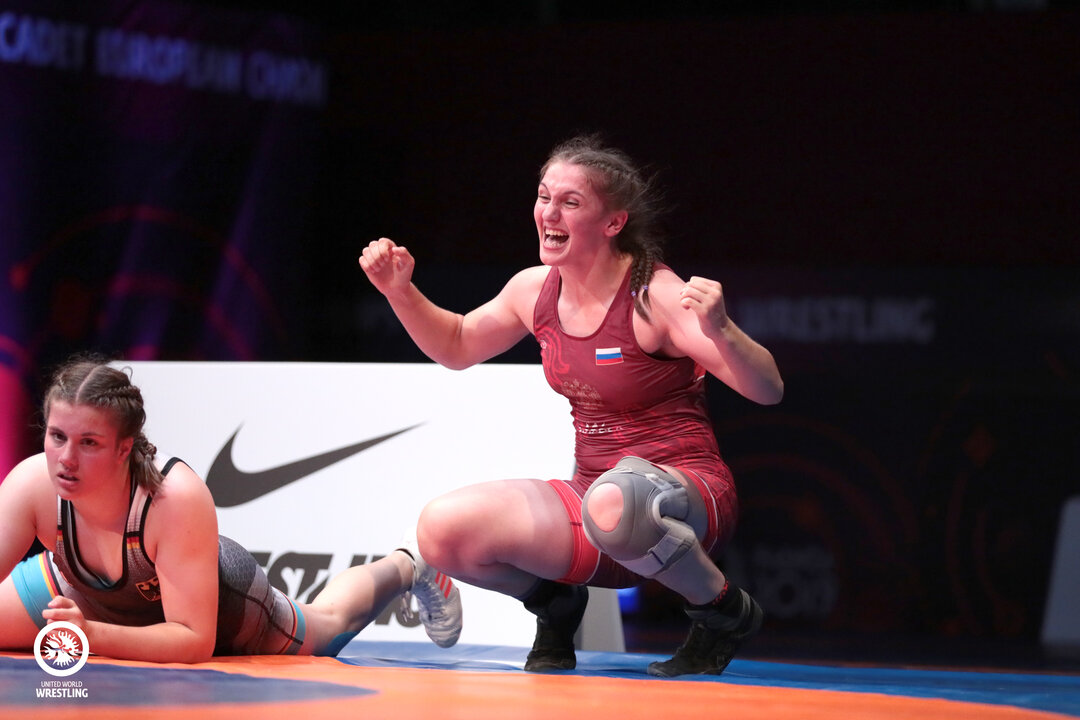 Olga KOZYREVA (RUS) celebrates after her 12-2 victory Jennifer ROESLER (GER) in the 73kg finals. (Photo: Kadir Caliskan)
Olga KOZYREVA (RUS) was two points away from handing Russia their third finals shutout but surrendered a takedown before ending the 73kg gold-medal match with a 12-2 victory over Jennifer ROESLER (GER).
Kozyreva kick-started the match with a snatch single and had the 2-0 lead, then tossed Roesler to her back with a four-point whip over. Kozyreva commanded the early 6-0 lead when she shot an outside double, came up to her feet and brought Roesler back down to the mat for the takedown. She started to celebrate, thinking the referees awarded four points, but instead, she was only given two points and had the 8-0 lead. 
Kozyreva gave up a takedown and carried the 8-2 lead into the final period, but it only took her 28 seconds in the second period to pick up the four points she needed to end the match. Kozyreva closed out the match with a 12-2 victory and improved on her eighth-place finish from the 2017 U15 European Championships.
The fifth day of wrestling in Faenza being tomorrow at 11:30 (local time) and can be followed live on www.unitedworldwrestling.org. 
43kg
GOLD - Aida KERYMOVA (UKR) df. Diana Tancheva PAVLOVA (BUL), via fall 
BRONZE - Olga REKHMETULLOVA (RUS) df. Zenfira HASHIMOVA (AZE), 15-4
BRONZE - Ana Maria NECHIFOR (ROU) df. Anna POLLAKOVA (SVK), via fall 
49kg 
GOLD - Rebekka MARCH (GER) df. Angelina PERVUKHINA (RUS), 6-1
BRONZE - Anastasiya YANOTAVA (BLR) df. Mariia TOMYSHCH (UKR), 3-2 
BRONZE - Natalia Edyta WALCZAK (POL) df. Vestina DANISEVICIUTE (LTU), 10-0
57kg
GOLD - Amina TANDELOVA (RUS) df. Krystyna SOKOLOVSKA (UKR), 6-0
BRONZE - Othelie Annette HOEIE (NOR) df. Roza SZENTTAMASI (HUN), 4-1 
BRONZE - Birgul SOLTANOVA (AZE) df. Maarja PLASER (EST), 8-2
65kg 
GOLD - Ekaterina GLUKHAREVA (RUS) df. Veronica BRASCHI (ITA), 7-0 
BRONZE - Yevheniia SIEDYKH (UKR) df. Nora Luca MAJOR (HUN), 4-1 
BRONZE - Zofia POLOWCZYK (POL) df. Daniela SIRBU (MDA), 4-0 
72kg 
GOLD - Olga KOZYREVA (RUS) df. Jennifer ROESLER (GER), 12-2 
BRONZE - Nazar BATIR (TUR) df. Maria Cristina ROSIORU (ROU), 8-1 
BRONZE - Julia FRIDLUND (SWE) df. Nerea IGLESIAS CAMPOS (ESP), via fall