Ramonov Wins Gold, Russia Takes Seven Titles at Military C'ships
Monday, May 21, 2018 - 12:30 By Ali Feizasa
Olympic and world champion Soslan RAMONOV (RUS) captured 70kg title at 2018 Freestyle World Military championships as Russia team earned seven gold medals to win team title. While, two gold medals went to Iran and Mongolia took one.
The host team Russia failed to earn gold in light weights as Mehran REZAZADEH (IRI) took 57k gold medal and KHASHERDENE (MGL) succeed to beat Dmitrii AKSENOV (RUS) in the final match to win 61kg top spot.
But Russian started to sweep gold medals from 65kg. Nachyn KUULAR (RUS) defeated Hyeon Sik SONG (KOR) by FALL in 65kg finale and RAMONOV grabbed 70kg title.
RAMONOV (RUS) downed Alexander SEMISOROW (GER), 12-5 in the final match to repeat his last year's title in World Military Championships.
Zaurbek SIDAKOV gave the host team third gold medal, defeating Iranian Hamed RASHIDI, 11-3 in 74kg final bout.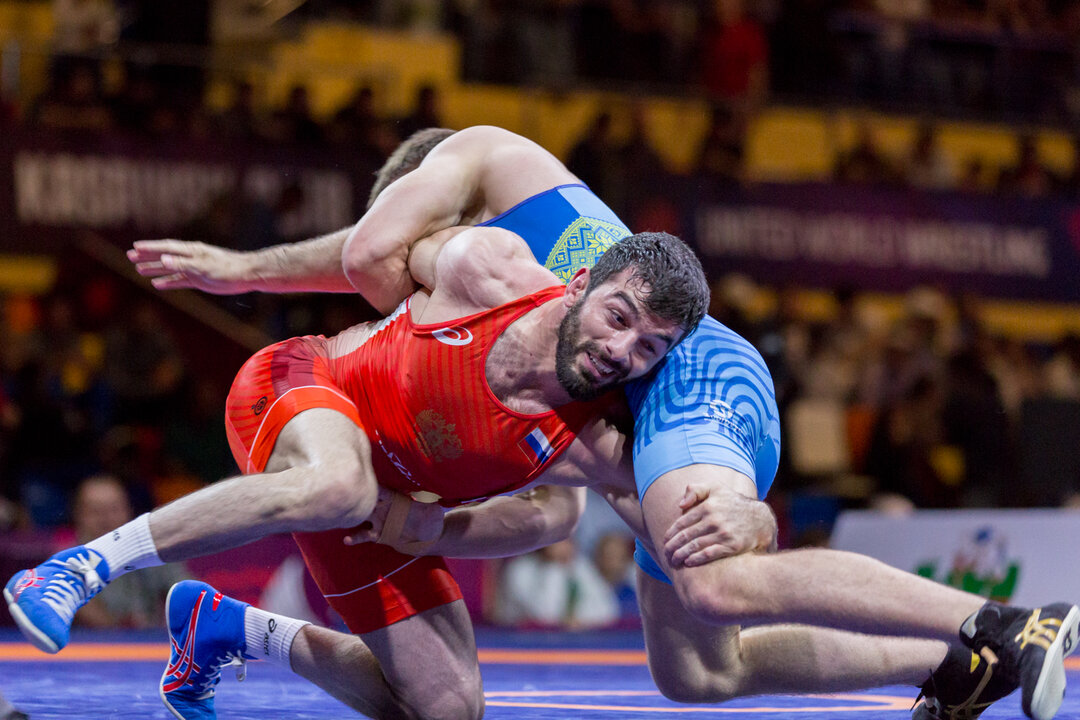 In 79kg, 2015 world champion Khetik TSABOLOV (RUS) beat Bahman TEIMOURI (IRI) by Technical Fall, 12-2 to compensate recent deficit in European championships. TSABOLOV scored 10 points against two points of Iranian rival in first period and added two more points in second period to earn Technical Fall victory.
86kg gold medal went to Magomed RAMAZANOV (RUS) which downed Kanan ALIYEV (AZE), 6-4.
Iurii BELONOVSKII (RUS) bagged sixth gold for Russian, winning Adilet DAVLUMBAYEV (KAZ), 8-3 to earn 92kg top spot.
Just a few days after achieving European gold medal, Vladislav BAITCAEV (RUS) doubled in a month defeating Amir MOHAMMADI (IRI), in 97kg final match.
BAITCAEV scored six points in first period and added two point more in second period to take gold by 8-2 victory against Iranian team member in Paris World Championships.
Yadollah MOHEBI, a 2017 Asian champion, stopped consecutive victories of Russian in the finals and took gold medal in heavy weight by defeating Nurzhan OMIRBEKOV (KAZ). MOHEBI who placed second in Iran team trials just a week ago, downed OMIRBEKOV by technical fall 10-0 victory.
MOHEBI was second gold medal winner of Iran in Freestyle Military World Championships
2018 FR World Military World Championships team standings:
1- Russia 225 pts (7 gold, 1 silver, 2 bronze)
2- Iran 163 pts (2 gold, 3 silver, 1 bronze)
3- Kazakhstan 117 pts (2 silver, 5 bronze)
4- Azerbaijan 109 pts (1 silver, 3 bronze)
5- Mongolia (1 gold, 1 bronze)
Results:
57kg
GOLD- Mehran REZAZADEH (IRI) df. Un Gwang PAK (PRK), 4-3
BRONZE- Azamat TUSKAEV (RUS) df. Afqan KHASHALOV (AZE), 2-1
BRONZE- Sung Gwon KIM (KOR) df. Horst LEHR (GER), 5-0
61kg
GOLD- B. KHASHERDENE (MGL) df. Dmitrii AKSENOV (RUS), 9-4
BRONZE- Mohammad NAMJOOMOTLAGH (IRI) df. Adrian VOCK (SUI), 11-2
BRONZE- Yeldos ABIKENOV (KAZ) df. Zhenguang TIAN (CHN), by FALL
65kg
GOLD- Nachyn KUULAR (RUS) df. Hyeon Sik SONG (KOR), by FALL
BRONZE- Ilman MUKHTAROV (FRA) df. MUHAMMAD (PAK) by TF, 10-0
BRONZE- Aghahuseyn MUSTAFAYEV (AZE) df. Peiman BIABANI (IRI), by FALL
70kg
GOLD- Soslan RAMONOV (RUS) df. Alexander SEMISOROW (GER), 12-5
BRONZE- B. BVAMBADORJ (MGL) df. Mazen KADMANI (SYR) by TF, 10-0
BRONZE- Azamat SHGAPULY (KAZ) df. Yazdan SANAEI (IRI), 7-5
74kg
GOLD- Zaurbek SIDAKOV (RUS) df. Hamed RASHIDI (IRI), 11-3
BRONZE-Baibolsyn KURMANBEKOV (KAZ) df. Johann STEINFORTH (GER) by TF, 12-1
BRONZE- Joshqun AZIMOV (AZE) df. Botond LUKACS (HUN) by TF, 10-0
79kg
GOLD- Khetik TSABOLOV (RUS) df. Bahman TEIMOURI (IRI) by TF, 12-2
BRONZE- Galymzhan USERBAYEV (KAZ) df. Orkhan ABASOV (AZE), 5-3
BRONZE- Zelimkhan KHADJIEV (FRA) df. Mohamad FEPACASTA (SYR) by TF, 11-0
86kg
GOLD- Magomed RAMAZANOV (RUS) df. Kanan ALIYEV (AZE), 6-4
BRONZE- Stefan REICHMUTH (SUI) df. Adil IRSHAD (PAK) by TF, 10-0
BRONZE- Nurdaulet KOKTEUBAEV (KAZ) df. CH. USUKHBAYAR (MGL), 7-3
92kg
GOLD- Iurii BELONOVSKII (RUS) df. Adilet DAVLUMBAYEV (KAZ), 8-3
BRONZE- Gabor HATOS (HUN) df. Askhab HAMZATOV (AZE), 2-1
BRONZE- Ivan YANKOUSKI (BLR) df. Arashk MOHEBI (IRI), 9-2
97kg
GOLD- Vladislav BAITCAEV (RUS) df. Amir MOHAMMADI (IRI), 8-2
BRONZE-Dzianis KHRAMTANKOU (BLR) df. Mohammed FARDJ (AKG) by TF, 12-2
BRONZE- Roman BAKIROV (AZE) df. Saasaa VICTOR JULIAN (COL) by TF, 10-0
125kg
GOLD- Yaduollah MOHEBI (IRI) df. Nurzhan OMIRBEKOV (KAZ) by TF, 10-0
BRONZE- Raja ALKARAD (SYR) df. Hamza HALOVI (ALG) by TF, 10-0
BRONZE- Alan KHUGAEV (RUS) df. Zhiwei DENG (CHN), 2-1