Powerhouse Japan Puts All 5 in 1st-Day Women's Finals; 4 to Clash with Chinese
Thursday, April 25, 2019 - 11:27 By Ken Marantz
XI'AN, China (April 25)—An unintended overnight stay in Shanghai en route to Xi'an due to a canceled flight couldn't prevent the Japanese women from getting off a sizzling start at the Asian Championships.
All five Japanese in action on the first day of women's wrestling made it to the finals, setting up a virtual duel meet with China as the hosts will have four in the gold-medal matches.
Yuki IRIE (JPN), the 2015 Asian champion who finished third last year in Bishkek and second at the Asian Games, is determined to show she can win again on the international stage when she faces battle-hardened world bronze medalist SUN Yanan (CHN) in the 50kg final.
Irie won all three of her matches by 10-0 technical fall to set up the showdown with Sun, a bronze medalist at the Rio 2016 Olympics and winner at this year's Klippan Lady tournament. 
"My movement was a bit stiff today," Irie said who defeated two-time world champion Yui SUSAKI (JPN) at the national championships in December. "I have to properly prepare for the final and use 100 percent of my arsenal." 
Sun took a similar path to the final, receiving a first-round win by default before chalking up a pair of 10-0 technical falls.
The final will be a rematch of their clash at last year's Women's World Cup in Takasaki, in which Irie won by fall after building up a 10-0 lead. That sparked Japan to a 6-4 victory over China in the final.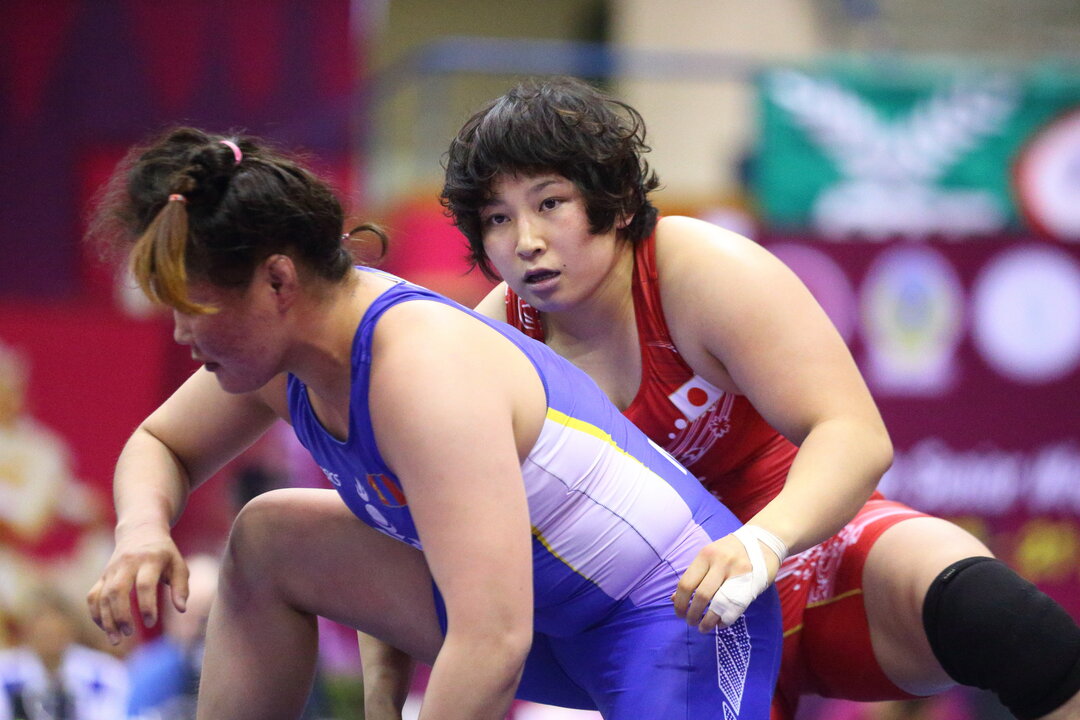 Olympic champion Sara DOSHO (JPN) returned from shoulder surgery and made the 68kg finals. (Photo: Sachiko Hotaka)
In another featured final on Day 3 of the tournament, Rio 2016 Olympic champion Sara DOSHO (JPN), showing no effects from the shoulder surgery that kept her from defending her world title last year, will face defending champion ZHOU Feng (CHN) for the 68kg title. 
Dosho injured her shoulder in the preliminary round at the Women's World Cup, scuttling a meeting in the final with Zhou, who later won a bronze medal at the Budapest 2018 worlds.
"I am only focused on my own actions," Zhou said when asked about her first meeting with Dosho. 
Two-time world bronze medalist Hiroe MINAGAWA SUZUKI (JPN), aiming to regain the Asian title she won in 2015, advanced to the 76kg final against world U23 champion Paliha PALIHA (CHN). 
Minagawa Suzuki, who finished second to ZHOU Qian (CHN) at both the Asian Championships and Asian Games last year, posted two 10-0 technical falls before defeating Aiperi MEDET KYZY (KGZ) by fall in :41 in the semifinals. 
Saki IGARASHI (JPN), the lone Japanese women's champion last year in Bishkek—Japan saved its top wrestlers for the World Cup---put herself in line for a title repeat when she advanced to the 55kg final, where she will face XIE Mengyu (CHN).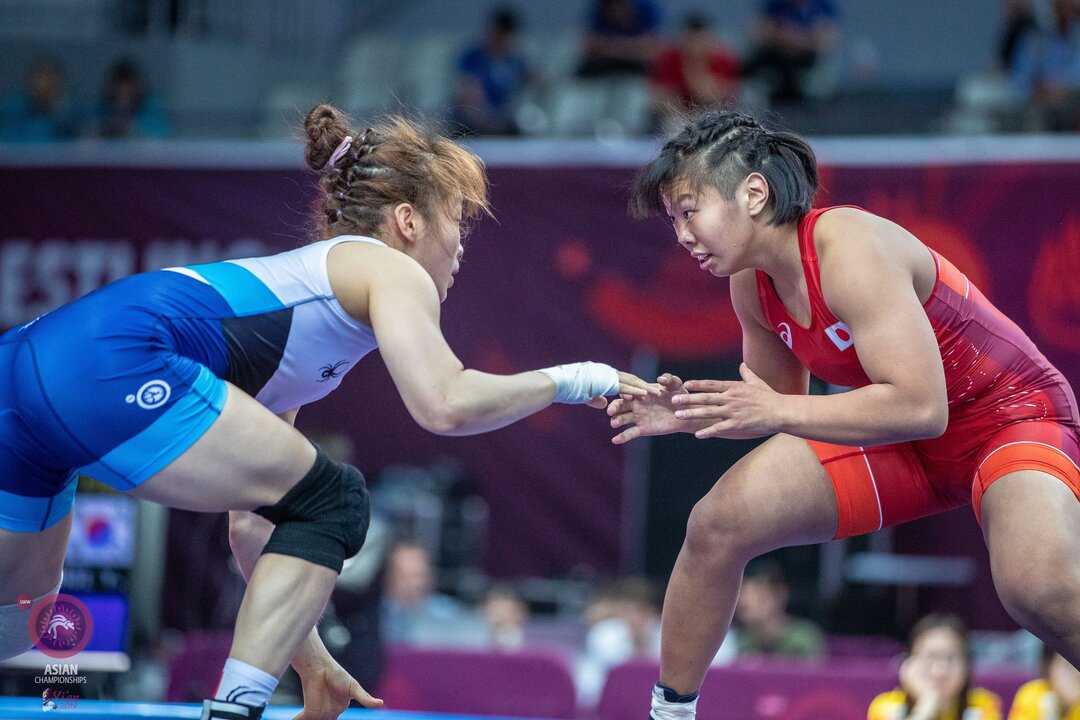 Yuzuka INAGAKI (JPN) will take on Battsetseg ALTANTSETSEG (MGL) in the 57kg gold-medal match. (Photo: Sachiko Hotaka)
The lone final that does not include a Chinese is at 59kg, only because that showdown came in the semifinals, from which young collegian Yuzuka INAGAKI (JPN) advanced to the gold-medal match against Battsetseg ALTANTSETSEG (MGL).  
Inagaki, a 2017 world cadet champion and winner at the Ivan Yarygin Grand Prix in January, overwhelmed ZHANG Qi (CHN) by 10-0 technical fall in the semifinals.
Altantsetseg has already assured she will improve on her bronze-medal finish at 57kg in Bishkek. She also finished third at the Asian Games and the Yarygin Grand Prix.
The Japan women's team had planned to arrive in Xi'an on Monday night. But their connecting flight in Shanghai was canceled due to rain and fog, and the team had to spend the night at a hotel about a half-hour away from the airport.
Team coach Hideo SASAYAMA said the squad was unable to do any kind of workout for a full day. Irie said she was limited to some stretching in her room.
"There was nothing to do," Sasayama said. "It was already late and the only thing to do was sleep. We wanted to get some exercise, but it couldn't be helped."
Sasayama said that the unexpected delay did not damper the mood on the team. Looking at the first day results, it was obvious there were no negative effects.
"The two young wrestlers [Inagaki and Igarashi] also won through smoothly, so there were no problems," he said.
Day 3 results
Women's wrestling
50kg (13 entries)
Gold – Yuki IRIE (JPN) v SUN Yanan (CHN)
Bronze – Seema SEEMA (IND) v Valentina ISLAMOVA BRIK (KAZ)
Bronze – HWANG Yong Ok (PRK) v OH Hyunyoung (KOR)
Semifinals
Yuki IRIE (JPN) df. Valentina ISLAMOVA BRIK (KAZ) by TF, 10-0, 4:44
SUN Yanan (CHN) df. OH Hyunyoung (KOR) by TF, 10-0, 3:23
55kg (11 entries)
Gold – XIE Mengyu (CHN) v Saki IGARASHI (JPN)
Bronze – KIM Haeyeung (KOR) v Marina SEDNEVA (KAZ)
Bronze – Shakhodat DJULLIBAEVA (UZB) v Dulguun BOLORMAA (MGL)
Semifinals
XIE Mengyu (CHN) df. Marina SEDNEVA (KAZ) by TF, 11-0, 1:13
Saki IGARASHI (JPN) df. Dulguun BOLORMAA (MGL), 9-0
59kg (8 entries)
Gold – Battsetseg ALTANTSETSEG (MGL) v Yuzuka INAGAKI (JPN)
Bronze – Thi Huong DAO (VIE) v Kumari MANJU (IND)
Bronze – CHOI Yeonwoo (KOR) v ZHANG Qi (CHN)
Semifinals
Battsetseg ALTANTSETSEG (MGL) df. Kumari MANJU (IND), 15-6
Yuzuka INAGAKI (JPN) df. ZHANG Qi (CHN) by TF, 10-0, 3:38
68kg (10 entries)
Gold – ZHOU Feng (CHN) v Sara DOSHO (JPN)
Bronze – Battsetseg SORONZOBOLD (MGL) v Divya KAKRAN (IND)
Bronze – Irina KAZYULINA (KAZ) v Meerim ZHUMANAZAROVA (KGZ)
Semifinals
ZHOU Feng (CHN) df. Divya KAKRAN (IND) by TF, 14-4, 4:27
Sara DOSHO (JPN) df . Meerim ZHUMANAZAROVA (KGZ), 3-0
76kg (9 entries)
Gold – Paliha PALIHA (CHN) v Hiroe MINAGAWA SUZUKI (JPN)
Bronze – CHANG Hui Tsz (TPE) v Zagardulam NAIGALSUREN (MGL)
Bronze – HWANG Eunju (KOR) v Aiperi MEDET KYZY (KGZ)
Semifinals
Paliha PALIHA (CHN) df. Zagardulam NAIGALSUREN (MGL) by TF, 10-0, :37
Hiroe MINAGAWA SUZUKI (JPN) df. Aiperi MEDET KYZY (KGZ) by Fall, :41 (2-0)