Nazaryan Caps off Senior Debut with European Gold
Tuesday, February 11, 2020 - 20:10 By Eric Olanowski
ROME, Italy (January 11) --- Bulgarian youngster Edmond NAZARYAN put an exclamation point on his improbable run to a European title with a dominant win over reigning champion Vitalii KABALOEV (RUS) in his senior-level debut.
"I want to say that I am very happy that I have won the gold medal of the European Championships, especially among Seniors," said Nazaryan. "Even though it's my first time, it's my debut, but I have been doing everything I could to win this gold medal. And I have done it." 
Nazaryan, the 18-year-old son of two-time Olympic champion Armen NAZARYAN (BUL), soared to the top of the European podium with a pair of technical superiority wins, a fall over world champion Eldaniz AZIZLI (AZE), and the finals win over Kabloev. 
Nazaryan said his father told him, "You are the winner. Don't worry, just wrestle. Do everything you can and never give up until the end. Wrestling matches are a war."
In the gold-medal match, Nazaryan took his father's advice and was relentless in his pursuit of a continental title, jumping out to an early 5-0 lead over the Russian. His first point came from an inactivity call against Kabloev. He gained the three-point advantage after Kabloev was knocked for a caution-and-two for jumping the gun. He tacked on two additional points with a reverse lift and commanded the 5-0 lead. He conceded a stepout and a takedown and his lead was cut to two points. He ended the match on a high note, scoring a failed challenge point and a stepout and captured the European title with a 4-point victory.
The energized rising star capped off his post-match celebration by perfectly sticking three consecutive backflips.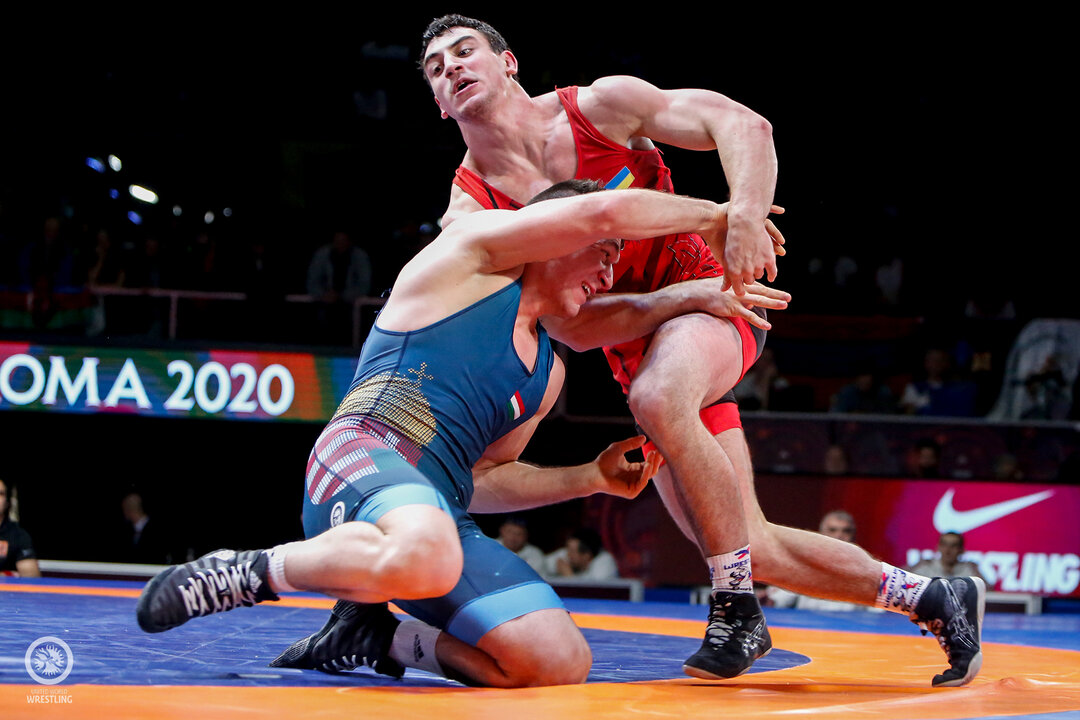 Semen NOVIKOV (UKR) defeated world runner-up Viktor LORINCZ (HUN), 7-1, in the 87kg finals. (Photo: Gabor Martin)
Semen NOVIKOV (UKR) was another up-and-comer who outperformed expectations at the European Championships. 
Novikov replaced reigning world champion Zhan BELENIUK (UKR) in Ukraine's lineup and won his nation's first gold medal of these continental championships. The 22-year-old followed in Beleniuk's footsteps and scorched the reigning world silver medalist, 7-1, in the finals.
"It's impossible to describe my feelings, I only have positive emotions. When you train a lot, you dream of the highest award, and when you finally get it, it's amazing," said Novikov.
Novikov said his goal for the 2020 season is to become an Olympic champion and win his third U23 world title. But Novikov might have to wait for his shot at winning Olympic gold with Beleniuk in the same weight. "He is the strongest rival in my country. I want to beat him because it is a competitive sport."
Despite being on the losing end of the finals, Lorincz, the "Greco-Roman Wrestler of the Year," gained the No. 1 spot over Beleniuk with his 18-point silver-medal finish. Lorincz has a 14-point lead over the Ukrainian heading into the final Ranking Series event, the Poland Open.
Nehoda Wins 17-Point Shootout in 63kg Finals 
At 63kg, Maksim NEHODA (BLR) won the back-and-forth battle with Ibragim LABAZANOV (RUS), and somehow found a way to come out on the winning end of the 17-point shootout. He scored the first period's only points and carried the 2-0 lead after the opening three minutes. 
The second period was a much different story. The pair combined for 15 points, but it was Nehoda's persistence and his ability to ignore the four lead changes that helped him secure the 9-8 victory. He came into the European Championships ranked 19th. He'll add 20 ranking series points and will move up into the top-15 of the 63kg rankings after winning his first European title.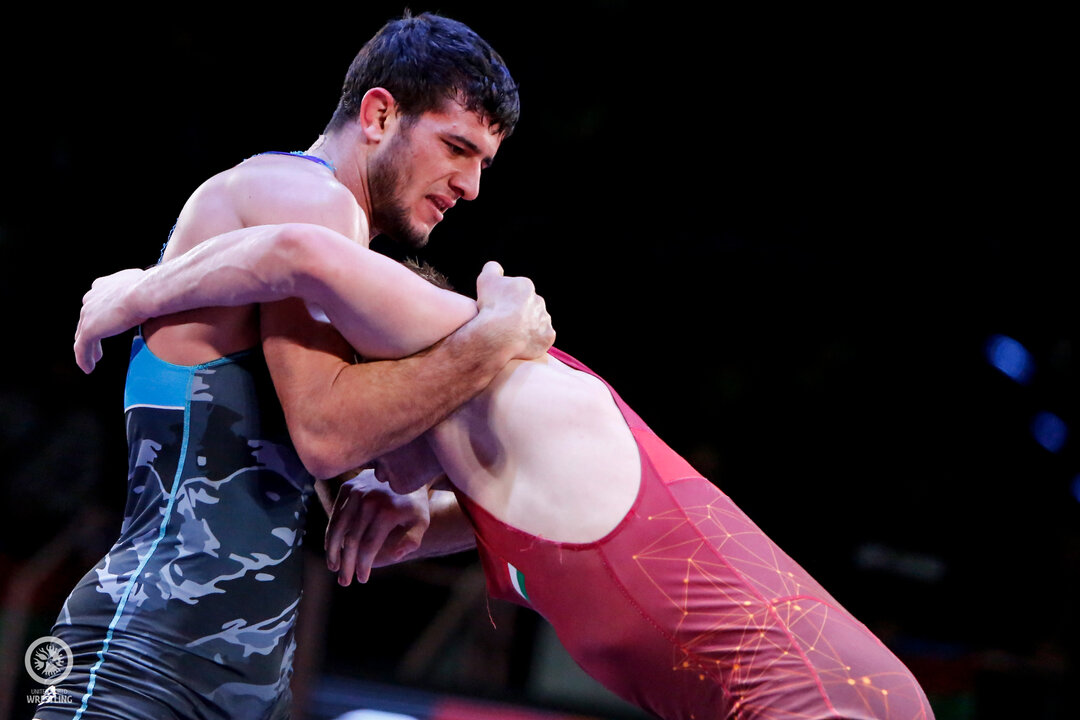 Sanan SULEYMANOV (AZE) defeated Zotlan LEVAI (HUN), 3-1, in the 72kg finals. (Photo: Kadir Caliskan)
Suleymanov Slides Past Levai, The Hungarian Moves into Top-Three of World Rankings
Sanan SULEYMANOV (AZE) stopped a second-period throw attempt and scored the 3-1 victory over Zotlan LEVAI (HUN) in the 77kg finals, but the Hungarian climbed to No. 3 in the world rankings.
Levai, the Matteo Pellicone Ranking Series champion, came into the European Championships ranked 11th with 16 points. He'll leave Rome with 20 additional Ranking Series points, moving him ahead of Mohammadali GERAEI (IRI) for the third spot in the rankings.
Hungary now has two wrestlers occupying the top-three of the 77kg rankings. Tamas LORINCZ (HUN) is ranked first, and Levai is third.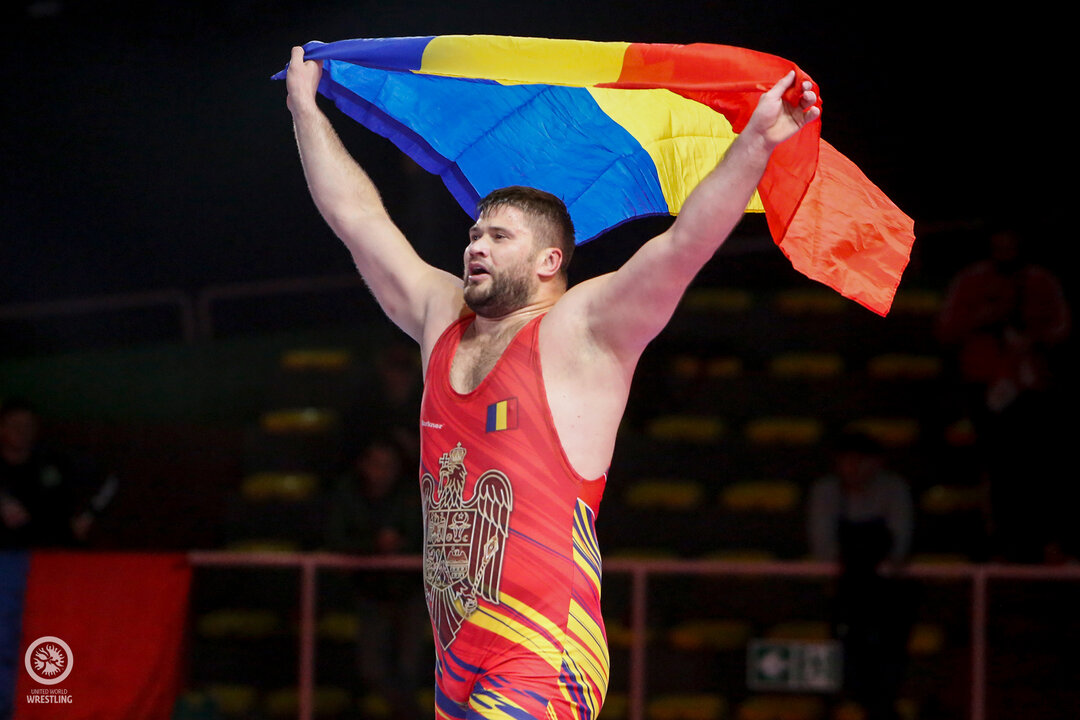 Alin ALEXUC CIURARIU (ROU) celebrates his 6-1 win over Levan ARABULI (GEO). (Photo: Kadir Caliskan)
Alexuc Ciurariu Becomes Second Romanian GR European Champion in Last Ten Years
Alin ALEXUC CIURARIU (ROU) was the fifth European champion to be crowned on Tuesday. He joined Mihai Radu MIHUT (ROU) as the only Romanian wrestlers to win a Greco-Roman European title in the last ten years. The Romanian big man improved on his bronze-medal finish from last year's European Championships with a 6-1 victory over Levan ARABULI (GEO).
RESULTS

55kg 
GOLD - Edmond Armen NAZARYAN (BUL) df. Vitalii KABALOEV (RUS), 7-3 
BRONZE - Nugzari TSURTSUMIA (GEO) df. Florin TITA (ROU), 9-0
BRONZE - Eldaniz AZIZLI (AZE) df. Giovanni FRENI (ITA), 9-0 
63kg
GOLD - Maksim NEHODA (BLR) df. Ibragim LABAZANOV (RUS), 9-8
BRONZE - Lenur TEMIROV (UKR) vs. Stig-Andre BERGE (NOR), 3-3
BRONZE - Erik TORBA (HUN) df. Mihai Radu MIHUT (ROU), 6-3 
77kg 
GOLD - Sanan SULEYMANOV (AZE) df. Zotlan LEVAI (HUN), 3-1 
BRONZE - Karapet CHALYAN (ARM) df. Aik MNATSAKANIAN (BUL), injury default
BRONZE - Alex KESSIDIS (SWE) df. Volodymyr YAKOVLIEV (UKR), 5-2 
87kg
GOLD - Semen NOVIKOV (UKR) vs. Viktor LORINCZ (HUN), 7-1 
BRONZE - Islam ABBASOV (AZE) df. Eividas STANKEVICIUS (LTU), 6-2 
BRONZE - Aleksandr KOMAROV (RUS) df. Metehan BASAR (TUR), 3-1 
130kg
GOLD - Alin ALEXUC CIURARIU (ROU) df. Levan ARABULI (GEO), 6-1
BRONZE - Jello KRAHMER (GER) df. Arvi Martin SAVOLAINEN (FIN), 1-1
BRONZE - Mykola KUCHMII (UKR) df. Zurabi GEDEKHAURI (RUS), 2-2