Mukaida Also Falls to DPR Korean in One of Three Asian Finals Decided in Final Seconds
Friday, April 26, 2019 - 17:06 By Ken Marantz
XI'AN, China (April 26)—Having seen her teammate knock off one Japanese giant in the afternoon, PAK Yongmi (PRK) took down one of her own in the evening.
Pak scored a dramatic takedown in the final seconds to stun world champion Mayu MUKAIDA (JPN), 4-3, in the 53kg final on the second and final day of women's wrestling at the Asian Championships in Xi'an.
"Up to the final, everything was going well," said a tearful Mukaida, who also suffered a last-second loss in the 53kg final at the Paris 2017 world championships. "In the final, I didn't wrestle the type of match I had imagined."
That was only a precursor of a night of high drama to come, as two of the four other titles at stake were decided in the dying seconds, one giving host China a gold and the other denying one of Japan's four finalists.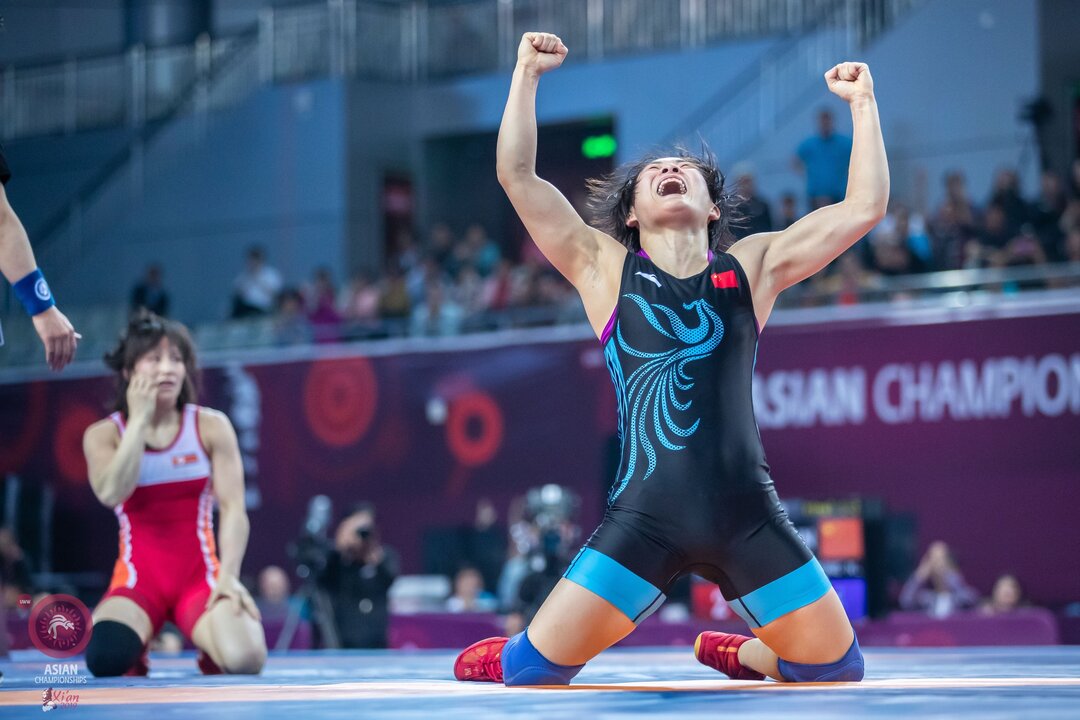 Reigning world champion RONG Ningning (CHN) stole the 57kg gold medal with a last-second takedown against JONG Myong Suk (PRK). (Photo: Sachiko Hotaka)
World champion RONG Ningning (CHN) sent the crowd at Xidian University's Invengo Gymnasium into a frenzy when she scored a 4-point takedown with two seconds left to defeat JONG Myong Suk (PRK), 4-2, for the 57kg gold.
Jong had pulled off the surprise of the tournament in the morning session, when she stunned four-time Olympic champion Kaori ICHO (JPN) 7-4 in the semifinals.
Not to be outdone, Aisuluu TYNYBEKOVA (KGZ) saved the best for last in the 62kg final, capping a comeback from a 6-1 first-period deficit with a 2-point lift with three seconds left to vanquish world silver medalist Yukako KAWAI (JPN), 8-6.
The last two finals were more straight-forward affairs, with China and Japan each adding one final gold medal to their tallies to finish with four each. 
Japan, which placed nine of its 10 wrestlers in the finals over the two days, won the team title with 215 points. Host China, which medaled in eight weight classes, was second with 183, with India took third with 113, thanks mainly to four bronze medals.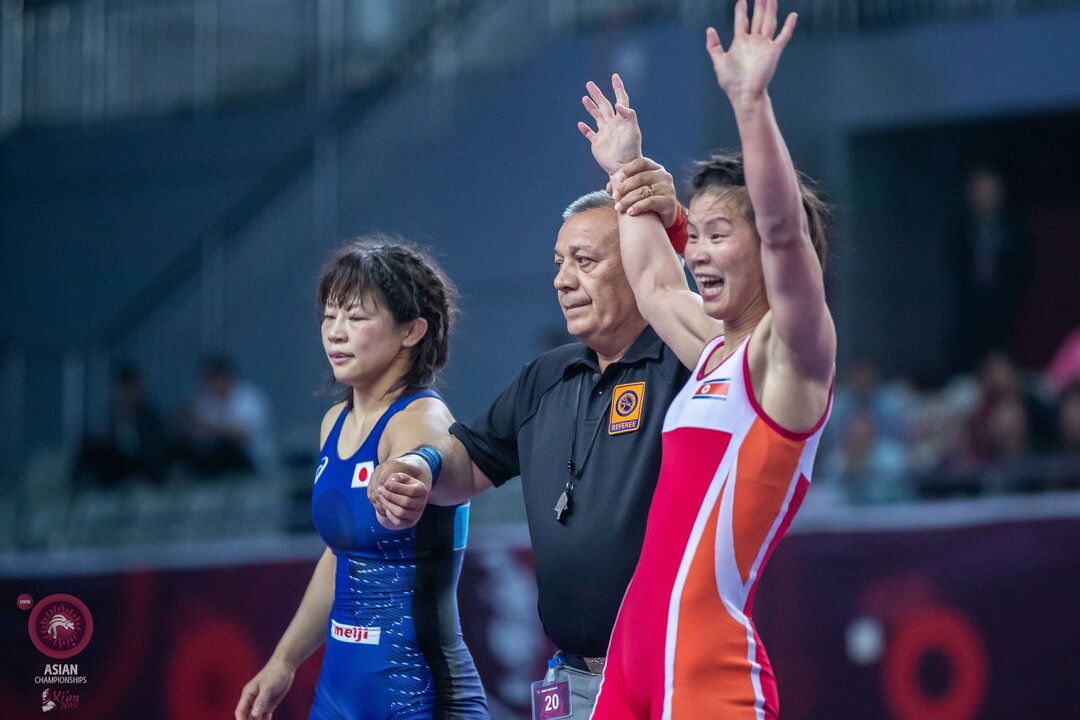 PAK Yongmi (PRK) upset Japan's reigning 55kg world champion Mayu MUKAIDA (JPN), 4-3 to win the 53kg gold medal. (Photo: Sachiko Hotaka)
In the opening final, Mukaida, the 55kg world champion who has moved down to the Olympic weight of 53kg, took a 3-0 lead with a snap-down takedown early in the second period. 
But Pak, the defending champion who also won the Asian Games gold last summer in Jakarta, cut the gap with a low single-leg takedown. Mukaida, looking to pad her lead, used the same move to get a lock on Pak's leg and was working to get behind. 
That's when Pak adeptly made a grab for Mukaida's heel, which knocked the Japanese off balance and onto her hip. Pak then worked her foot out from under Mukaida and gained control with :07 on the clock.
"In the end, she slipped her foot out and managed to get behind," Mukaida said. "I need to put together the moves to finish that off."
Mukaida had beaten Pak in their previous meeting, a 6-2 decision in the first round at Paris 2018, where the Japanese had to settle for silver after giving up a last-second 4-point move in an 8-6 loss to Vanesa KALADZINSKAYA (BLR). 
Jong, a world bronze medalist at 55kg and last summer's Asian Games champion, can certainly sympathize with Mukaida, after suffering a similar fate at the hands of Rong. 
Using her lightning-quick speed, Jong scored a takedown in the first period, and it looked like that would hold up as the second period began winding down. With the seconds ticking away, Rong got in on a single leg, and as Jong fiercely resisted, the Chinese tripped her to her back for 4 points and the victory.  
"I knew she beat Icho and she trained specially for this tournament, so today when I took the mat I thought I should be more aggressive," Rong said. 
"But this morning when I was aggressive, I lost two points. During the break between the periods, my coach told me to be patient and then I told myself to stay calm."
Rong, energized by the cheering crowd, said she willed herself to keep fighting to the end, and it paid off as she added to the gold she won a year ago at 59kg in Bishkek.
"I couldn't believe it," Rong acknowledged. "When my opponent left the mat, she sighed [in disbelief]."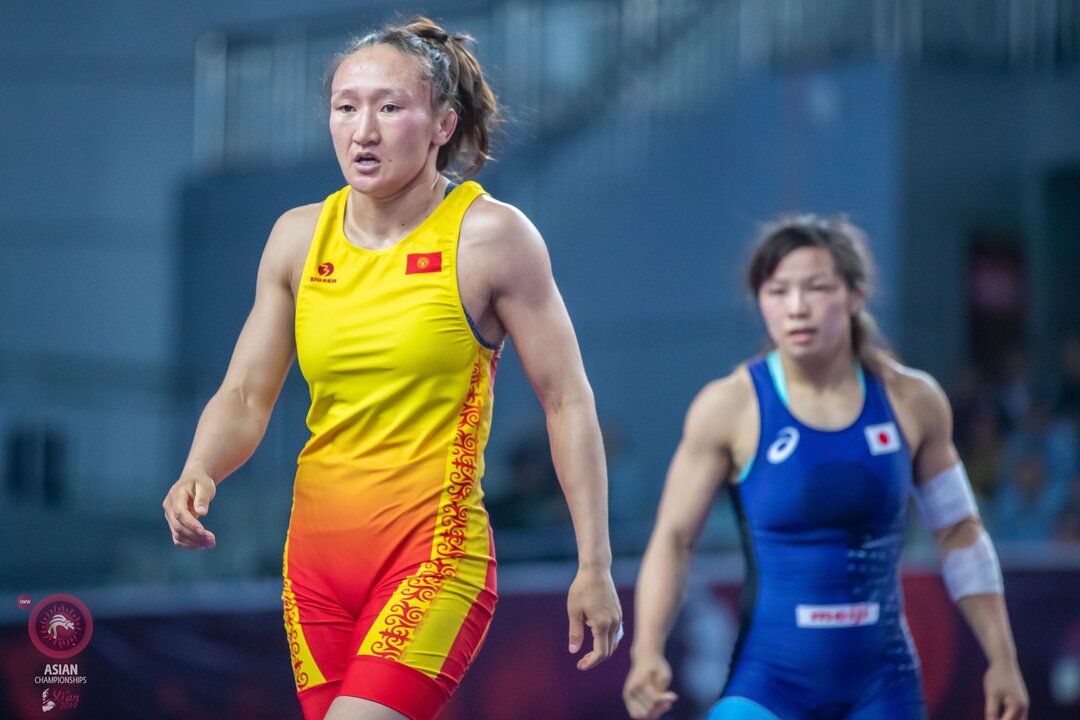 Aisuluu TYNYBEKOVA (KGZ) scored an 8-6 come-from-behind win over 2018 world runner-up Yukako KAWAI (JPN) to win the 62kg gold medal. (Photo: Sachiko Hotaka)
In the 62kg final, Tynybekova gave up a takedown and a pair of rolls to Kawai to fall behind 6-1 going into the second period. But after chipping the lead down to two points, Kawai was assessed a penalty point for fleeing. 
As that was her second caution, Kawai went on the attack, taking a shot at a single leg and then holding on for dear life. With the clock ticking down, Tynybekova reached over, locked on a leg and fought desperately to lift Kawai up. 
"The lucky thing was that she passed through my legs, so I could get a grip on her leg," Tynybekova said.
With :03 on the clock, she finally got Kawai up and over. An additional point for an unsuccessful challenge accounted for the final score.
"I was 100 percent sure I could turn her over," said Tynybekova, who won her third Asian gold after skipping last year's tournament in her home country due to a shoulder injury. "I practice that move over and over. I was sure I was going to win."
While four of the five finals on Thursday featured clashes between Chinese and Japanese wrestlers, only one did on Friday, and that one went the host country's way.
LUO Xiaojuan (CHN) scored a second-period takedown and, in contrast to the previous finals, that was the extent of the action as she defeated Naomi RUIKE (JPN), 3-0, at 65kg.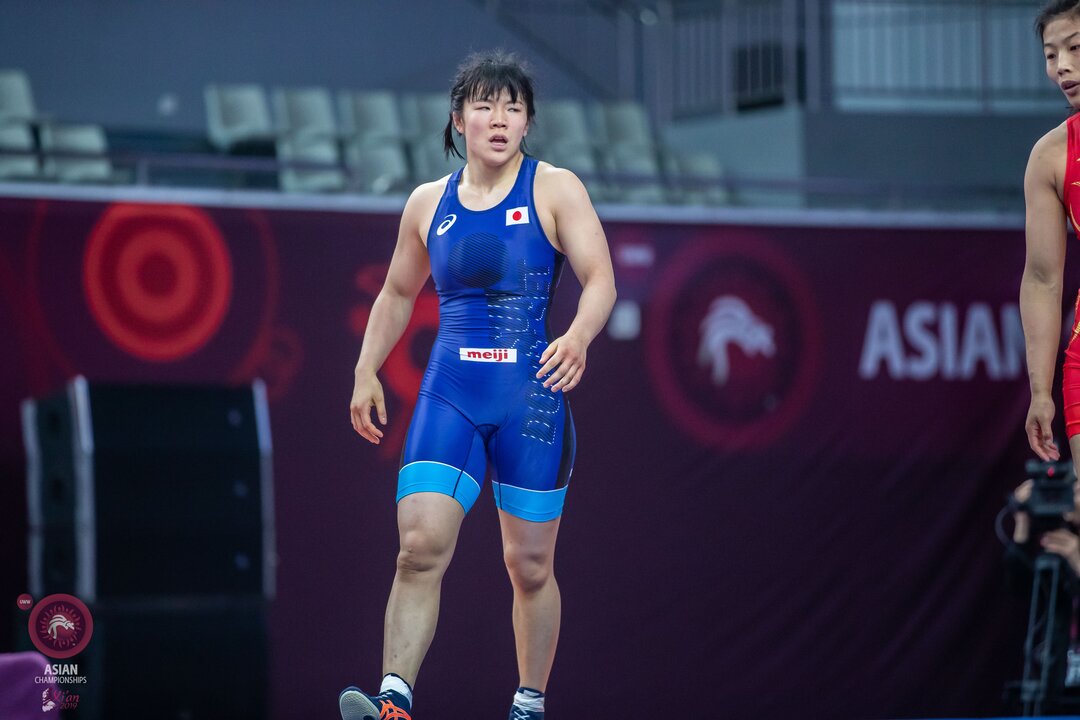 Yuka KAGAMI (JPN) grabbed the 72kg title with a 12-1 win over Korea's JEONG Seoyeon in the gold-medal bout. (Photo: Sachiko Hotaka) 
High schooler and two-time world cadet champion Yuka KAGAMI (JPN) salvaged some Japanese pride on a disappointing day when she put on a second-period blitz to take the 72kg gold with a 12-1 technical fall over JEONG Seoyeon (KOR).
The first period was limited to an activity clock point awarded to Jeong. But Kagami scored an early takedown, then reeled off five consecutive rolls to end the match at 3:36. 
After the fourth roll, Kagami smiled and stopped, thinking she had already clinched the win. Realizing her mistake, she quickly resumed the match and got the decisive points.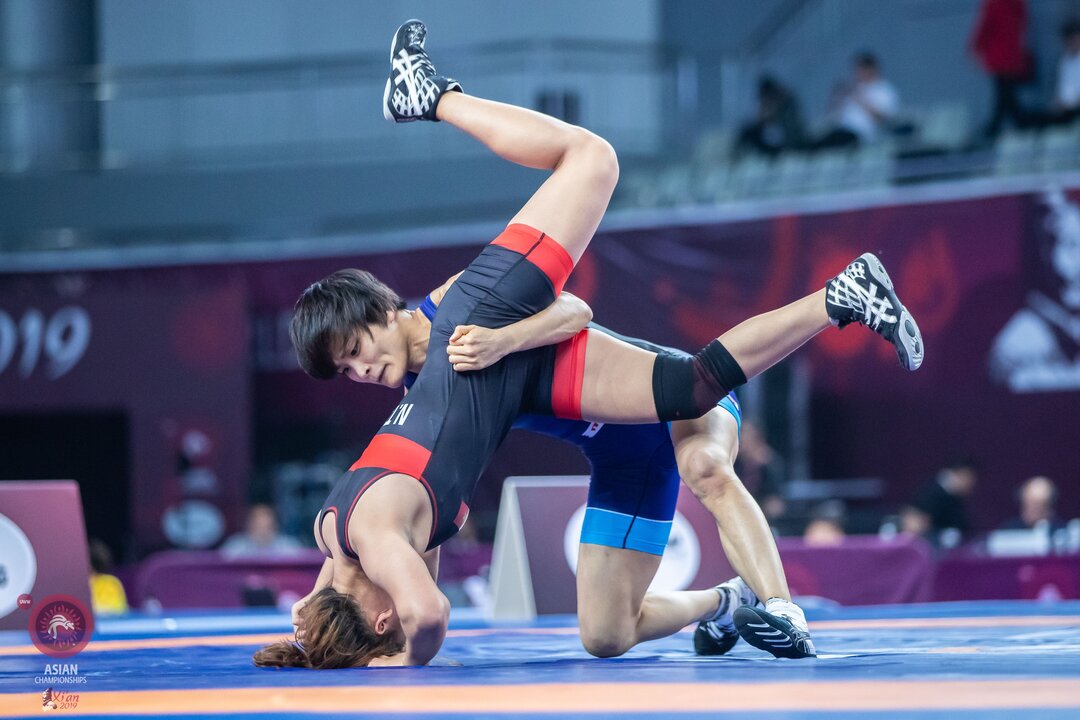 Four-time Olympic champion Kaori ICHO (JPN) bounced back to win a bronze medal at 57kg after falling in the semifinals to JONG Myong Suk (PRK). (Photo: Sachiko Hotaka) 
Meanwhile, Icho bounced back from her stunning loss to take a bronze medal at 57kg with a victory by fall over Thi My Trang NGUYEN (VIE).
After taking a 4-0 lead, Icho locked Nguyen in a cradle, levered her over and ended the match in 2:23.
"Not just the third-place match, but the three matches here made clear what direction I need to take my training," said Icho, adding that even with the loss, she will take home more than the bronze.
"I understand what I need to change. Everything about this was a good experience."
Uzbekistan captured three bronze medals, while India, Mongolia and Kazakhstan had two each.
Next up on the fifth day of the tournament is the men's Greco-Roman competition in five weight classes.
Day 4 results
Women's wrestling
53kg (11 entries)
Gold – PAK Yongmi (PRK) df. Mayu MUKAIDA (JPN), 4-3
Bronze – Aktenge KEUNIMJAEVA (UZB) df. KIM Hyungjoo (KOR), 9-3
Bronze – Vinesh VINESH (IND) df. PANG Qianyu (CHN), 8-1
57kg (10 entries)
Gold – RONG Ningning (CHN) df. JONG Myong Suk (PRK), 4-2
Bronze – Kaori ICHO (JPN) df. Thi My Trang NGUYEN (VIE) by Fall, 2:23 (4-0) 
Bronze – Tserenchimed SUKHEE (MGL) df. Pooja DHANDA (IND), 5-3
62kg (12 entries)
Gold – Aisuluu TYNYBEKOVA (KGZ) df. Yukako KAWAI (JPN), 8-6
Bronze – Nabira ESENBAEVA (UZB) df. Salinee SRISOMBAT (THA), by TF, 10-0, 1:19
Bronze – Sakshi MALIK (IND) df. MUN Hyon Gyong (PRK), 9-6 
65kg (8 entries)
Gold – LUO Xiaojuan (CHN) df. Naomi RUIKE (JPN), 3-0
Bronze – Aina TEMIRTASSOVA (KAZ) df. Kaur NAVJOT (IND), 7-0 
Bronze – Bolortungalag ZORIGT (MGL) df Sakhipjamal ALEUATDINOVA (UZB) by Fall, 4:43 (7-0) 
72kg (8 entries)
Gold – Yuka KAGAMI (JPN) df. JEONG Seoyeon (KOR) by TF, 12-1, 3:25
Bronze – Nilufar GADAEVA (UZB) df. Li Chia-Hsin (TPE) by TF, 11-0, 3:53 
Bronze – Zhamila BAKBERGENOVA (KAZ) df. WANG Juan (CHN), 13-6
Team Standings
1. Japan, 215 points (4 gold-5 silver-1 bronze)
2. China, 183 (4-2-1)
3. India, 113 (0-0-4)