Icho Returns to Mat After 2-Year Absence with Eyes on 5th Olympic Gold
Saturday, October 13, 2018 - 01:18 By Ken Marantz
TOKYO (October 13) -- More than two years after making history by winning an unprecedented fourth Olympic gold medal at Rio 2016, Japanese legend Kaori ICHO has returned to the mat to begin a quest for a fifth. The road back has had its bumps along the way.
Icho, who has not competed since her triumph in Rio, is entered in the 57kg division at the All-Japan Women's Open to be held this weekend in Mishima, Shizuoka Prefecture, about 100 kilometers southwest of Tokyo. 
The tournament is serving as a qualifier for the All-Japan Championships, also known as the Emperor's Cup, to be held at December. That, along with the All-Japan Invitational Championships, or Meiji Cup, in May, are used to select national teams to the world championships and Olympics.



Top wrestlers such as Icho would normally never enter the Women's Open, but her time away from the mat has kept her from earning an automatic berth in the Emperor's Cup. Also, it presents a sufficient challenge to check her progress ahead of the stiffer competition ahead.
It was the same path that Rio 2016 champion Eri TOSAKA took last year when she returned from injury. Tosaka won the tournament at 53kg, but eventually came up short in her bid to make Japan's team to the world championships at 50kg.
To get into the Emperor's Cup, Icho needs to finish in the top two among the field of seven entries. On paper, at least, this should pose little problem. Her main competition looks to come from Shigakkan University's Hanako SAWA, a two-time runner-up at the Japan collegiate championships, and Fusano MOCHIZUKI, a semifinalist in Mishima last year. The four others, all collegians, all lost in the first or second round at the collegiate tournament in August. 
Icho, who normally avoids the spotlight anyway, has been kept off limits from the media during her preparation for the tournament, which consists of competition in various age groups. She will be in the senior division, which will be held Sunday. 
When it was announced in the summer that Icho would make a comeback aimed at the 2020 Tokyo Olympics, she said in a statement issued through her sponsor ALSOK: "I will give my full effort to help make wrestling a sport with even more appeal."
The sport was in need of a boost. At the beginning of the year, Icho revealed through third parties that she was a victim of power harassment, sparking a scandal that stunned the nation and rocked the sport to its core. The perpetrator was none other than Kazuhito SAKAE, the national team director of athlete development and head coach at powerful Shigakkan. 
Sakae is best known as the man who turned Japanese women's wrestling into the premier global force, mentoring Saori YOSHIDA, Icho, Tosaka and numerous others to international glory.
But the allegations against Sakae and a resulting investigation revealed a coach who wielded uncontested power, and resulted in his dismissal from all of his posts. The fact that he used it against such a national hero such as Icho---in one case leaving her off the Japan team to the Asian Games---was all the more shocking. It appears he was venting anger for her defying him and changing her training base from Shigakkan in central Japan to Tokyo, where she wanted to practice with a men's team.
Besides the banishing of Sakae, the incident led to reforms by the Japan Wrestling Federation, which issued an apology to Icho. Most noteworthy is that the federation changed the system for selecting the national women's team.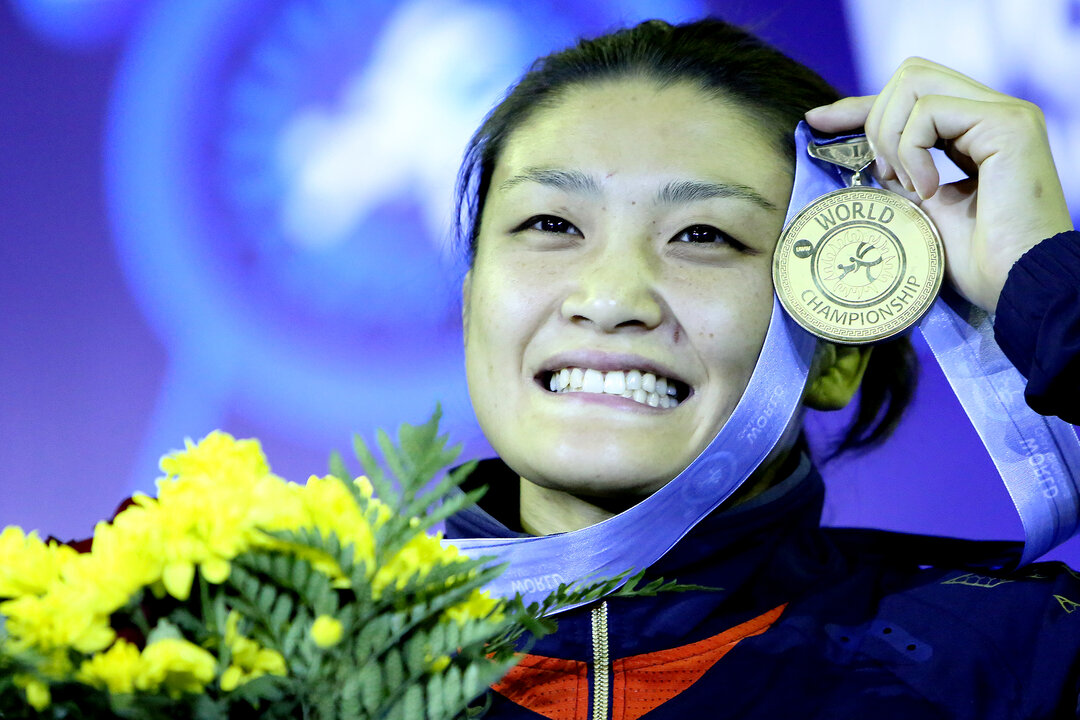 In the Japan system, if the same wrestler wins titles at both the Emperor's and Meiji Cups, they automatically earn a berth on the Japan team. If there are different winners, the two face each other in a playoff. This was always the case for the men, but was used for the first time this year for the women -- their places had previously been decided by the federation, with Sakae having the most influence.
With the sordid affair behind her, Icho was able to start focusing on the task ahead, having quelled rumors of her retirement by deciding to go for a fifth Olympic gold. 
"From April, she started training two times a day," said Masanori OHASHI, the manager at ALSOK, a home security company that sponsors a number of top wrestlers including Rio 2016 silver medalist Shinobu OTA and Paris 2017 world champion Yuki TAKAHASHI. "But she was not yet close to full strength, so she couldn't go all out. She gradually picked up the pace little by little."
There were also light times after Rio. After winning the gold to become the first woman in Olympic history to win golds at four consecutive Olympics, Icho was awarded the prestigious National People's Award from Prime Minister Shinzo Abe, an honor bestowed on only a handful of truly outstanding athletes, entertainers or others who inspire the nation with their exploits. 
In September last year, she traveled to Iran at the request of that nation's federation. There she conducted clinics for women's wrestling coaches, part of that country's drive to include women in the sport. 
The harassment scandal, investigation and conclusion took up the first four months of the year. In May, she headed to New York where, according to the NBC Sports website, she did a high school clinic in Brooklyn, worked out with fellow Olympic champion Helen MAROULIS (USA) and watched the Beat the Streets in Manhatten. 
While she may be out of the spotlight abroad, Icho won't be able to avoid it on Sunday. According to the Japan federation website, Japan two's major wire services, 17 general and sports newspapers, six TV networks and four magazines have applied for media credentials -- not all that different than for the national championships.
Icho has certainly earned her status as one of Japan's greatest athletes, male or female, of all time. In addition to her four Olympic golds (the first two at 63kg, the second two at 58kg), she won 10 world titles dating back to 2002, and never lost in a final in either competition.
Just how dominant has Icho been? Before a stunning loss to Orkhon PUREVDORJH (MGL) by technical fall in the final of the Yarygin Grand Prix in January 2016, Icho strung together 108 consecutive wins in domestic and international competition, according to records on the Japan federation website.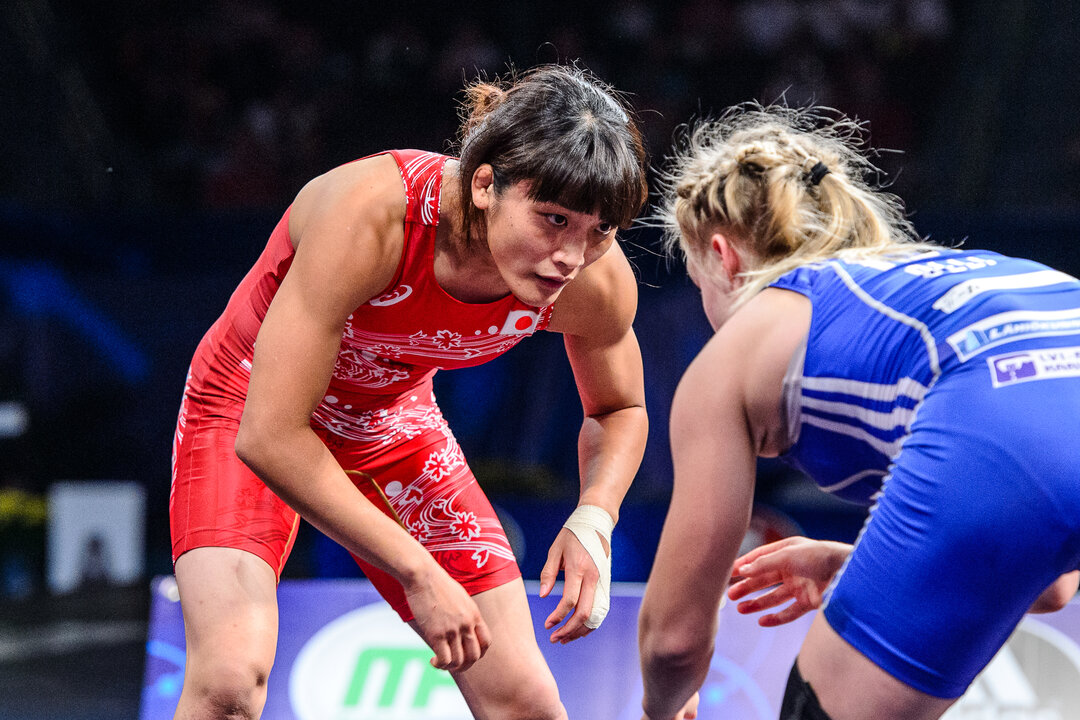 And that takes into account a loss by default at the 2007 Asian Championships. Icho was injured at the time, but to be eligible for Beijing 2008, she had to enter the continental tournament. So she had little choice but to take the black mark, and give HOU Min-Wen (TPE) an unexpected victory.
Prior to that, she had strung together 81 wins. So taking into consideration only matches in which she actually stepped onto the mat, Icho had an incredible streak of 189 wins. 
That streak started following a loss at the Klippan Open in 2003 to Sara MCMANN (USA) -- a defeat that Icho would avenge six times over, including in two major finals, at the New York 2003 world championships and Athens 2004 Olympics.
For the record, Icho heads to Mishima with a 7-match winning streak. How many it eventually becomes is less important than making sure it doesn't stop at Tokyo 2020.