Geraei Grabs Greco Gold Among Stacked Field, Cho Pulls Stunner
Wednesday, August 22, 2018 - 17:44 By United World Wrestling Press
The winner of the big showdown between three current Asian champions all entered in the Greco-Roman 77kg class at the Asian Games on Wednesday was...none of the above. 
Instead, it was Mohammadali GERAEI (IRI) who emerged from the pack to land on the top of the podium.
Geraei, one of two Iranian champions on the fourth and final day of the wrestling competition, scored an impressive 7-3 victory in the final over Akzhol MAKHMUDOV (KGZ), who had thrilled the home crowd when he won the 72kg title at the Asian Championships in Bishkek in February-March.
Hossain NOURI (IRI) followed with a victory at 87kg, giving Iran three of the six Greco-Roman golds at stake in the tournament using only the Olympic weight classes. Iran, however, missed chances for medals at 97kg and 130kg when both of its wrestlers lost bronze-medal matches.
Geraei, a bronze medalist at the 2017 World Championships in Paris at 71kg, had started the day by avenging a loss  to YANG Bin (CHN) in the 77kg final in Bishkek, putting the Chinese away with an 8-0 technical fall in 2:17 that he capped with a 5-point throw. 
The other Bishkek gold medalist in the field, 82kg winner Ashkat DILMUKHAMEDOV (KAZ), never made it past the quarterfinals, where was dealt a 3-3 defeat on last point by Shohei YABIKU (JPN). 
In the final, Geraei gained the first point for passivity, but on his spectacular lift-and-throw from the par terre position, he failed to expose Makhumodov's back to the mat and only gained 2 points. 
Geraei padded his lead with two more 2-point moves, but on a third attempt, Makhmudov stopped him in mid-throw for a 2-point counter, making it 7-2 after the first period.
Neither wrestler could put together an attack in the second period. Makhmudov got one last chance in the final minute when Geraei was called for passivity, making it 7-3. But Geraei firmly resisted the Kyrgyz teen's gut wrench attempts to secure the victory.
Yang came away with a bronze medal with a close 4-3 victory over Yabiku. The other bronze went to KIM Hyeonwoo (KOR), who chalked up an 8-0 technical fall over Bishkek 2018 bronze medalist Shermet PERMANOV (TKM).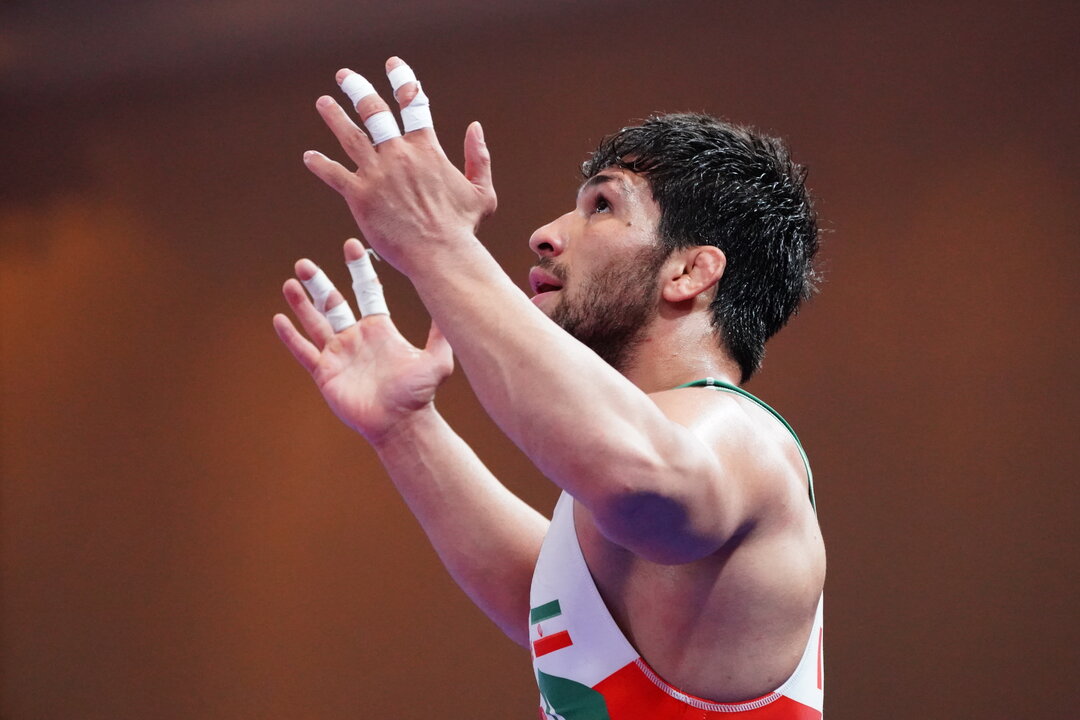 In the 87kg final, Nouri continued his reign over the continent by taking full advantage of a clearly fatigued Rustam ASSAKALOV (UZB), scoring five unanswered and largely uncontested points in the second period for a 6-1 victory. 
Nouri, a Paris 2017 bronze medalist, added the Asian Games gold to the Asian titles he won in 2017 and 2018. Assakalov, who won the 2014 Asian Games title in Incheon, took the silver at Bishkek 2018 at 97kg.
Azamat KUSTUBAYEV (KAZ) captured one of the bronze medals, with some inadvertent help from opponent Harpreet SINGH (IND). Trailing 5-0 in the second period, Singh scored a takedown, then forced a passivity penalty to cut the lead to 5-3. 
But Indian failed to properly take the par terre position, giving his opponent a penalty point and depriving himself of a chance to tie the score. Kustubayev then defended his 6-3 lead to the end. 
Shyhazberdi OVELEKOV (TKM) gave Turkmenistan its lone wrestling medal, needing just 39 seconds to put away Mohammed ALQUHALI (YEM) with an 8-0 technical fall.
Prior to the tournament, the 97kg class was deemed to be the most open and unpredictable, but even that couldn't detract from the surprise of CHO Hyochul (KOR)---10 days short of his 33rd birthday and 6 1/2 years after his last major tournament---walking away with the gold.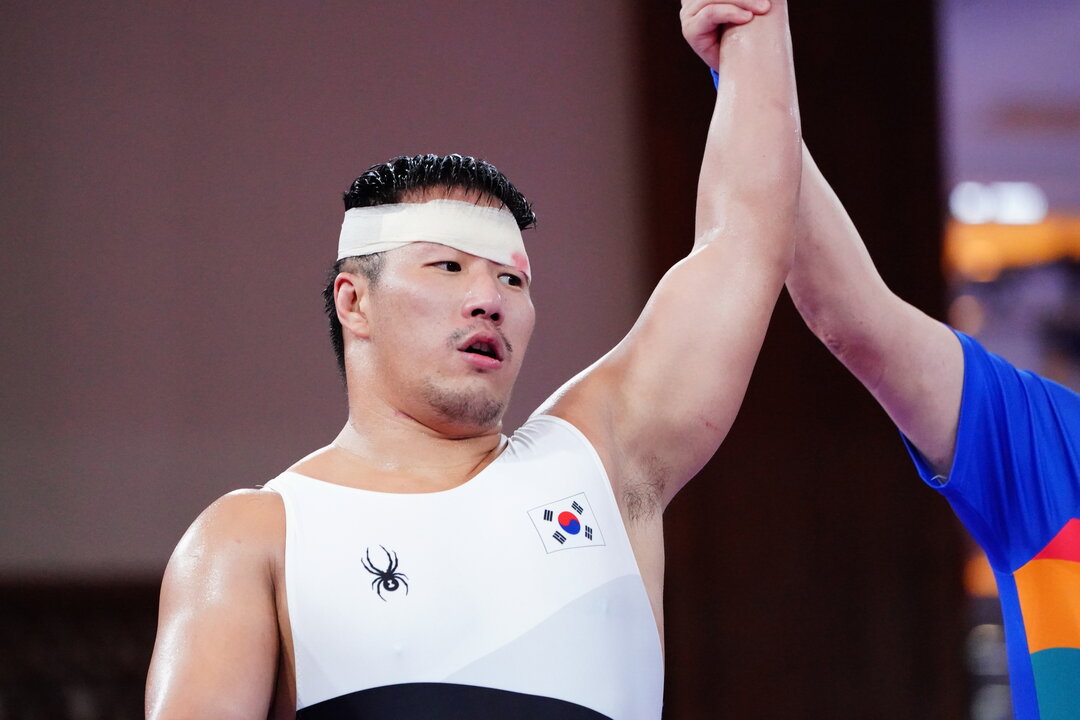 The stocky Cho ripped off a lightening-quick headlock throw for 4 points early in the second period, giving him a 5-4 lead that he made stick to defeat XIAO Di (CHN) in the final. 
Cho prepped for Jakarta by posting ninth-places finishes in Tbilisi and Sofia this year, marking his return to international mat after a six-year absence. It was 10 years ago that he won a bronze medal at 84kg at the Asian Championships, before adding a silver in 2011. 
Yerulan ISKAKOV (KAZ), the 2014 Asian Games champion ahead of Xiao, captured a bronze medal with a somewhat bizarre victory over Ali Akbar HEIDARI (IRI). 
Iskakov needed a long timeout to bandage a bleeding eyebrow, but still built up a 7-0 lead. In the second period, Heidari himself had to receive treatment and a bandage for a cut, before the bout suddenly ended when the Iranian was assessed a 2-point penalty for a head butt. An unsuccessful challenge made it officially a 10-0 technical fall at 4:25.
Uzur DZHUZUPBEKOV (KGZ) scored a first-period takedown, and that was enought to beat Jahongir TURDIEV (UZB), 2-0, for the second bronze. 
Bishkek 2018 silver medalist Muminjon ABDULLAEV (UZB) capped the competition with an 8-0 technical fall in the 130kg final over defending Asian Games champion Nurmakhan TINALIYEV (KAZ).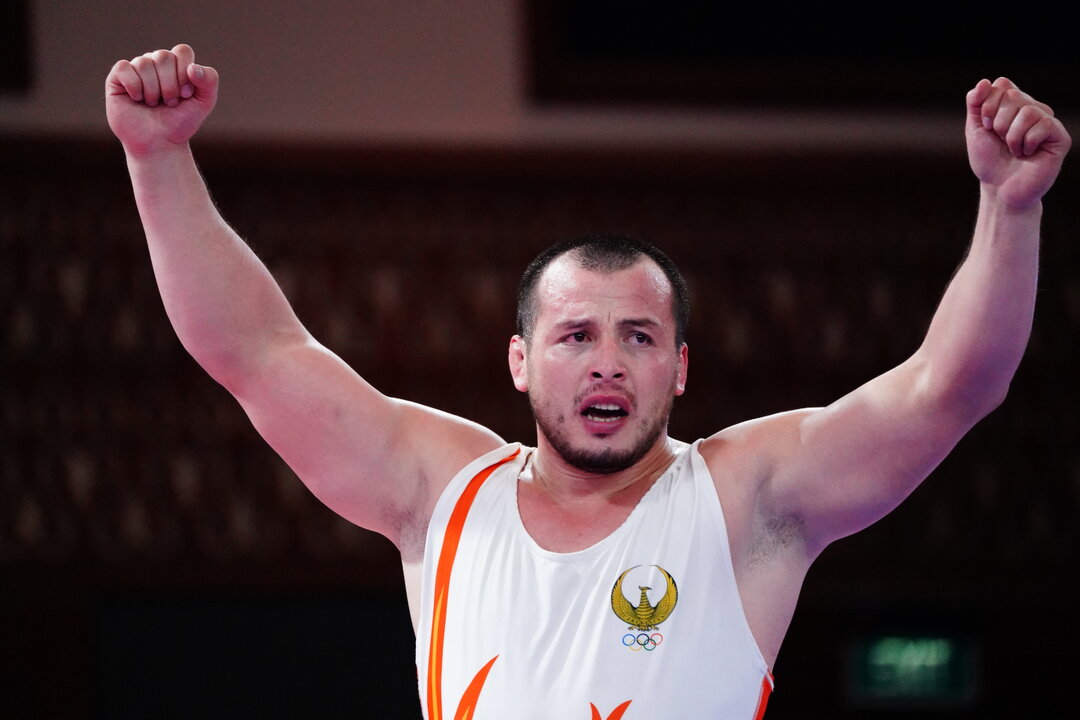 Abdullaev built up a 7-0 lead in the first period with a passivity point, a 4-point throw and a 2-point roll. He ended the bout by forcing Tinaliyev out for his eighth point at 4:16. 
In the bronze-medal matches, Arata SONODA (JPN) denied the host country an improbable medal with a fall in 52 seconds over Papang RAMADHANI (INA), while KIM Minseok (KOR) eked out a 1-1 victory over two-time Asian champion and favorite Behnam MAHDIZADEH (IRI), by virtue of his passivity point coming in the second period.
In the end, eight countries came away with medals in the six Greco weight classes, with Iran and South Korea each winning two golds. Kazahstan had the most medalists with five, although none were gold. 
Greco-Roman
77kg (16 entries)
Gold - Mohammadali GERAEI (IRI) df. Akzhol MAKHMUDOV (KGZ), 7-3
Bronze - KIM Hyeonwoo (KOR) df. Shermet PERMANOV (TKM) by TF, 9-0, 1:48
Bronze - YANG Bin (CHN) df. Shohei YABIKU (JPN), 4-3
SF - Geraei df. Yabiku, 8-1
SF - Makhmudov df. Permanov by TF, 8-0, 1:32
87kg (12 entries)
Gold - Hossein NOURI (IRI) df. Rustam ASSAKALOV (UZB), 6-1
Bronze - Shyhazberdi OVELEKOV (TKM) df. Mohammed ALQUHALI (YEM) by TF, 8-0, :39
Bronze - Azamat KUSTUBAYEV (KAZ) df.  Harpreet SINGH (IND), 6-3
SF - Assakalov df. Singh by TF, 10-0, :38
SF - Nouri df. Alquhali by TF, 8-0, 1:07
97kg (9 entries)
Gold - CHO Hyochul (KOR) df. XIAO Di (CHN), 5-4
Bronze - Yerulan ISKAKOV (KAZ) df. Ali Akbar HEIDARI (IRI) by TF, 10-0, 4:25
Bronze - Uzur DZHUZUPBEKOV (KGZ) df. Jahongir TURDIEV (UZB), 2-0
SF - Xiao df. Dzhuzupbekov by Fall, 1:27 (8-1)
SF - Cho df. Heidari, 4-3
130kg (11 entries)
Gold - Muminjon ABDULLAEV (UZB) df. Nurmakhan TINALIYEV (KAZ) by TF, 8-0, 4:16 
Bronze - Arata SONODA (JPN) df. Papang RAMADHANI (INA) by Fall, :52 (2-0)
Bronze - KIM Minseok (KOR) df. Behnam MAHDIZADEH (IRI), 1-1
SF - Abdullaev df. Mahdizadeh, 2-2
SF - Tinaliyev df. Sonoda, 6-0