Georgia and Iran Place Two in Greco-Roman Finals
Friday, October 12, 2018 - 15:14 By Tim Foley
BUENOS AIRES (October 12) – Wrestling powerhouses Georgia and Iran each placed a pair of wrestlers into Friday night's Greco-Roman finals at the Youth Olympic Games.
Georgia's Giorgi TOKHADZE impressed at 51kg defeating his two opponents by fall and  technical superiority, while teammate Giorgi CHKHIKVADZE squeaked past Sahak HOVHANNISYAN (ARM) 3-1 to make the finals at 60kg.
It was a stressful morning for Iranian fans at both Amirreza DEHBOZORGI (45kg) and Mohammad Ghorbanali NOSRATI (IRI) needed come-from-behind performances to make their way into tonight's final. Dehbozorgi was trailing 1-0 against Edmond NAZARYAN (BUL) before fighting his way back to the win, 3-2. Meanwhile, Nosarti trailed Mukhammad EVLOEV (RUS) 3-0 after the first period but scored five unanswered points in the second to earn his ticket to the finals.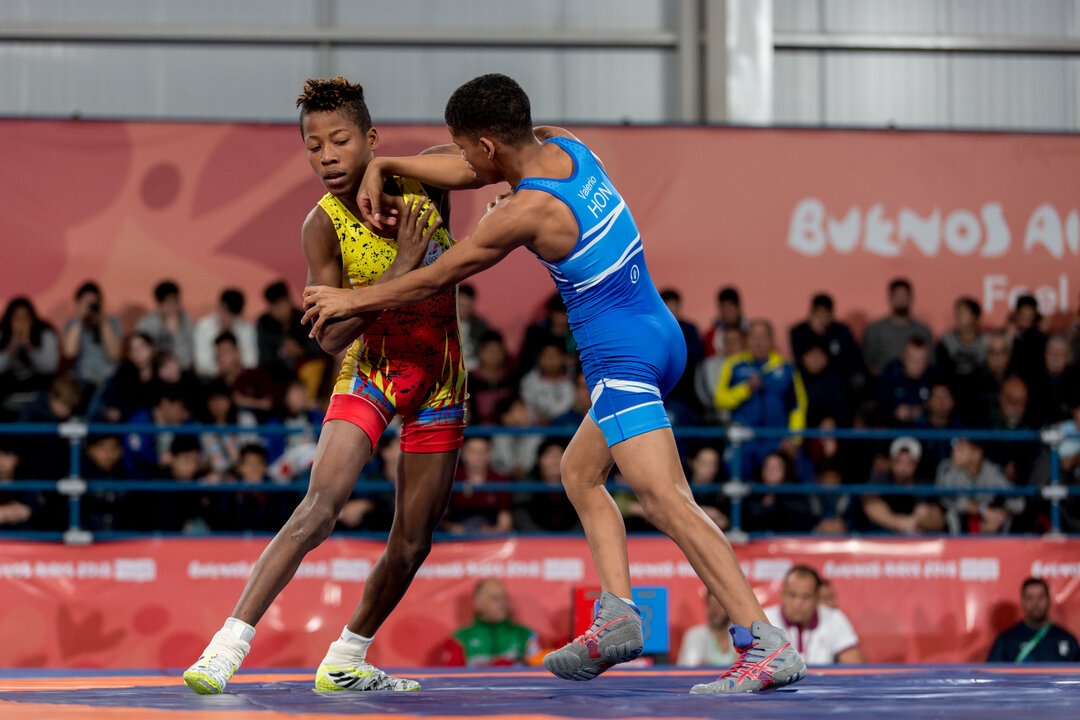 Ecuador's Jeremy PARALTA GONZALEZ  and Japan's Wataru SASAKI are queued up for finals action at 45kg. The lightweight pair each breezed through their respective groups, filling the auditorium with the cheers of fans, setting up what is certain to be a high flying finale.
Full Results from Session I at the Youth Olympic Games can be found, HERE.
Action resumes at 5pm local/4pm ET.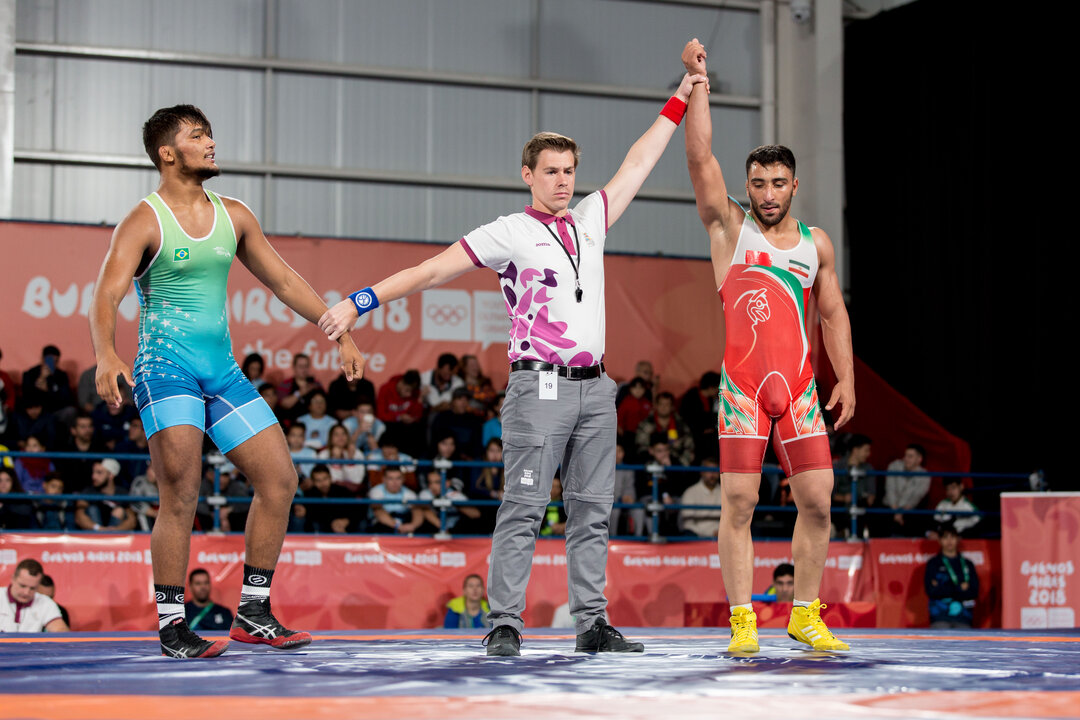 Greco-Roman, 45kg
GOLD: Amirreza DEHBOZORGI (IRI) v. Jeremy Renzo PERALTA GONZALEZ (ECU)
BRONZE: Edmond Armen NAZARYAN (BUL) v. Arslanbek ZAKIRBAYEV (TKM)
FIFTH: Abdalla M. SHAABAN (EGY) v. Densel Jaffet DE JESUS VALERIO (HON)

Greco-Roman, 51kg
GOLD: Wataru SASAKI (JPN) v. Giorgi TOKHADZE (GEO)
BRONZE:  Axel Andre SALAS ESQUIVEL (MEX)  v. Eduardo LOVERA (ARG)
FIFTH: Mehdi JOUINI (TUN) v. Alexander ADINIWIN (MHL)

Greco-Roman, 60kg
GOLD: Elmirbek SADYROV (KGZ) v. Giorgi CHKHIKVADZE (GEO)
BRONZE: Miguel Angel UGALDE AGUILAR (MEX) v. Sahak HOVHANNISYAN (ARM)
FIFTH: Arapo Ngatuerua George KELLNER (NZL) v. Ahmed Abdelhakim MERIKHI (ALG)

Greco-Roman, 71kg
GOLD: Alexandrin GUTU (MDA) v. Stepan STARODUBTSEV (RUS)
BRONZE: Lamjed MAAFI (TUN) v. Shu YAMADA (JPN)
FIFTH: Brandon CALLE PEREZ (COL) v. Lynch Xavier Tanglao SANTOS (GUM)

Greco-Roman, 92kg
GOLD: Osman AYAYDIN (TUR) v. Mohammad Ghorbanali NOSRATI (IRI)
BRONZE: Shady Elkhalil Ibrahim A. WEHIB (EGY) v. Mukhammad EVLOEV (RUS)
FIFTH: Ariston Faamalosi BARTLEY (ASA) v. Igor Fernando ALVES DE QUEIROZ (BRA)