Eleven Nations Represented in Day Four Women's Wrestling Semifinals
Thursday, May 3, 2018 - 11:02 By Eric Olanowski
KASPIISK, Russia (May 3) - Russian women reached the semifinals in four of the five weight categories during the fourth day of competition at the 2018 European Championships. Ten other nations will be represented in the semifinals with Belarus and Bulgaria each having a trio of wrestlers vying for a spot in tomorrow's finalist. 

Two of the most intriguing semifinals match-ups will be at 53kg and 57kg. 
Katarzyna KRAWCZYK (POL) and Stalvira ORSHUSH (RUS) will battle for the finals spot at 53kg. 
Poland's Krawczyk, a two-time European medalist is on a quest to make her second trip to the finals. She finished with a silver medalist after dropping the 2015 European Games finals to Sweden's Sofia MATTSSON.
Orshush has been on a tear this year, only dropping a single match. She's currently ranked no. 11 in the world after capturing the Klippan Lady Open gold medal and the silver medal at the Ivan Yarygin.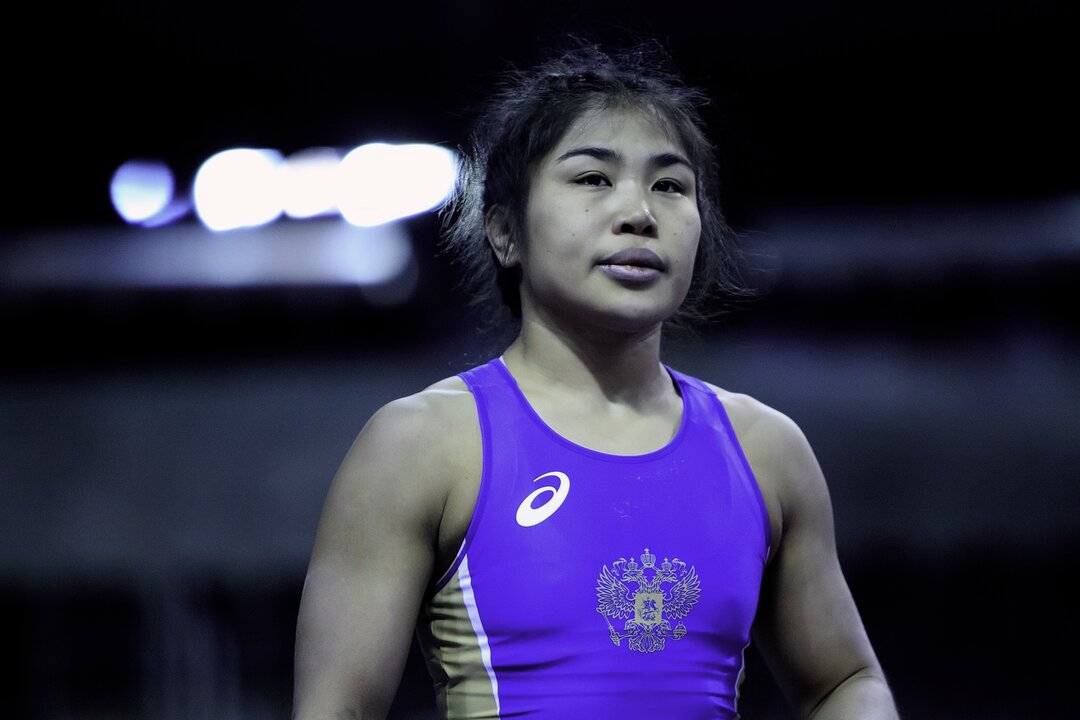 At 57kg, Alyona KOLESNIK (AZE) and Irina OLOGONOVA (RUS) will wrestle for a spot in Friday night's finals.
Ologonova, the three-time world finalist will be making her second finals appearance. In her first showing at the European Championships, the Russian walked away with the gold medal.
Kolesnik, last years European bronze medalist will be looking to make her first senior-level Euro finals.
Other wrestlers to pay attention to in tonight's semifinals are 2017 world champion, Vanesa KALADZINSKAYA (BLR), 2016 Rio bronze medalist, Jenny FRANSSON (SWE) and world no. 1 Petra OLLI (FIN). 
MATCH-UPS 
53kg
SEMIFINAL - Stalvira ORSHUSH (RUS) vs. Katarzyna KRAWCZYK (POL) 
SEMIFINAL - Maria PREVOLARAKI (GRE) vs. Vanesa KALADZINSKAYA (BLR)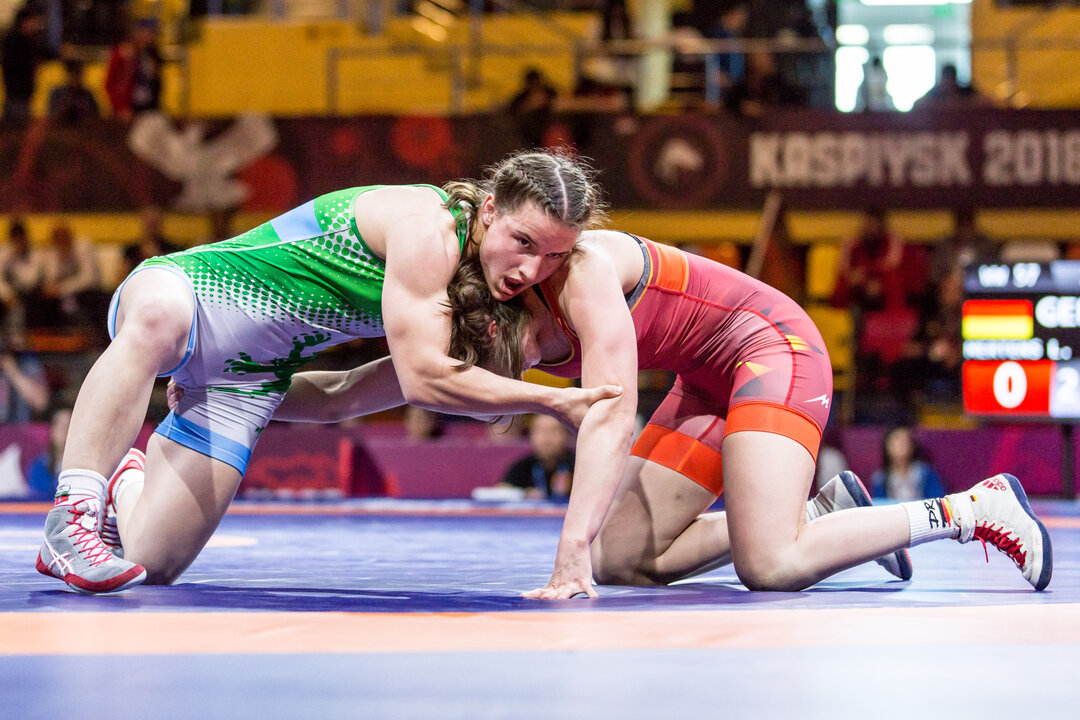 Bilyana DUDOVA (BUL). (Photo by Max Rose-Fyne) 
57kg
SEMIFINAL - Irina OLOGONOVA (RUS) vs. Alyona KOLESNIK (AZE) 
SEMIFINAL - Emese BARKA (HUN) vs. Bilyana DUDOVA (BUL)

62kg
SEMIFINAL -  Taybe Mustafa YUSEIN (BUL) vs. Veranika IVANOVA (BLR) 
SEMIFINAL - Inna TRAZHUKOVA (RUS) vs. Luzie MANZKE (GER)
65kg
SEMIFINAL - Viktoria BOBEVA (BUL) vs. Petra OLLI (FIN)
SEMIFINAL - Elis MANOLOVA (AZE) vs. Henna JOHANSSON (SWE)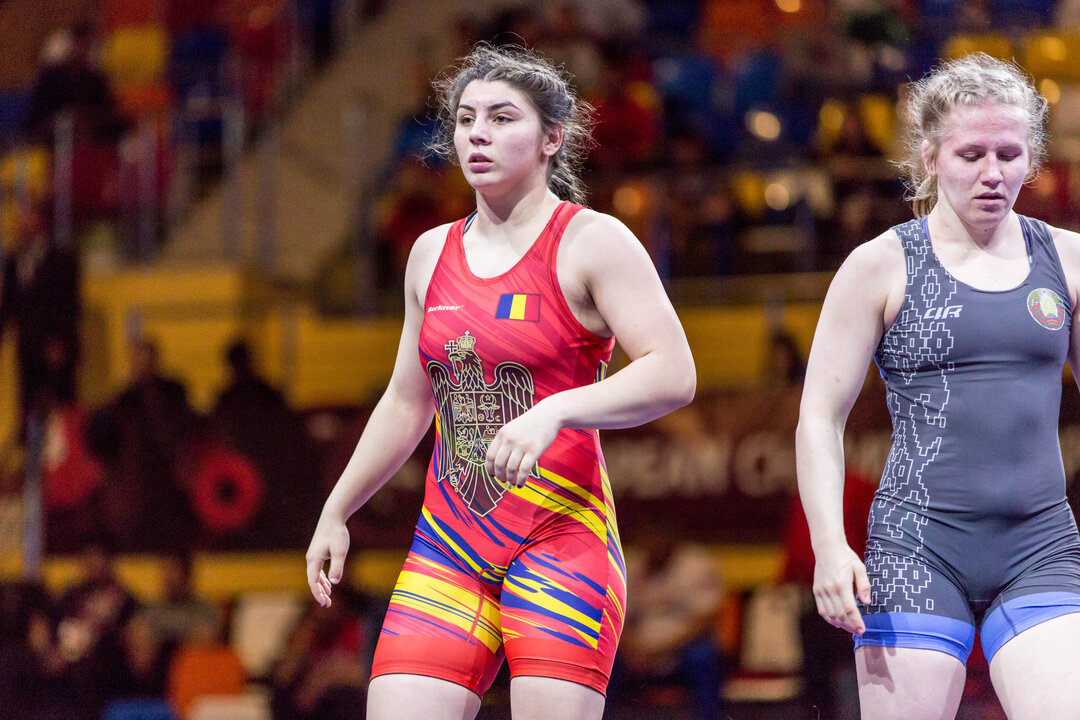 Anastasiya ZIMIANKOVA (BLR). (Photo by Max Rose-Fyne) 
68kg
SEMIFINAL - Alena PEREPELKINA (RUS) vs. Anastasiya ZIMIANKOVA (BLR) 
SEMIFINAL - Jenny FRANSSON (SWE) vs. Beste ALTUG (TUR)