China's Zhou Tandem Takes Final 2 Women's Asian Games Golds; Ryu, Ota Prevail in Greco
Tuesday, August 21, 2018 - 20:13 By United World Wrestling Press
China got a double helping of golden Zhou at the Asian Games when its two wrestlers sharing that same family name took the final two women's gold medals on Tuesday in Jakarta.
ZHOU Feng (CHN) defeated Tumentsetseg SHARKHUU (MGL) 4-1 in the final at 68kg, and namesake ZHOU Qian (CHN) followed by continuing her dominance of Hiroe MINAGAWA (JPN) and taking the 72kg title with an 8-0 rout. 
Both finals were repeats of the gold medal matches at the Asian Championships six months ago in Bishkek, as the heavyweights came through as expected after the Chinese women ended the previous day with just a single silver medal in four weight classes. 
Zhou Feng, who won the 2014 Asian Games gold in Incheon at 75kg and a world silver in 2015, scored with a pair of takedowns in the first period, and that was all she needed to defeat Sharkhuu. 
Any chance of a comeback in the second period by the Mongolian all but ended when she seemed to reinjure her heavily taped right shoulder after Zhou squirmed out of an attempted high body lock. Still, she gave a better accounting of herself than in Bishkek, when she lost by technical fall.
Meerim ZHUMANAZAROVA (KGZ) prevented Japan from taking home a medal in all six weight classes when she defeated Ayana GEMPEI (JPN), 7-3, in a bronze medal match. 
Gempei, the 2017 Asian silver medalist at 63kg and U-23 world champion, had moved up to 68kg to fill the spot left open by Sara DOSHO (JPN). The world and Olympic champion withdrew due to a shoulder injury suffered at the Women's World Cup in March, and Gempei had to win a three-women playoff to earn the spot.
The other 68kg bronze medal went to Divya KAKRAN (IND), who scored a comprehensive 10-0 technical fall victory over CHEN Wenling (TPE).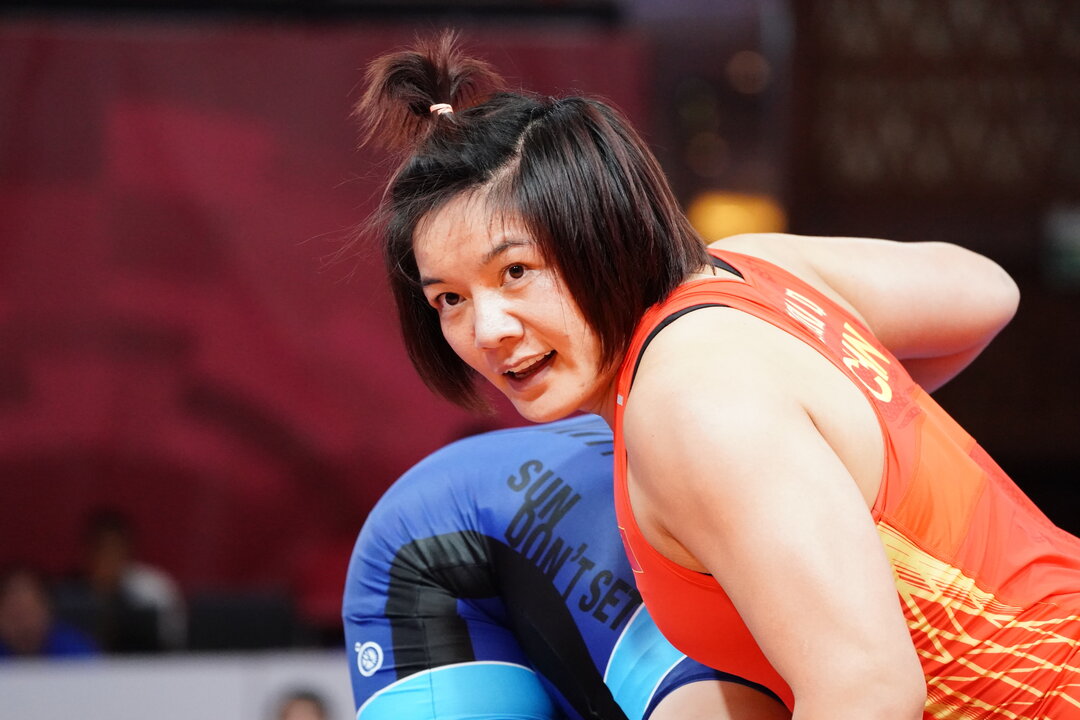 At 76kg, Minagawa represented Japan's final chance to avoid being completely shut out of the women's gold medals for the first time since women's wrestling was added to the Asian Games program in 2002 (and there were only three or four weight classes prior to Jakarta). But Zhou Qian remained a Great Wall of China that Minagawa, who won a bronze medal at the Paris 2017 world championships under her maiden name of Suzuki, still can't get over. 
Zhou, the 2015 world silver medalist, scored with a double leg takedown-roll combination for four points in the first period, then added two takedowns in the second to defeat Minagawa for the third time in six months and fourth time in four career meetings. 
In a twist of fate, the two bronze medalists from Bishkek clashed for one of the bronzes in Jakarta, with Elmira SYZDYKOVA (KAZ) taking home the hardware with a 5-2 decision over HWANG Eunju (KOR). Syzdykova had also won a bronze at the 2016 Rio Olympics.
Aiperi MEDET KYZY (KGZ) took the other bronze with a 4-2 win over Nasanburumaa ORCHIRBAT (MGL), the Bishek 2018 silver medalist at 72kg.
The start of the Greco-Roman competition produced some tense moments but otherwise no surprises for the two favorites, as world champion RYU Sansu (KOR) captured a second straight Asian Games crown with a victory at 67kg, and Rio 2016 silver medalist and Bishkek 2018 champion Shinobu OTA (JPN) stormed to gold at 60kg. 
Ryu scored with a 4-point move in the first period, and rode that to a 5-4 victory over Bishkek 2018 champion Almat KEBISPAYEV (KAZ) in the final.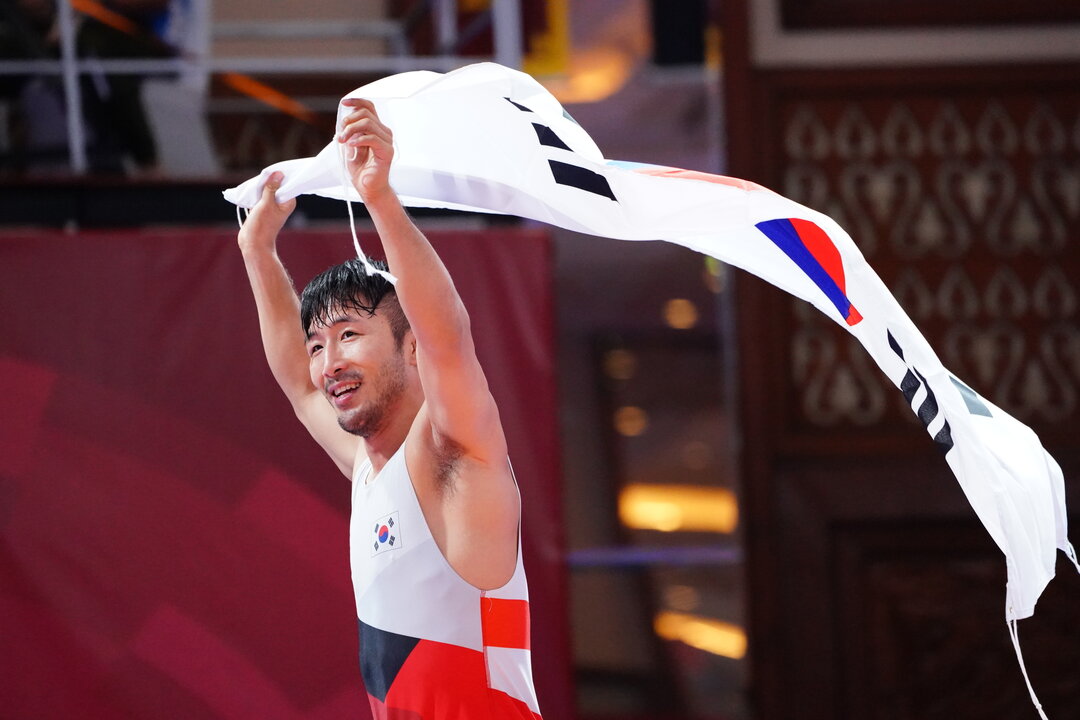 In a quicksilver sequence in the first period, Kebispayev scored with a front headlock roll, but he ended on top of Ryu's back. The Korean then rose up, twisted Kebispayev around and slammed him to the mat for four points and a 4-3 lead. Kebispayev added another point when the two went out of bounds to make it 4-4 at the end of period, but Ryu leading on big point criteria. Ryu then successfully fought off Kabispayev in the second period while adding a point to secure the victory.
After starting out with an 8-0 technical fall over Pongsit DEEMARK (THA), Ryu had two close calls en route to the final, edging Amantur ISMAILOV (KGZ) 1-1 and ZHANG Gaoquan (CHN) 2-0.
In the bronze medal matches, Ismailov prevailed over Zhang, 6-1, while Mohammadreza GERAEI (IRI) overwhelmed HUNG Yinghua (TPE) with an 11-0 technical fall in :56.
In Bishkek, Ryu suffered a loss by injury default in the quarterfinals to Tsuchika SHIMOYAMADA (JPN), who went on to lose to Kebispayev in the final. In Jakarta, Shimoyamada's day ended with a first-round loss to Manish MANISH (IND). 
Another early casualty was Elmurat TASMURADOV (UZB), the Bishkek 2018 champion at 63kg who moved up because only the six Olympic weights are on the Asian Games program. He blew a 5-1 lead in his quarterfinal match with Geraei,  losing by fall with :18 left after the Iranian went ahead 9-8.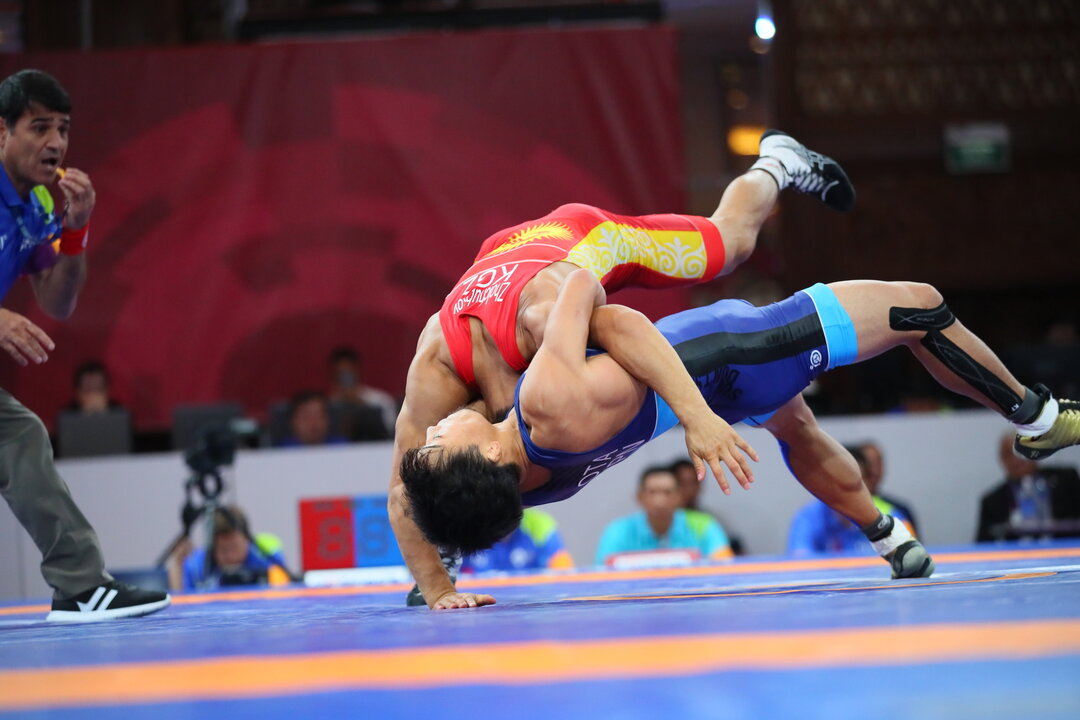 At 60kg, Ota managed to save Japanese pride after both the freestyle and women's teams failed to reach the top of the podium by posting a slick victory by fall in the final over Kanybek ZHOLCHUBEKOV (KGZ).
Ota, whose spectacular throws has earned him the nickname "Ninja wrestler," scored with a 4-point move to take a 4-3 lead after the first period. His second 4-pointer, however, also led to the end of the match as he finished it off with a fall at 4:05. 
"I felt pressure because I knew if I didn't win, (Japan wrestling) would end without any gold medals," Ota told the Japanese press. "I'm glad I was able to finish it off with my specialty body tackle."
Mirambek AINAGULOV (KAZ), the 2017 Asian silver medalist, took home a bronze with a victory by fall over RI Se Ung (PRK), while Mehrdad MARDANI (IRI) earned the other bronze by beating Islomjon BAKHRAMOV (UZB) by 8-0 technical fall. 
Ota has been on a mission of redemption that he is determined will lead to gold at the world championships in Budapest in October and eventually the 2020 Tokyo Olympics. 
After winning the silver in Rio, he suddenly found himself with a new rival in younger Kenichiro FUMITA (JPN), who is also a training partner. Fumita gained the upper hand and pipped Ota for places on the Japan national team, going on to win both the Asian and world titles in 2017.
But Ota turned the tables at the national championships last December, earning spots on the teams to both Bishkek and Jakarta. When Fumita skipped the final qualifying tournament for the world championships in May due to injury, Ota's ticket to Budapest was secured. 
The wrestling at the Asian Games concludes Wednesday with the final four weight classes in Greco-Roman, 77kg, 87kg, 97kg and 130kg. 
Women's Wrestling
68kg (12 entries)
Gold - ZHOU Feng (CHN) df. Tumentsetseg SHARKHUU (MGL), 4-1
Bronze - Meerim ZHUMANAZAROVA (KGZ) df. Ayana GEMPEI (JPN), 7-3
Bronze - Divya KAKRAN (IND) df. CHEN Wenling (TPE) by TF, 10-0, 1:29
SF - Zhou df. Zhumanazarova by Fall, 4:10 (9-2)
SF - Sharkhuu df. Chen by TF, 10-0, :45
76kg (9 entries)
Gold - ZHOU Qian (CHN) df. Hiroe MINAGAWA (JPN), 8-0
Bronze - Aiperi MEDET KYZY (KGZ) df. Nasanburumaa ORCHIRBAT (MGL), 4-2 
Bronze - Elmira SYZDYKOVA (KAZ) df. HWANG Eunju (KOR), 5-2
SF - Minagawa df. Medet Kyzy, 2-1
SF - Zhou df. Hwang by TF, 10-0, 3:26
Greco-Roman
60kg (14 entries)
Gold - Shinobu OTA (JPN) df. Kanybek ZHOLCHUBEKOV (KGZ) by Fall, 4:35 (8-3)
Bronze - Mehrdad MARDANI (IRI) df. Islomjon BAKHRAMOV (UZB) by TF, 8-0, 3:24
Bronze - Mirambek AINAGULOV (KAZ) df. RI Se Ung (PRK) by TF, 13-5, 4:34
SF - Ota df. Bakhramov, 6-0
SF - Zholochubekov df. Ainagulov by TF, 9-0, :53
67kg (16 entries)
Gold - RYU Hansu (KOR) df. Almat KEBISPAYEV (KAZ), 5-4
Bronze - Mohammedreza GERAEI (IRI) df. HUNG Yinghua (TPE) by TF, 11-0, :56
Bronze - Amantur ISMAILOV (KGZ) df.  ZHANG Gaoquan (CHN), 6-1
SF - Kebispayev df. Geraei by TF, 10-0, 1:45
SF - Ryu df. Zhang, 2-0