China Claims 4 Women's Wrestling Golds at world Military C'Ships
Monday, May 21, 2018 - 12:50 By Ali Feizasa
MOSCOW (May 21) -- China women wrestling team captured four gold medals to win team title at 2018 World Military Championships in Moscow.
China grabbed 4 gold, 3 silver and one bronze medals to claim team title with 185 points, followed by Mongolia 141 points and Kazakhstan 104.
The first gold medal went to China as Yuyan LI beat Nargiz IKRAMOVA (KAZ) by TF, 10-0.
Two time European bronze medal winner, Nina HEMMER gave gold medal to Germany, defeating defending military world champion Rong LIAO (CHN), 6-6 in 53kg finale.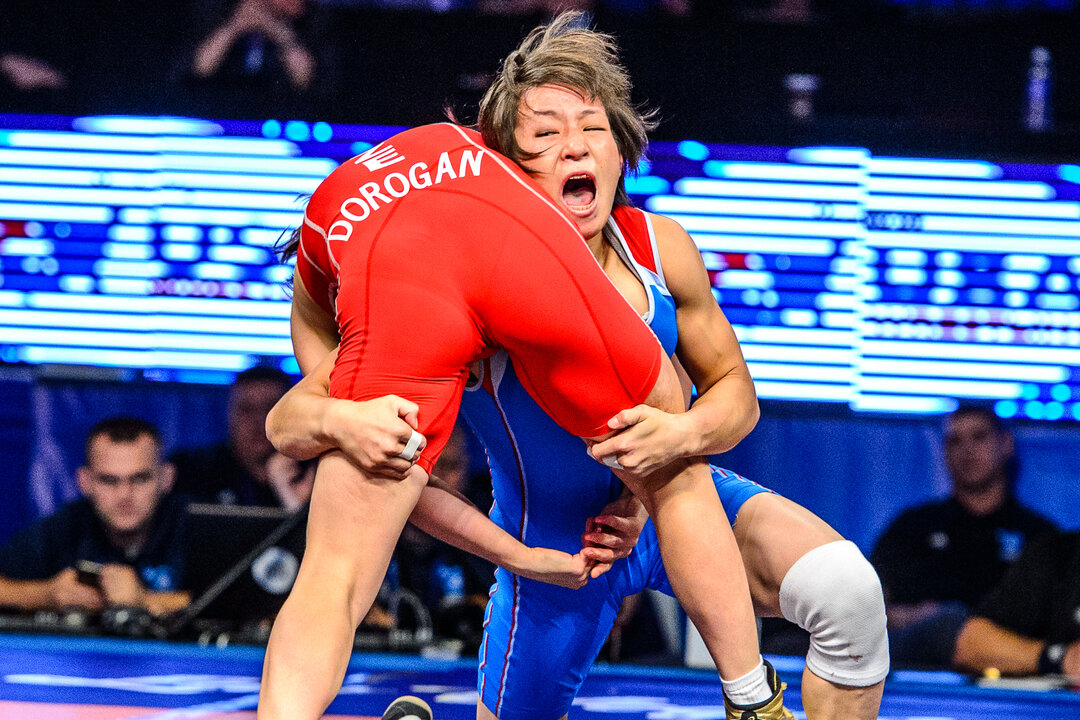 Two time world bronze medal winner, Myong Suk JONG (PRK) downed Nadzeya SHUSHKO (BLR), 7-1 to win 55kg gold medal.
Hui LI (CHN) hat tricked in world military championships by defeating  JO Hwa YON (PRK), 6-5 in 57 kg final match to achieve his third consecutive gold medal.
Hyon GYONG MUN gave the second gold to North Korea as she succeed to earn a victory by FALL against Jing JIANG (CHN) in 59kg.
2014 world bronze medal winner and former European champion,  Anastasiya HUCHOK (BLR) downed Nunes De OLIVEIRA LAIS (BRA), 7-0 to win 62kg gold medal.
Jeyla NAGHIZADE (AZE) defeated Enhbayar TSEVEGMED (MGL) by FALL in 65kg final.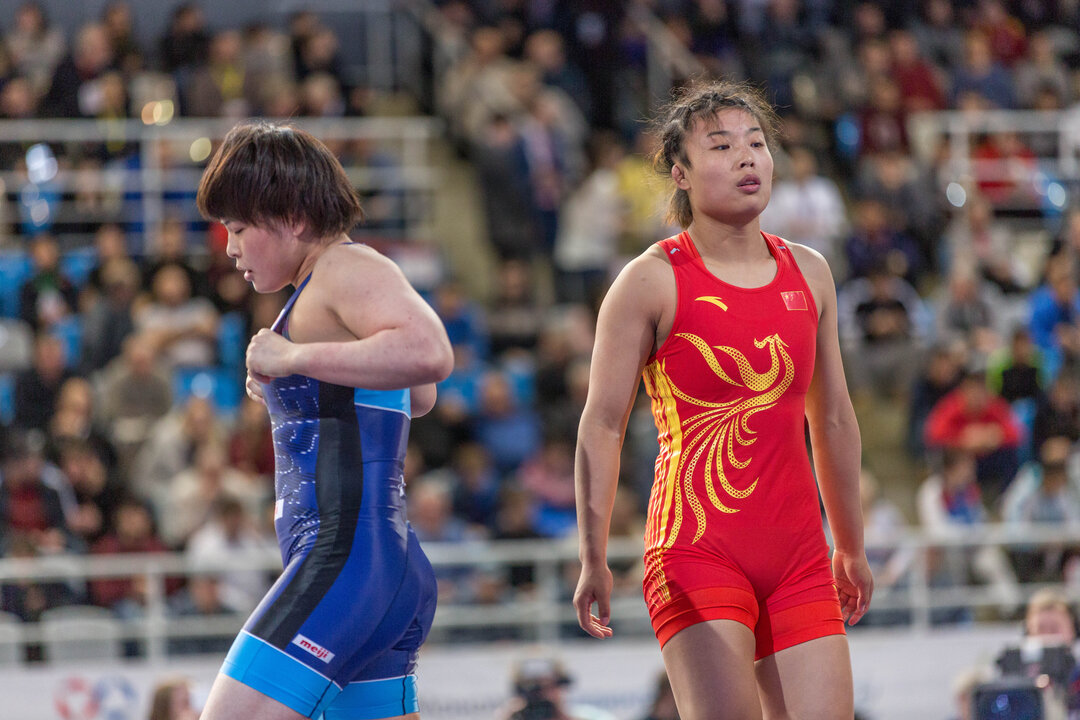 In 68kg, Chunying WANG (CHN) changed her last two year's silver medals to gold by 8-2 victory against DAVAANASAN (MGL).
2017 world bronze medal winner and U23 world champion, Koumba LARROQUE (FRA) placed first in 72kg earning tech fall 11-0 victory over Mengjie ZHU (CHN).
Juan WANG achieved fourth gold medal for China. WANG downed Gulmaral YERKEBAYEVA (KAZ), 9-2 in 76kg bout.
2018 World Military Women wrestling team standing:
1- China 185 pts (4 gold, 3 silver, 1 bronze)
2- Mongolia 141 pts (2 silver, 3 bronze)
3- Kazakhstan 104 pts (2 silver, 2 bronze)
4- Belarus 86 pts (1 gold, 1 silver, 1 bronze)
5- North Korea 74 pts (2 gold, 1 silver)
Results
50kg (9 wrestlers)
GOLD- Yuyan LI (CHN) df. Nargiz IKRAMOVA (KAZ) by TF, 10-0
BRONZE- Sona TUMARKHANOVA (AZE) df. N. AZJARGAL (MGL) by TF, 12-1
BRONZE- Valeriia CHEPSARAKOVA (RUS) df. Jaqueline SCHELLIN (GER), 3-1
53kg (6 wrestlers)
GOLD- Nina HEMMER (GER) df. Rong LIAO (CHN), 6-6
BRONZE- Milana DADASHEV (RUS) df. G. OTGONJARGAL (MGL) by TF, 14-4
55kg (7 wrestlers)
GOLD- Myong Suk JONG (PRK) df. Nadzeya SHUSHKO (BLR), 7-1
BRONZE- Jingjing LI (CHN) df. B. BOMOREFDENE (MGL) by FALL
57kg (4 wrestlers)
GOLD- Hui LI (CHN) df. Jo Hwa YON (PRK), 6-5
BRONZE- Emma TISSINA (KAZ) df. E. LKHAVADULA (MGL), 3-1
59kg (6 wrestlers)
GOLD- Hyon GYONG MUN (PRK) df. Jing JIANG (CHN) by FALL
BRONZE- Katsiaryna HANCHAR (BLR) df. Irina KUZNETSOVA (KAZ) by FALL
62kg (5 wrestlers)
GOLD- Anastasiya HUCHOK (BLR) df. Nunes De OLIVEIRA LAIS (BRA), 7-0
BRONZE- S. TSERENCHIMED (MGL) df. Nazira AMANZHOLOVA (KAZ) by TF, 12-2
65kg (4 wrestlers)
GOLD- Jeyla NAGHIZADE (AZE) df. E. TSEVEGMED (MGL) by FALL
BRONZE- Albina KAIRGELDINOVA (KAZ) df. Liping JIA (CHN) by FALL
68kg (3 wrestlers)
GOLD- Chunying WANG (CHN) df. E. DAVAANASAN (MGL), 8-2
72kg (3 wrestlers)
GOLD- Koumba LARROQUE (FRA) df. Mengjie ZHU (CHN) by TF, 11-0
76KG (8 wrestlers)
GOLD- Juan WANG (CHN) df. Gulmaral YERKEBAYEVA (KAZ), 9-2
BRONZE- Epp MAE (EST) df. Cynthia VESCAN (FRA), 3-0
BRONZE- B. ODONCHIMEG (MGL) df. Hanna MASLAKOVA (BLR), 8-3