Bulgaria Bags a Pair of Golds on Final Day of Women's Wrestling
Friday, May 4, 2018 - 19:10 By Eric Olanowski
KASPIISK, Russia (May 4) - Host nation Russis entered Friday night's finals with three wrestlers competing for European gold, but it was Bulgaria who walked away with an armful of gold. Bulgaria finished with two champions while Russia, Finland, and Sweden brought home one gold a piece.
Bulgaria's pair of Bilyana DUDOVA (BUL) and Taybe YUSEIN (BUL) remained undefeated in their quest to capture 57kg and 62kg gold medals. 
Bilyana Dudova (BUL) won her second straight European title by shutting out three-time world runner-up, Irina OLOGONOVA (RUS), 6-0 in the 57kg gold-medal match. 
The reigning champion Dudova used a defensive stop in the opening period to put the first two points on the board. She followed that up with a four-point sequence to extended her lead to 6-0.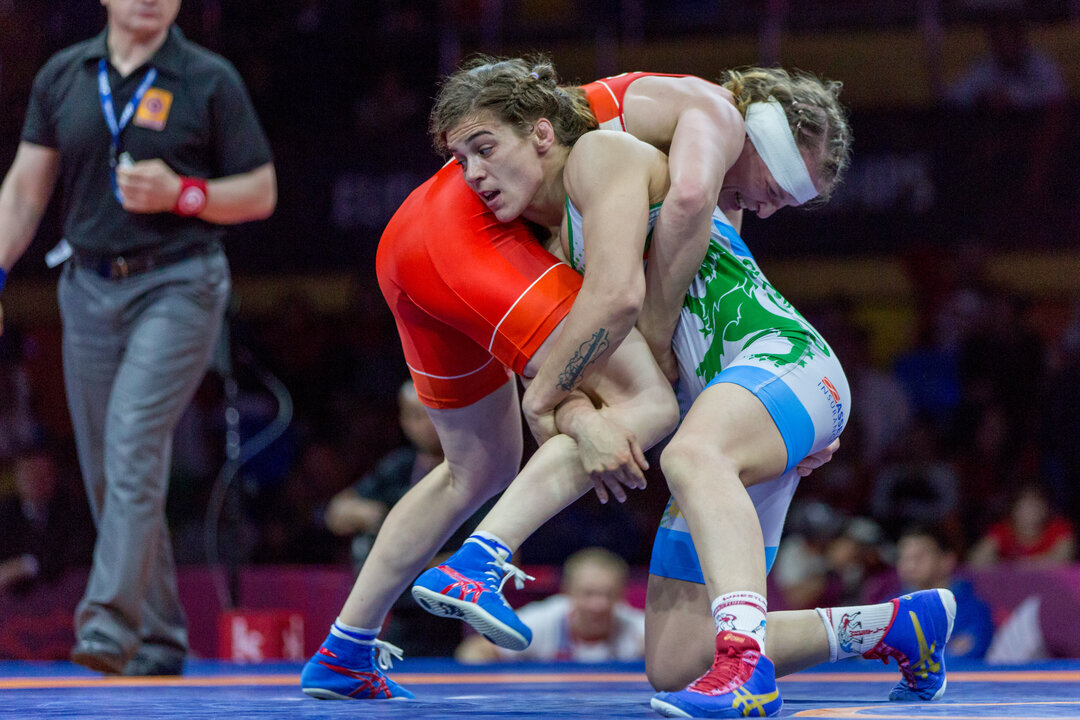 Taybe YUSEIN (BUL) defeated Inna TRAZHUKOVA (RUS), 11-8 in the 62kg finals. (Photo by Max Rose-Fyne)
At 62kg, Taybe Yusein improved on her second-place finished from a year ago by winning the gold-medal battle against Inna TRAZHUKOVA (RUS), 11-8. 
"It was hard for me because I was one second away from winning last year. After that second place finished, I had a full year to think about making it back to this stage, and it happened to be on my birthday. Today is my birthday, so this is the best gift that I could have received." 
Yusein outlasted fellow 2016 Olympian Trazhukova in a 19-point brawl that faced multiple stoppages due to clock issues and a cut above the eye of the Russian. 
"It was a long match, but I just remained focused on getting the win," said Yuesin. 
Russia's Stalvira ORSHUSH (RUS) shocked the women's wrestling world by winning the 53kg European crown. Orshush secured the first-period fall over 2017 world champion Vanesa KALADZINSKAYA (BLR) to give the host nation their solo gold medal on the final day of women's wrestling in Dagestan, Russia.
"This is my best result in life…When I was going to the mat, I was already imagining myself carrying the Russian flag."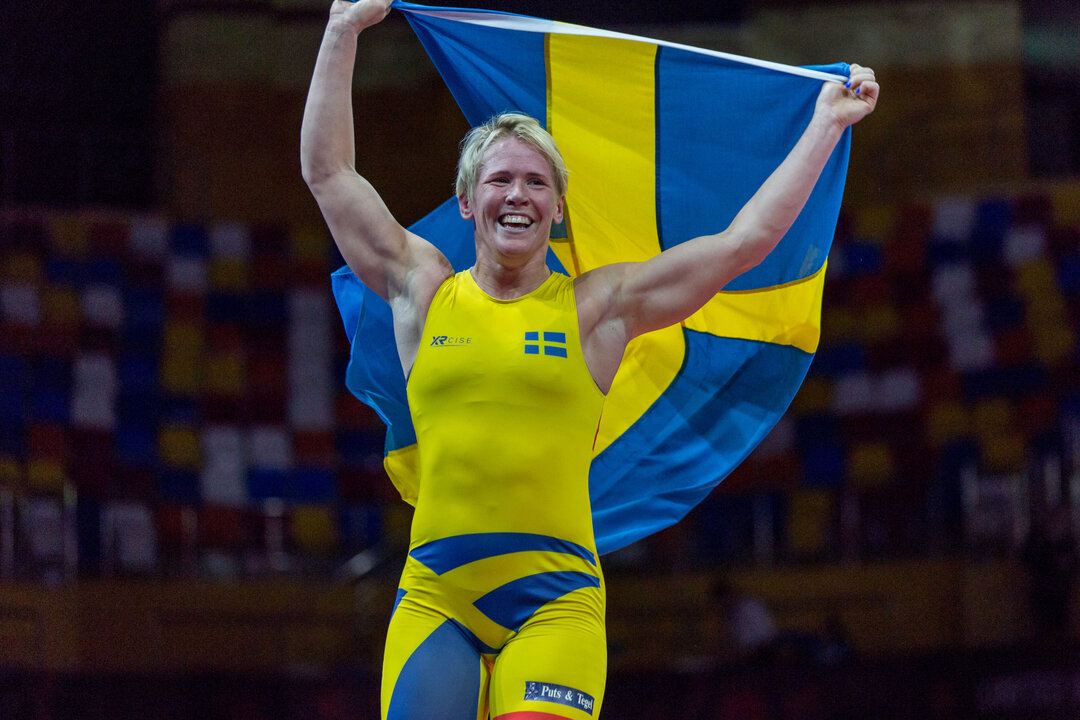 Jenny FRANSSON (SWE) celebrates after winning the 72kg European title. (Photo by Max Rose-Fyne)
Jenny FRANSSON (SWE) and Petra Maarit OLLI (FIN) won the final two women's wrestling gold medals.
Petra Maarit OLLI (FIN), the no. 1 wrestler in the world at 65kg used a late challenge to erase two points from Elis MANOLOVA (AZE), giving her the 4-1 victory. 
Jenny FRANSSON (SWE), the 2016 Olympic bronze medalist closed out the tournament with a fall over Anastasiya ZIMIANKOVA (BLR) at 72kg. 
Fransson, the 2018 Klippan Lady Open, and European gold medalist said "The goal now moves to the World Championships where I'll be moving weight classes. I'll be moving down to the Olympic weight of 68kg. But, for now, I'm focused on hearing my national anthem. I think I'm going to cry!" 
TEAM SCORES
GOLD – Russia (173 points)
SILVER -  Belarus (140 points)

BRONZE – Turkey (117 points)
Fourth – Azerbaijan (102 points)
Fifth – Bulgaria (92 points)
Sixth – Poland (75 points)
Seventh – Ukraine (63 points)
Eighth – Sweden (58 points)
Ninth – Hungary (47 points)
Tenth – Romania (45 points)
RESULTS

Women's Wrestling, 53kg
GOLD -  Stalvira ORSHUSH (RUS) df. Vanesa KALADZINSKAYA (BLR), 7-0
BRONZE - Katarzyna KRAWCZYK (POL) df. Mercedesz DENES (HUN), 7-0
BRONZE - Maria PREVOLARAKI (GRE) df. Aysun ERGE (TUR), 12-7 
Women's Wrestling, 57kg 
GOLD - Bilyana Zhivkova DUDOVA (BUL) df. Irina OLOGONOVA (RUS), 6-0
BRONZE - Alyona KOLESNIK (AZE) df. Zalina SIDAKOVA (BLR), 4-0 
BRONZE - Emese BARKA (HUN) df. Laura MERTENS (GER), 11-0 
Women's Wrestling, 62kg 
GOLD -  Taybe Mustafa YUSEIN (BUL) df. Inna TRAZHUKOVA (RUS), 11-8
BRONZE - Veranika IVANOVA (BLR) df. Agnieszka Sylwia KROL (POL), 8-2
BRONZE - Ilona PROKOPEVNIUK (UKR) df. Luzie MANZKE (GER), 4-0 
Women's Wrestling, 65kg 
GOLD – Petra Maarit OLLI (FIN) df. Elis MANOLOVA (AZE), 3-1 
BRONZE - Henna Katarina JOHANSSON (SWE) df. Gabriella SLEISZ (HUN), 5-0
BRONZE - Krystsina FEDARASHKA (BLR) df. Viktoria Ivanova BOBEVA (BUL), 4-1
Women's Wrestling, 72kg 
GOLD - Jenny FRANSSON (SWE) vs. Anastasiya ZIMIANKOVA (BLR), via fall. 
BRONZE - Alexandra Nicoleta ANGHEL (ROU) vs. Alena PEREPELKINA (RUS), via fall 
BRONZE - Cynthia Vanessa VESCAN (FRA) vs. Beste ALTUG (TUR), via fall