Berg Among Four Who Announced Retirement in Oslo
Thursday, October 14, 2021 - 12:41 By Vinay Siwach
OSLO, Norway (October 14) -- The Oslo World Championships witnessed a special moment on the penultimate day of the competition when Norway's Olympic medalist Stig BERGE (NOR) announced his retirement from the sport in front of his home fans. The Jordal Amfi arena saw a sea of fans bid farewell to the Greco-Roman wrestler who won a bronze medal at the Rio Olympics 2016. 
In his final tournament, Berge was looking good for a medal but his run was cut short when he suffered a loss in the quarterfinals. The hopes of a repechage round were also dashed when lost in the semifinal of the 67kg weight class.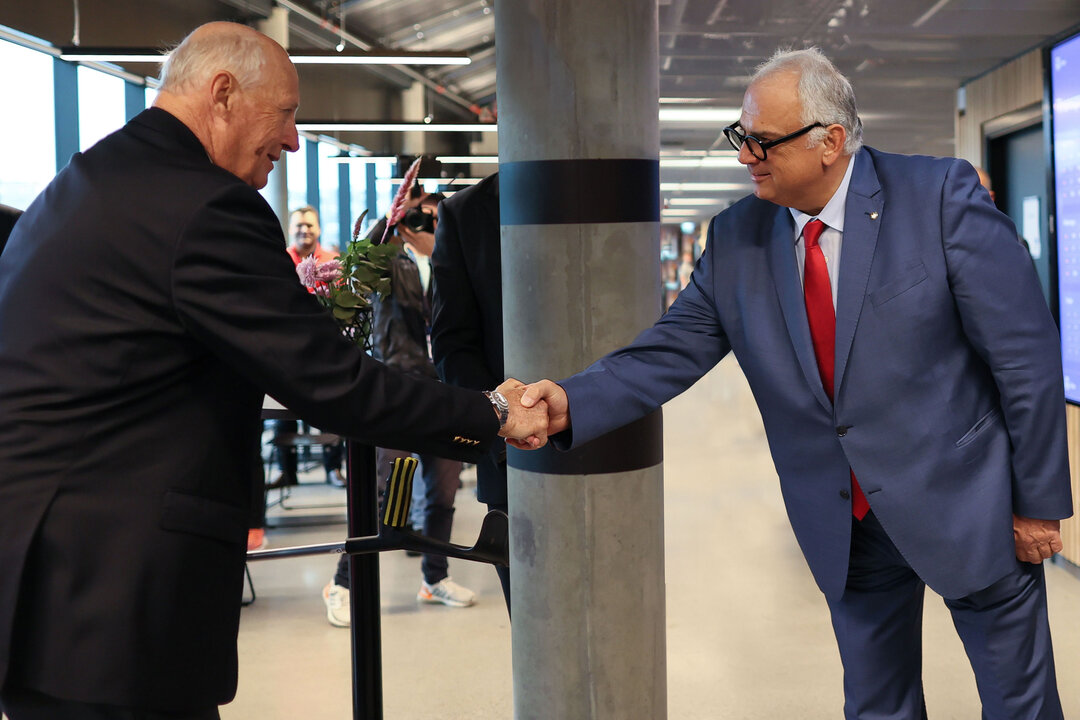 President Lalovic welcomed King of Norway HARALD V to the '21 World Championshipns in Oslo. (Photo: Kadir Caliskan)
On the special occasion, the King of Norway HARALD V was also present in the arena and was greeted by the president of United World Wrestling Nenad LALOVIC. The two were given a grand reception in the arena and both watched the bouts on Saturday.
The 38-year-old, who left his singlets on the mat Sunday, brought his son to the mat as the crowd gave him standing ovation for a career which included a bronze medal at the Olympics, bronze at World Championships and three silver medals at European Championships.
He was not the only wrestler to retire in Oslo. Three other wrestlers also hanged their bouts from the sport.
Rio Olympian Chakir ANSARI (MOR) signaled his retirement by leaving his shoes on the mat at the '21 Oslo World Championships. (Photo: Kadir Caliskan)
Freestyle wrestler Chakir ANSARI (MOR), Egypt women's wrestling legend Samar HAMZA (EGY) and Japan's Greco-Roman wrestler SHIYOMADA (JPN) also ended their careers with Ansari being the first of the lot.
Ansari wrestled on the first day of the competition and after his loss to Arman ELOYAN (FRA), he left his shoes on the mat, a mark of retirement in wrestling. Incidentally, the two-time Olympian wrestled for France until 2014 before moving to Morocco.
Hamza had a fairytale ending to her career, etching her name in history books as she became her country's first-ever female wrestler to win a medal at the annual event. She defeated Kiran GODARA (IND) in the 76kg bronze medal bout to return home with the bronze. Hamza has previously wrestled at two Olympics and finished 10th in Tokyo.
Shiyomada could have shocked the world when he led Olympic champion 6-1 in their opening round bout. He then tried a big body-lock throw but ended on his back, a position Mohammadreza GERAEI (IRI) held and secured a pin for the win. In the repechage round, Shiyomada lost to Hasart JAFAROV (AZE).