All Ten Russian Women Reach Podium At Cadet European Championships, Six Strike Gold
Friday, June 21, 2019 - 18:38 By Eric Olanowski
FAENZA, Italy (June 21) – It's almost unthinkable to imagine that Russia could repeat their Day 4 output that saw all five wrestlers win a cadet European medal -- including three of which were golds. But they were able to get the Russian national anthem played on the loudspeaker three times after Valeriia KHAIDAROVA, Viktoriia KHUSAINOVA, and Viktoriia PEREVOZKINA each dominated their way to a Cadet European title. 
On Thursday, they won three golds, a silver, and a bronze, with their three gold-medal winners outscoring their opponents by a combined score of 25-2. On Friday, they also won three golds, a silver, and a bronze, but their three gold medalists one-upped their teammates and scored two falls and one technical superiority victory. 
Valeriia Khaidarova and Viktoriia Pervozkina were the two Russian wrestlers who picked up falls, while Viktoriia Khusainova forged an 11-1 victory on her way to a continental title. 
Valeriia Khaidarova cinched up Russia's first gold of the day, planting Zozan AKAR (TUR) on her back for the fall in the opening period of the 40kg finals. Up until Khaidarova scored the fall, she was trailing 6-5, but stepped over a Turkish gut wrench attempt and won her second European title and first since she won the 2017 U15 European Championships in Belgrade, Serbia.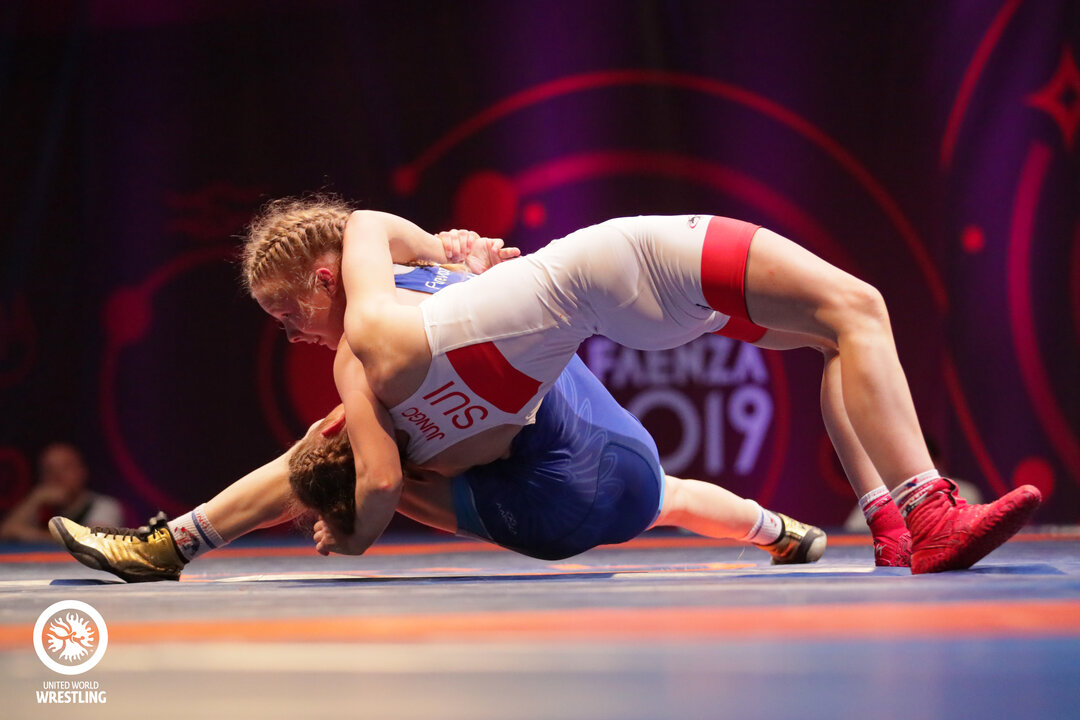 Viktoriia PEREVOZKINA was one of two Russian women to stick their finals opponent on Day 5. (Photo: Kadir Caliskan)
The second Russian to stick her finals opponent was Viktoriia Perevozkina. She scored four takedowns in the first period and carried the 8-0 lead into the second period before head locking her Swiss opponent for the fall while leading 12-2. 
Pervozkina's gold-medal win on Friday night was her first European title and an improvement from her second-place finish from last year's U15 European Championships.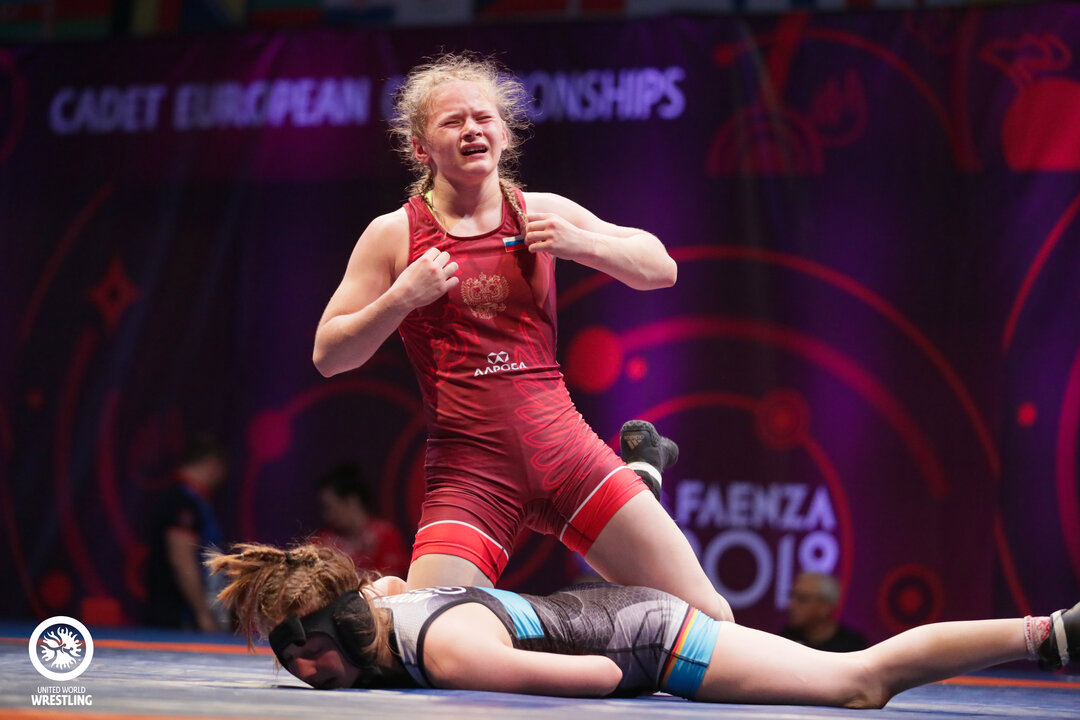 Viktoriia KHUSAINOVA (RUS) handed Russia their third gold medal of the day with an 11-1 technical superiority victory over Germany's Amory Olivia ANDRICH (GER)  in the 61kg finals. (Photo: Kadir Caliskan)
Viktoriia Khusainova easily handled Amory Olivia ANDRICH (GER) in the 53kg finals. She was up 7-1 before ending the match with a pair a trapped arm gut wrenches to win the title with an 11-1 technical superiority victory. 
Russia also had a silver medalist and a bronze-medal finisher on Day 5. Tatiana KABANOVA (RUS) fell to Yuliia LESKOVETS (UKR), 2-1 in the 61kg finals, and Anastasia KOZLOVA (RUS) stuck Patrycja Monika SLOMSKA (POL) for the bronze medal at 69kg. 
With their ten Cadet European medals, Russia (220 points) finished the women's wrestling competition with the team title, 80 points ahead of second place Ukraine (140 points). Italy had 72 points and rounded out the top three in the team race. 
With Greco-Roman and women's wrestling behind us, freestyle takes over tomorrow morning. The action begins at 11:30 (local time) and can be followed on www.unitedworldwrestling.org. 

RESULTS
Final Women's Wrestling Team Scores
GOLD - Russia (220 points)
SILVER - Ukraine (140 points)
BRONZE - Belarus (83 points) 
Fourth - Germany (79 points)
Fifth - Italy (74 points)
40kg 
GOLD - Valeriia KHAIDAROVA (RUS) df. Zozan AKAR (TUR), via fall 
BRONZE - Violetta SEMCHOVA (UKR) df. Alisa BORA (ROU), 6-5 
BRONZE - Michela CHESSA (ITA) df. Alina KURYLENKA (BLR), 4-1
46kg
GOLD - Viktoriia PEREVOZKINA (RUS) df. Svenja JUNGO (SUI), via fall 
BRONZE - Georgiana Lavinia ANTUCA (ROU)  df. Siria PERRONE (ITA), 4-4 
BRONZE - Tatsiana PERTSAVA (BLR) df. Daryna MATSOLA (UKR), 4-1 
53kg
GOLD - Viktoriia KHUSAINOVA (RUS) df. Amory Olivia ANDRICH (GER), 11-1 
BRONZE - Elnura MAMMADOVA (AZE) df. Patrycja Ewa STRZELCZYK (POL), 3-0 
BRONZE - Alesia HETMANAVA (BLR) df. Flora VIZI (HUN), 4-0 
61kg
GOLD - Yuliia LESKOVETS (UKR) df. Tatiana KABANOVA (RUS), 2-1 
BRONZE - Aurora RUSSO (ITA) df. Derya Nur KARADUMAN (TUR), 12-0
BRONZE - Iva GERIC (CRO) df. Chadia AYACHI (FRA), 4-3 
69kg
GOLD - Lili UJFALVI (HUN) df. Alina MAKSIMAVA (BLR), 4-3
BRONZE - Sophia SCHAEFLE (GER) df. Paula Aurelia Izabela ROTARU (ROU), 9-6
BRONZE - Anastasia KOZLOVA (RUS) df. Patrycja Monika SLOMSKA (POL), via fall