18-Year-Old Nazaryan Upsets World Champion Azizli
Monday, February 10, 2020 - 20:26 By Eric Olanowski
ROME, Italy (February 10) --- The star-studded list of Monday-night semifinalists featured countless Olympic, world and continental medalists. But it wasn't any of the well-known stars who shinned the brightest under the lights at the Pala Pellicone Arena in the seaside town of Ostia, Italy. 
Edmond NAZARYAN (BUL), the barely 18-year-old baby-faced Bulgarian, was the unlikely star who blew the roof of the arena on his way to locking up a trip to the European finals.
Nazaryan rose to the occasion in his senior debut and scored the improbable come-from-behind fall over 2018 world champion Eldaniz AZIZLI (AZE). He'll wrestle for European gold on Tuesday night, two weeks after his 18th birthday. 
Nazaryan, the son of two-time Olympic champion Armen NAZARYAN (BUL), surrendered five first-period points but responded by lighting up the scoreboard with seven unanswered points before pancaking Azizli to his back for the fall.
The youngster will wrestle eighth-ranked Vitalii KABALOEV (RUS) on Tuesday night for the 55kg gold medal.
Kabaloev defeated Nugzari TSURTSUMIA (GEO) in the battle of reigning world champion and returning European champion. Kabaloev, the defending European champion, avenged his world quarterfinals loss against top-ranked Tsurtsumia with a 5-2 semifinals win on Monday night. 
Kabaloev will jump from fifth to second in the next rankings after locking up his finals spot. He can earn no less than 18 points, which would give him 41 Ranking Series points. He'll hold the three-point lead over Khorlan ZHAKANSHA (KAZ).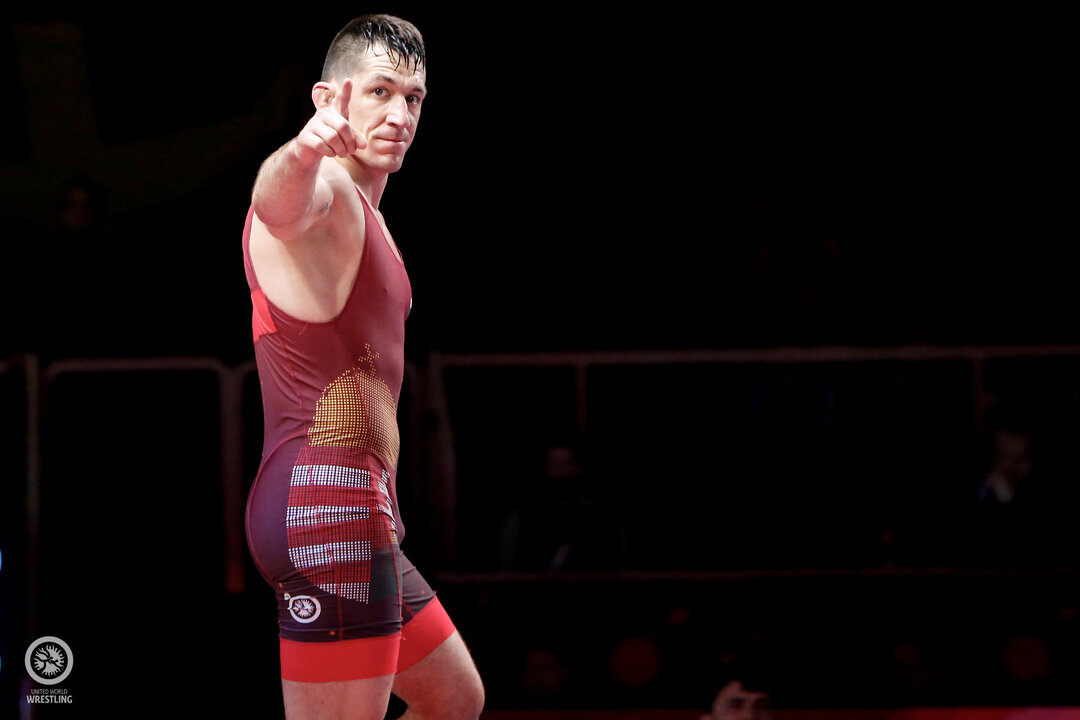 Viktor LORINCZ (HUN) holds one finger up, signifying he'll be the top-ranked wrestler in the world at 87kg after Tuesday night's finals. (Photo: Gabor Martin)
Lorincz Reaches Finals, Set to Take Over No. 1 Spot at 87kg 
Viktor LORINCZ (HUN) gained the No. 1 ranking in the world at 87kg after going 3-0 on Monday and inserting himself into Tuesday night's finals. He entered the European Championships ranked second in the world with 56 points and added at least 18 points to his total after he reached the European finals for the second time in his career. 
If Lorincz wins gold on Tuesday night, he'll control a 16-point advantage over Zhan BELENIUK (UKR). And even if he loses in tomorrow night's finals, he'll still carry a 14-point lead over Beleniuk, the reigning world champion, heading into the final Ranking Series event.
Lorincz cruised to a 6-1 semifinals victory over Islam ABBASOV (AZE) and will take on Semen NOVIKOV (UKR) for the 87kg European title.
Novikov, who is stepping in for Beleniuk, capped off his run to the finals with wins over two-time world champion Metehan BASAR (TUR) and four-time age-group world champion Aleksandr KOMAROV (RUS). 
Novikov stole his finals appearance from Komarov, who led 1-1 with six seconds left. The Ukranian locked up a front head pinch and transitioned into a gut wrench to steal the match from the Russian, 5-1.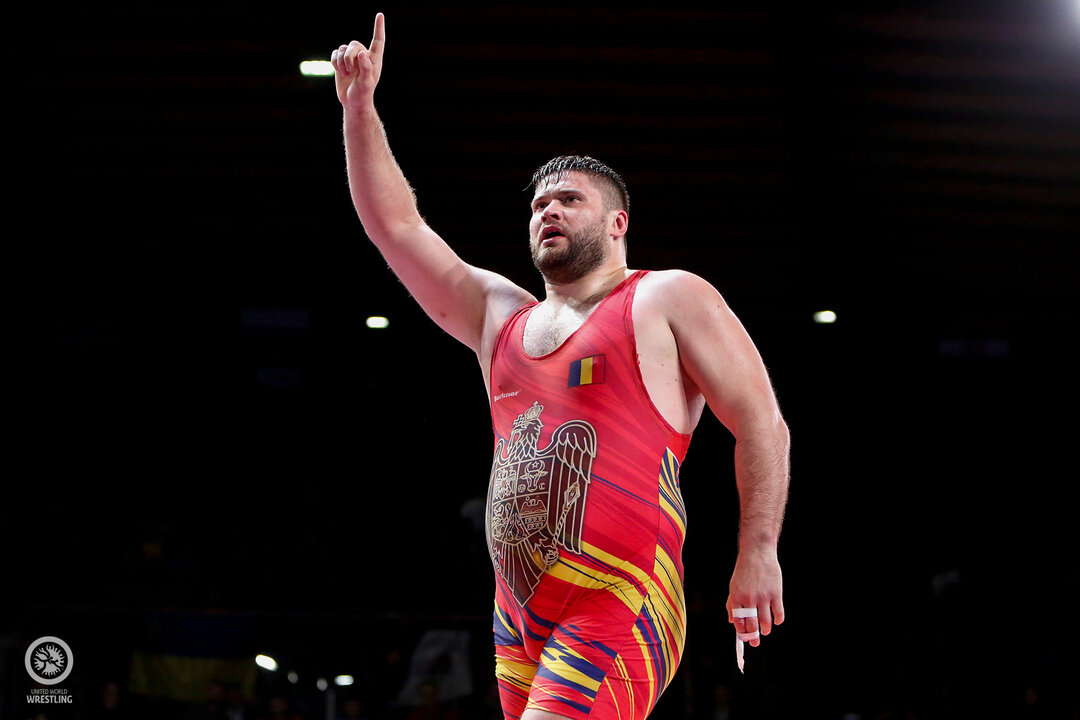 Alin ALEXUC CIURARIU (ROU) will wrestle Levan ARABULI (GEO) in the 130kg European finals. (Photo: Gabor Martin)
Alexuc Ciurariu's Win Knocks out Kayaalp from Medal Contention 
Alin ALEXUC CIURARIU (ROU) defeated Mykola KUCHMII (UKR), 2-1, in the semifinals and knocked off four-time world champion Riza KAYAALP (TUR) from European medal contention.
Kayaalp needed Kuchmii to win to pull him back into the repechage round. 

The Turkish big man came into the European Championships searching for his tenth European title. Up until today, Kayaalp never finished lower than second place in his previous 11 trips to the European Championships. But a 5-1 quarterfinals loss to Kuchmii ended his streak of 11 consecutive European finals appearances. 
Alexuc Ciurariu will square off with Levan ARABULI (GEO) in the 130kg finals. Arabuli annihilated Arvi Martin SAVOLAINEN (FIN), 9-0, and will wrestle for European gold for the first time in his career. His previous highest finish came in 2017 when he finished with a bronze medal.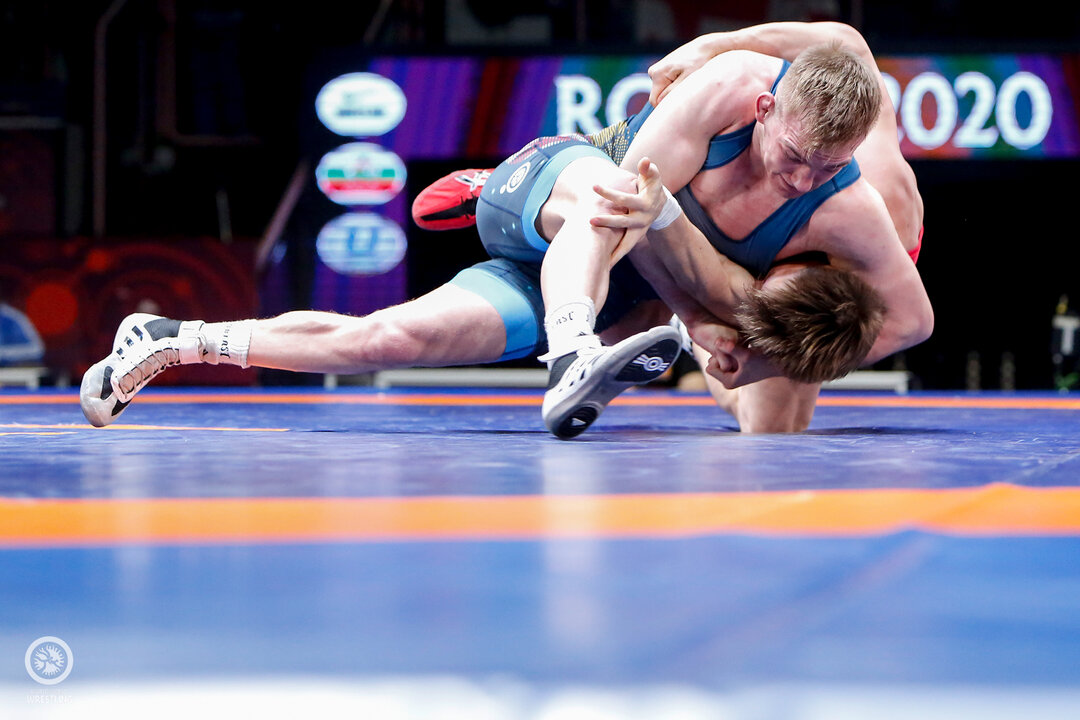 Zotlan LEVAI (HUN) will be ranked third in the world at 77kg after the European Championships. (Photo: Gabor Martin)
Levai to Join "Little Lorincz" in Top-Three of 77kg Rankings  
Thanks to Zotlan LEVAI'S (HUN) run to the European finals, Hungary will occupy two of the top three spots in the 77kg world rankings after the European Championships. Reigning world champion Tamas LORINCZ (HUN) is ranked first, and Levai will climb from 11th to third after the conclusion of the European finals. 
Levai, who won the Matteo Pellicone Ranking Series event three weeks ago, was ranked 11th with 16 points. But after making the finals, Levai will depart Rome with no less than 20 Ranking Series points, moving him ahead of Mohammadali GERAEI (IRI) for the third spot in the rankings.
Levai shutout Volodymyr YAKOVLIEV (UKR), 9-0, in the semifinals, and will take on Sanan SULEYMANOV (AZE) on Tuesday night. The Azeri also picked up a shutout win in his semifinals match. He blanked Karapet CHALYAN (ARM), 3-0. 
Labazanov and Nehoda Stop 2018 European Finals Rematch from Happening
Ibragim LABAZANOV (RUS) and Maksim NEHODA (BLR) scored wins in their semifinal matches and stopped the 2018 European finals rematch between Mihai MIHUT (ROU) and Stig-Andre BERGE (NOR) from happening. 
Labazanov collected an inactivity point and a pair of exposures from the par terre position and did his part in stopping the potential continental finals rematch from taking place. He defeated Mihut, 5-1, after trailing 1-0. 
Nehoda blocked Berge from reaching the European finals for the third consecutive year. He scored a second-period inactivity point and a two-point exposure after trailing 1-0 and claimed the 3-1 victory over the 2016 Rio Olympic bronze medalist. 
55kg
GOLD - Vitalii KABALOEV (RUS) vs. Edmond NAZARYAN (BUL)
SEMIFINAL - Vitalii KABALOEV (RUS) df. Nugzari TSURTSUMIA (GEO), 5-2 
SEMIFINAL - Edmond Armen NAZARYAN (BUL) df. Eldaniz AZIZLI (AZE), via fall 
63kg
GOLD - Ibragim LABAZANOV (RUS) vs. Maksim NEHODA (BLR)
SEMIFINAL - Maksim NEHODA (BLR) df. Stig-Andre BERGE (NOR), 3-1 
SEMIFINAL - Ibragim LABAZANOV (RUS) df. Mihai Radu MIHUT (ROU), 5-1 
77kg 
GOLD - Sanan SULEYMANOV (AZE) vs. Zotlan LEVAI (HUN)
SEMIFINAL - Sanan SULEYMANOV (AZE)  df. Karapet CHALYAN (ARM), 3-0 
SEMIFINAL - Zotlan LEVAI (HUN) df. Volodymyr YAKOVLIEV (UKR), 7-0 
87kg
GOLD - Semen NOVIKOV (UKR) vs. Viktor LORINCZ (HUN)
SEMIFINAL - Viktor LORINCZ (HUN) df. Islam ABBASOV (AZE), 6-1
SEMIFINAL - Semen NOVIKOV (UKR) df. Aleksandr KOMAROV (RUS), 5-1 
130kg
GOLD - Alin ALEXUC CIURARIU (ROU) vs. Levan ARABULI (GEO)
SEMIFINAL - Levan ARABULI (GEO) df. Arvi Martin SAVOLAINEN (FIN), 9-0 
SEMIFINAL - Alin ALEXUC CIURARIU (ROU) df. Mykola KUCHMII (UKR), 2-1 
SCHEDULE 
Tuesday (February 11)
8:30 - Weigh-in GR – 55-63-77-87-130kg
8:45 - Medical examination & Weigh-in GR – 60-67-72-72-82-97kg
11:30 - Qualification rounds GR – 60-67-72-82-97kg
11:30 - Repechage GR – 55-63-77-87-130kg
15:30 - Technical conference – all WW teams
15:30 -Draw WW – All weight categories
16:45 - Semi Final GR – 60-67-72-82-97kg
18:00 - Finals GR – 55-63-77-87-130kg
18:00 - Award ceremonies
Wednesday (February 12)
8:30 - Weigh-in GR – 60-67-72-82-97kg
8:45 - Medical examination & Weigh-in WW – 50-55-59-68-76kg
11:30 - Qualification rounds WW – 50-55-59-68-76kg
11:30 - Repechage GR – 60-67-72-82-97kg 
16:45 - Semi Final WW – 50-55-59-68-76kg
18:00 - Finals GR – 60-67-72-82-97kg
18:00 - Award ceremonies
Thursday (February 13)
8:30 - Weigh-in WW – 50-55-59-68-76kg
8:45 - Medical examination & Weigh-in WW – 53-57-62-65-72kg
11:30 - Qualification rounds WW – 53-57-62-65-72kg
11:30 - Repechage WW – 50-55-59-68-76kg
14:00 - Technical conference – all FS teams
14:00 - Draw FS – All weight categories
16:45 - page4image515539072Semi Final WW – 53-57-62-65-72kg 
18:00 - Finals WW – 50-55-59-68-76kg
18:00 - Award ceremonies
Friday (February 14)
8:30 - Weigh-in WW – 53-57-62-65-72kg 
8:45 - Medical examination & Weigh-in FS – 57-65-70-79-97kg
11:30 - Qualification rounds FS – 57-65-70-79-97kg
11:30 - Repechage WW – 53-57-62-65-72kg 
16:45 - Semi Final FS – 57-65-70-79-97kg 
18:00 - Finals WW – 53-57-62-65-72kg
18:00 -Award ceremonies 
Saturday (February 15)
8:30 - Weigh-in FS – 57-65-70-79-97kg 
8:45 - Medical Examination & Weigh-in FS – 61-74-86-92-125kg
11:30 - Qualification rounds FS – 61-74-86-92-125kg 
11:30 - Repechage FS – 57-65-70-79-97kg 
16:45 - Semi Final FS – 61-74-86-92-125kg
18:00 - Finals FS – 57-65-70-79-97kg
18:00 - Award ceremonies 
Sunday (February 16)
8:30 - Weigh-in FS – 61-74-86-92-125kg
16:00 - Repechage FS – 61-74-86-92-125kg 
18:00 - Finals FS – 61-74-86-92-125kg
18:00 - Award ceremonies
21:30 - Final banquet